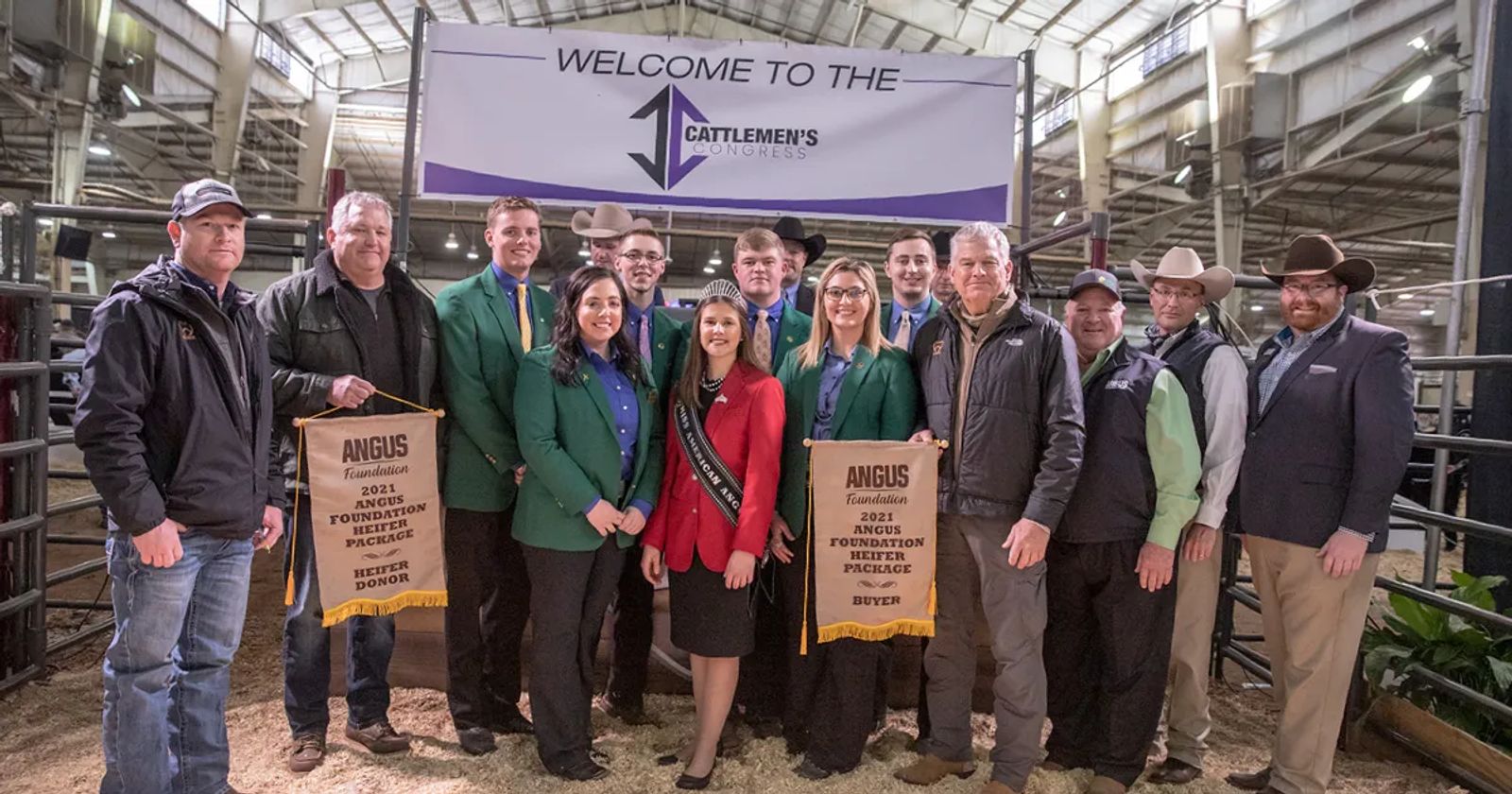 Wilks Ranch Purchases 2021 Angus Foundation Heifer
January 18, 2021
Trying times often reveal what truly is important. The sale of the 2021 Angus Foundation Heifer Package revealed that Angus breeders, like Wilks Ranch, remain dedicated to supporting the future of the Angus breed, even in years of uncertainty.
Since 1980, the Angus Foundation Heifer Package has been sold to generate funds to support the Angus Foundation's mission of youth, education and research. This year, Wilks Ranch of Eastland, Texas and owner of the N Bar Ranch near Grass Range, MT, bought the elite opportunity to choose a heifer from the 2020 heifer crop of Benoit Angus of Esbon, Kansas. The Foundation Heifer Package raised $35,000 to support educational programs and scholarships.
The package sold on Friday, Jan. 8, 2021, prior to the start of the National Angus Bull Sale at the Cattlemen's Congress in Oklahoma City, Oklahoma. The package also includes 30 days of complimentary insurance from American Live Stock Insurance Co., Batavia, Illinois; free transportation to the buyer's ranch provided by Lathrop Livestock Transportation, Dundee, Illinois; and an advanced reproductive technology package from Trans Ova Genetics, Sioux Center, Iowa.
The 2021 Angus Foundation Heifer offering was generously donated by Everett and Bonnie Benoit, their sons Doug and Chad; and their families. The reputation of the Benoit family program is proven through the success of their commercial customers with Benoit females and bulls. The Benoits have extensively reported data on their entire herd, making performance a top priority. Using sires like their GAR Discovery son EMAW, SydGen Enhance, BUBS Southern Charm AA31, GAR Inertia, GAR Ashland, SAV Rainfall 6846, Connealy Confidence Plus and E&B Plus One, combined with their powerful cow families like E&B 6807, Traveler 61 and E&B Erica 174, has positioned their program on a powerful and consistent foundation.
"The most generous and thoughtful donors, like Wilks Ranch and the Benoit Family, are found right here in the Angus breed," said Thomas Marten, Angus Foundation executive director. "Year after year, buyers and contributors continue to step up to help further the future of the breed, and again this year, we are so grateful for those individuals."
The Angus Foundation Heifer Package has raised more than $2.6 million since the inception of the program. For more information about the Angus Foundation or the annual Angus Foundation Heifer Package Sale, visit AngusFoundation.org.
About the Angus Foundation
Established as a 501(c)(3) organization in 1980, the Angus Foundation remains focused on its mission to support Angus education, youth and research. The organization has distributed more than $3.1 million in youth scholarships since 1998 and has also invested more than $1.3 million in beef cattle research throughout the past decade.
For more information, contact the Angus Foundation at 816-383-5100 or visit www.angusfoundation.org.
Source: Karen Hiltbrand, Angus Communications