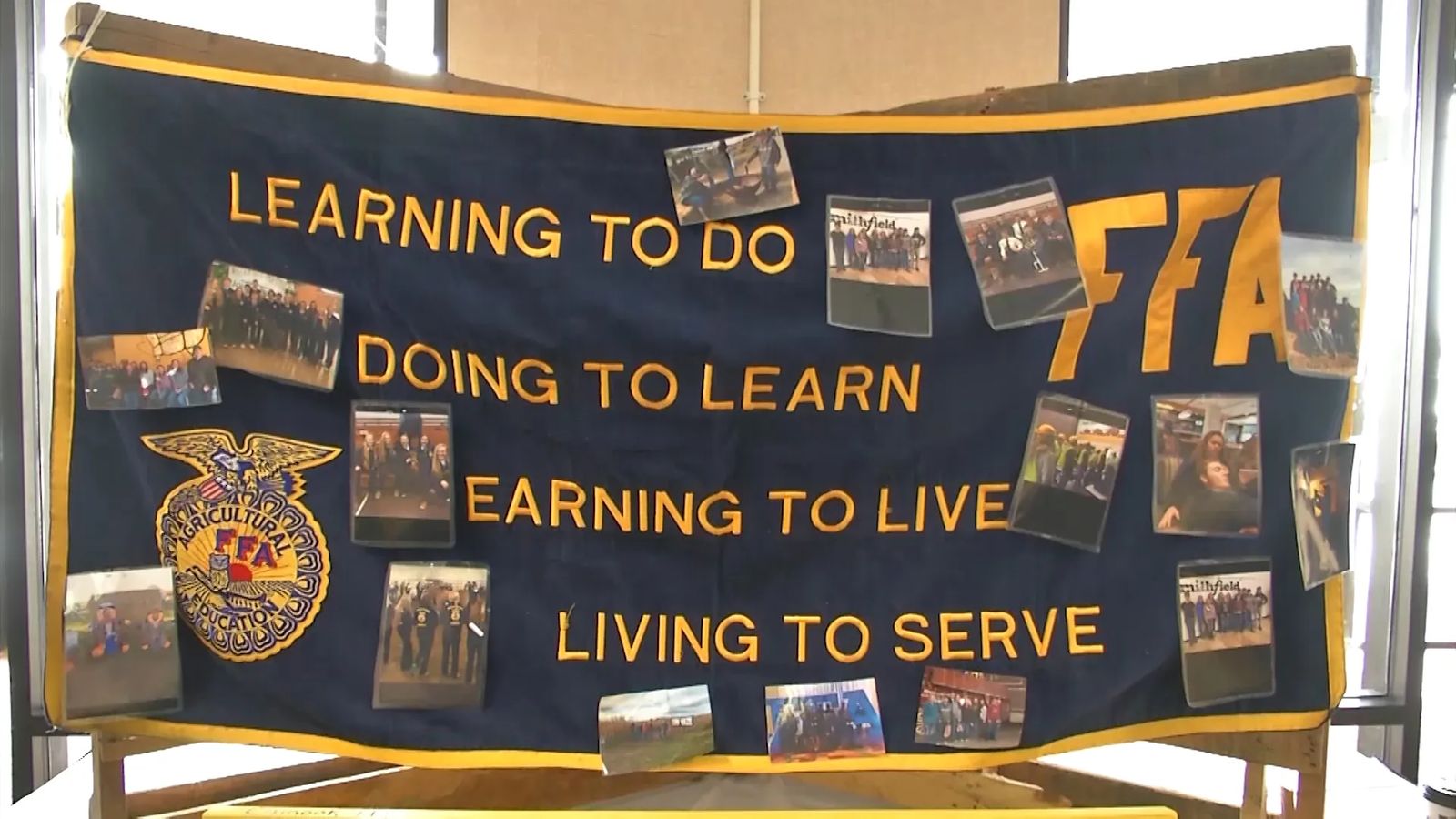 2020 Montana FFA Scholarships and Grants Announced
April 16, 2020
This spring, the Montana FFA Foundation has awarded over $90,000 in scholarships and grants to FFA members and local FFA chapters throughout the state.
Fifty students will be receiving a combined total of $71,500 in scholarships and grants for college, leadership development, and work-based learning projects. Scholarships for top individuals will be awarded to winners of competitions at the State FFA Convention, date and location to be announced at a later time.
These are the leadership and college scholarship recipients who were selected this spring:
Leadership Development Scholarships:
Alumni Leadership Camp – Nickia Harris, Deer Lodge; Jaina Meador, Deer Lodge; Reatta Wood, Hysham
Washington Leadership Conference – Joe Lackman, Forsyth; Abby Riska, Missoula; Trevor Zimmerman, Missoula; Matthew Slivka, Winifred
Washington Leadership Conference, Sam Cornthwaite Memorial – Gianna Boyd, Bainville; James Aldrich, Fergus of Lewistown; Amy Chilcote, Missoula; Ashlyn Knieb, Missoula; Reace Lannen, Shields Valley (Clyde Park); Hailee Varner, Wibaux
National FFA Convention, John Bliss Memorial – Abby Riska, Missoula
National FFA Convention, Holt Family – Joe Lackman, Forsyth
National FFA Convention, Irene Andres – Amy Chilcote, Missoula
College Scholarships:
Association of Montana Turf, Ornamental and Pest Professionals (AMTOPP) – Maria Bay, Kalispell
Lars Ronning Memorial – Allyson Young, Fairview
Stockman Bank Next Generation – Sawyer Reagan, Missoula; Lexi Dietz, Shepherd
Dr. Max L. Amberson – Paytyn Wilson, Bainville; Logan Turner, Missoula
Vern Dahlstrom – McKenna Quirk, Missoula
Murdoch's Ranch & Home Supply – Kaitlyn Cardwell, Forsyth
Montana Agribusiness Association/Montana Grain Elevator Association – Max Andres, Missoula; Makayla Dines, Geraldine
Blue Shows Through – Zoe Lee, Ruby Valley (Sheridan)
Leave a Legacy – Alyssa Thormahlen, Belfry; Serena Oyler, Clark's Fork (Bridger); Maria Stringari, Clark's Fork (Bridger); Matt Glimm, Kalispell; Molly Sutherland, Kalispell; Raney Sutherland, Kalispell; Max Andres, Missoula; Justice Betts, Missoula; Kenna Millhouse, Twin Bridges; Gracie Smith, Victor
Montana Water Resources Association – Alex Young, Fairview
McKenna Quirk, recently elected state officer on the 2020-2021 Montana FFA State Officer Team, reflected on her time in FFA and receiving a scholarship: "My experiences in FFA have prepared me to be successful both in and out of my blue jacket. I have had so many wonderful opportunities, from attending the Montana FFA Alumni Leadership Camp to competing at the National FFA convention and Expo. I plan to major in Microbiology and Immunology at Montana State University and [this scholarship will] eventually [help me] attend veterinary school. I am so grateful for the support of the Montana FFA Foundation as I begin this new chapter of my life."
Though the amount of scholarship dollars awarded continues to grow, the Montana FFA Foundation still turns away two out of every three scholarship applicants. To learn more about contributing to the Montana FFA Leave a Legacy scholarship fund, please contact the Foundation at (406) 582-4118.
The Foundation also recently selected recipients of the Bulls for Blue Grants and Supervised Agricultural Experience (SAE) Grants for students to expand their agribusiness ventures or to start new entrepreneurship or agriscience research projects. These grants support student work-based learning outside of the classroom by furthering student development in their career exploration and preparation.
SAE Grants are a special project funded in partnership with the Gianforte Family Foundation and Wells Fargo Foundation. The Bulls for Blue Grants also fund SAE projects specifically for student projects in the area of beef production and are funded by Montana seedstock beef producers.
SAE Grant Recipients –
Madelynn Beals, Belgrade; Holly Vranish, Belgrade; Lance Vranish, Belgrade; Severin Heimbigner, Big Sandy; Avery Durfee, Big Timber; Dawson Laverell, Big Timber; Elise Crago, Cascade; Gracie Orem, Cascade; Ellie Ward, Cascade; Benjamin LaVelle, Chinook; Tiffany Ioder, Corvallis; Jayna Jackson, Corvallis; Lauren Kearns, Corvallis; Hailey Miles, Corvallis; Timothy Lane, Fort Benton; Devan Birrer, Fromberg; Jordyn Whitmus, Fromberg; Max Andres, Missoula; Khloe Berdine, Missoula; Justice Betts, Missoula; Amy Chilcote, Missoula; Sasha Helmer, Missoula; Zach Fauth, Opheim; Aiden Fouhy, Opheim; Cole Taylor, Opheim; Delilah Puckett, Twin Bridges
Bulls for Blue Grant Recipients – Alyssa Thormahlen, Belfry; Shyla Benzing, Chinook; Torin Cecrle, Chinook; Seth Carroll, Plevna
Khloe Berdine, one of twenty-six SAE Grant recipients, plans to use her grant money to put her dog through therapy training and after she becomes a certified service dog, will bring her to one of her local nursing homes in Missoula.
Bulls for Blue Grant recipient, Torin Cecrle from Chinook, plans to use her grant monies to purchase her own heifer, then breed her to a bull loaned from her parents to produce a cow/calf pair as the start of her very own herd. She plans to pursue a career in the beef industry.
Donors for scholarships, Bulls for Blue Grants, and SAE Grants can be found on the Montana FFA website: www.montanaffa.org
The Montana FFA Foundation supports 99 local FFA chapters across the state of Montana, representing over 5,000 student members. The Montana FFA Foundation's mission is to cultivate partnerships, promote awareness and secure resources to enhance Agricultural Education and the Montana FFA Association.
Questions about Montana FFA scholarships and grants can be directed to the Montana FFA Foundation at (406) 582-4118 or foundation@montanaffa.org or visit the Montana FFA website at www.montanaffa.org.
Source: Montana FFA Association