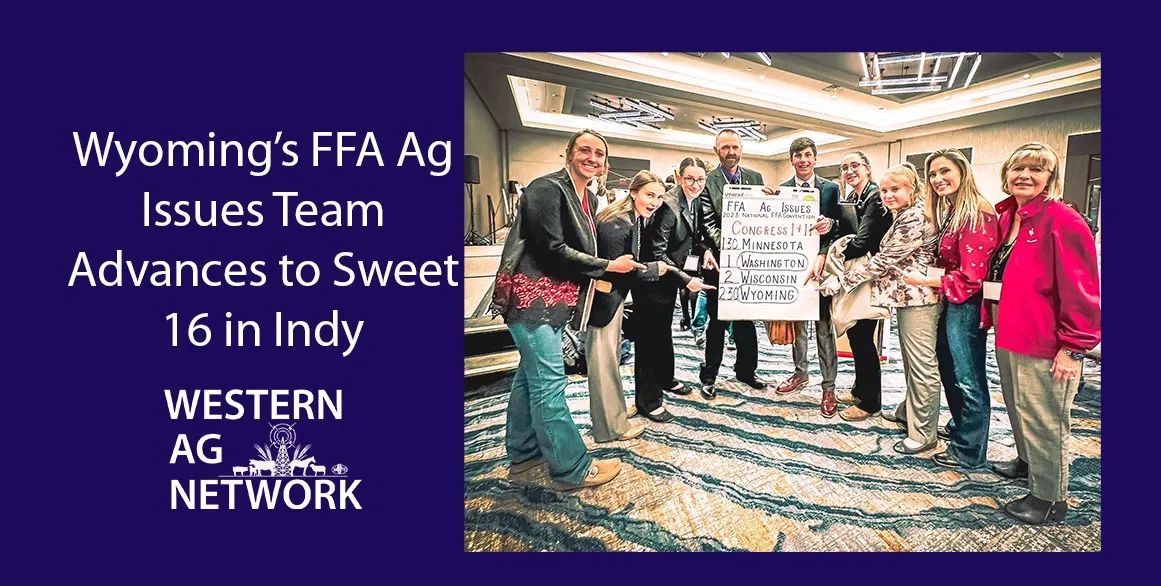 Wyoming's Ag Issues Team Preps for Sweet 16 at National FFA Contest
November 1, 2023
INDIANAPOLIS, IN. — The Ag Issues Career Development Event contest at the National FFA Convention in Indianapolis began with nearly 40 teams and Wednesday evening, they were narrowed down to the Sweet 16 with Wyoming on the list.
The Frontier FFA Chapter in Cheyenne, Wyoming, won the state Ag Issues contest with Sarah Falen Tate as their coach. The six-member team was preparing for Thursday morning's round, and they will present the issue they chose that is impactful to the agriculture industry.
"The issue we picked was the Endangered Species Act, focusing specifically on the potential listing of the Monarch butterfly and how it affects landowners and whether or not we believe it should be incentivized," team member Caytlin Heatherington said. "We divide the issues into two sides, and we have to be able to present the pros and cons of incentivizing, but as a group we don't come to a conclusion as part of the contest."
Team members competing include Heatherington, Haleigh Eiter, Rachael Abraham, Colton Schick, Charlotte Ehlman, Savannah Schilling and they're joined by advisor Joe Allen, Sarah Falen Tate, and Karen Budd-Falen. Competing at the national level is an accomplishment in itself, but Falen Tate said she has confidence in the team to advance.
"Absolutely, this is a contest that these students – I know our team has been working on the contest for a year now and to get to the national level, every state's team has put in similar work," Sarah Falen said. "The teams all specifically pick hot button issues and all of these students put in a ton of research and a ton of time."
Falen Tate and her team should know whether they will advance to the Final Four Thursday afternoon. We'll bring updates to you as the competition advances.
Source: Western Ag Network