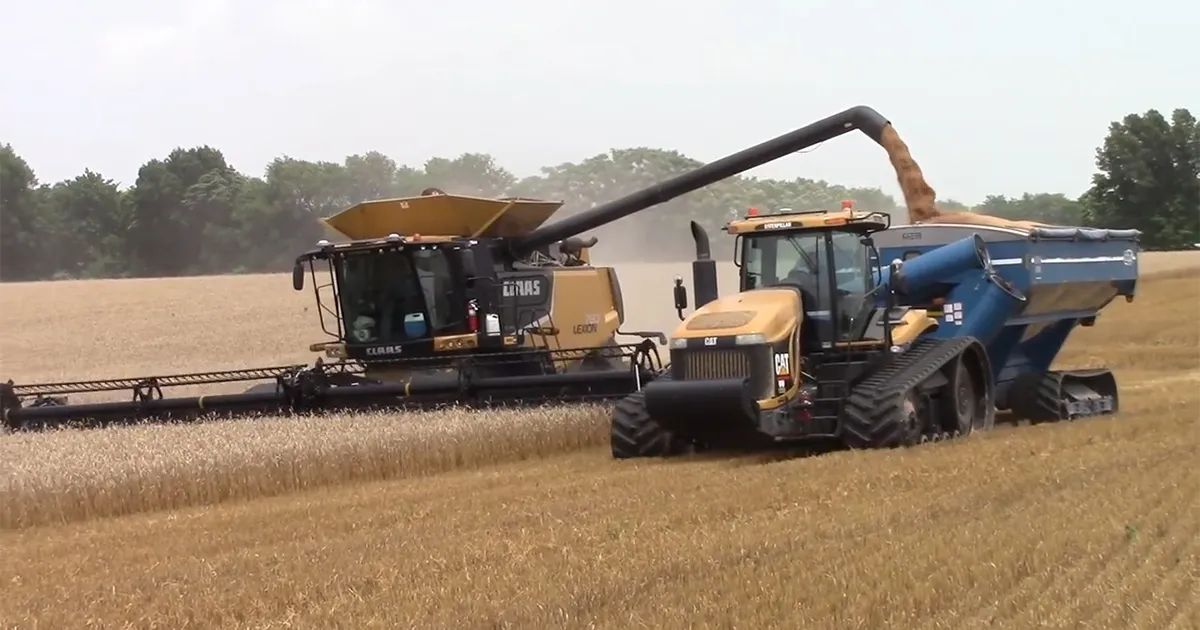 Wheat Predictions to Match 1963 Kansas Disaster
May 19, 2023 - The Kansas wheat crop of 1963 was a disaster.
A USDA report on the harvest cited yield loss from planting delayed by rain and from persistent drought. There were freezes but no snow and invasions from Hessian flies and armyworms.
It produced the lowest total bushels of wheat in the state in the years since.
Following the three days of the Wheat Quality Council's Hard Winter Wheat tour, which DTN participated in, and which concluded Thursday afternoon in Manhattan, Kansas, the 2023 harvest could be on pace to challenge the '63 results.
The final tour prediction was for a statewide average of 30.0 bushels per acre (bpa). Across the 6.6 million acres USDA predicts producers will harvest -- down from a planted acreage of 8.1 million -- that would compute to a total of 198 million bushels. However, the official tour projection for total production of wheat to be harvested in Kansas was lower than that, at 178 million bushels, indicating that tour participants thought abandonment might be quite a bit higher than normal at 26.75%.
USDA's estimate would be above the '63 crop, which was in at 185.48 million but far from good, and the results are in line with the weak numbers feared when this year's tour started.
"Expectations were met, not in a good way," said Aaron Harries, vice president of research and operations with Kansas Wheat. "The impact of the drought is pretty obvious and how extensive it has been and how the years of drought have really compounded each other."
It's unlikely the 2023 crop could fall much further back in the "worst since 19XX" rankings thanks to a truly horrible haul in 1957, when the state barely cracked 100 million bushels. The last time the state's yield average was 20-anything was 2014, when it hit 28. It's been below 30 only five times in the last 40 years.
Wednesday's tour routes were the shortest of the week as the tour's 105 attendees trekked from Wichita to Manhattan. They mostly traversed fields that weren't as drought-ravaged as those through the state's western third. The day's data buoyed the overall result, lifting Wednesday night's rolling average estimated yield from 28.7 bpa.
The tour calculated yields using USDA's late-season formula from the National Agricultural Statistics Service, which included counting wheat heads, spikelets and kernels per spikelet. Tour members also recorded visual estimates of the fields, which often came in lower than the calculated estimates. The yield formula doesn't factor in abandonment acres, only acres expected to be harvested.
The worst crops the tour saw were in the western part of the state, where estimates of crop abandonment soared to 50% and above.
Wheat in the central and more eastern parts of the state wasn't as devastatingly bad, and that was more obvious with Thursday's Day 3 results. They came in at 44.1 bpa on 52 stops, dramatically better than results from the previous two days. Tuesday's Day 1 average, from the northern central and west parts of the state, was at 29.8 bpa and Wednesday's, from the west and south, was at 27.6.
There were some examples of frost damage throughout the state and of the wheat streak mosaic virus farther east than is normal.
"There were a few little oases out there where things went just right," Harries said. "We ran into more good patches of wheat on Day 3, and that made me feel a little better. It's still below average, but the fields look decent. At least someone might be able to celebrate harvest this year."
The crop's condition signaled a lot of things to the assortment of farmers, researchers, agronomists, traders, millers and bakers in attendance on the tour.
For one, it meant they may need to scramble to get the grain they'll need.
"Seeing these lower yields come in, there's obviously going to be some impact," said Kathy Brower, innovation and quality lab manager with Grain Craft. "It means we have to gear up and be looking at alternatives to blend in. If we have some things coming in with drought stress and with high protein, for us, that means we'll be sourcing some soft wheat to blend back in and being a little more flexible than we've had to be in the past."
The potential high protein and high quality of the admittable smaller crop seemed like one bit of silver lining for others, however.
Recent rains in Kansas have been too late to "save" the wheat crop in any real sense. Most of the state's wheat is already headed and now pouring energy into filling that head. The short plants, one hallmark of the state's crop this year, aren't likely to grow any taller, making harvesting those heads difficult and, in some cases, impossible.
But rain as the plant is building its kernels can still help.
"With the modern genetics, that wheat is just trying to make a head. I'm still impressed even with the short wheat we saw that the head was still shooting up there," Harries said. "Even if it's small, you can fill out those kernels. We'll get decent test weights, and it will obviously be a high-protein crop. That's my hope. If you're going to have a small crop, you hope for the quality side of it, and some rainfall can bring that home."
In this state this year, that's going to have to count for the "bright side."
Generally, far more concerns are present.
What do consecutive sub-par wheat harvests mean for grain elevators, bankers and other agribusinesses?
And what does it mean for the soil itself, heading into a third year without significant biomass?
"This is really going to compound locally," Harries said. "This has a domino effect on local economies and also on the farm because there's no straw out there to help conserve the moisture if we do start getting moisture. It's going to take a couple of years to build back up that crop residue. But time will heal a lot of things."
Source: DTN, Joel Reichenberger