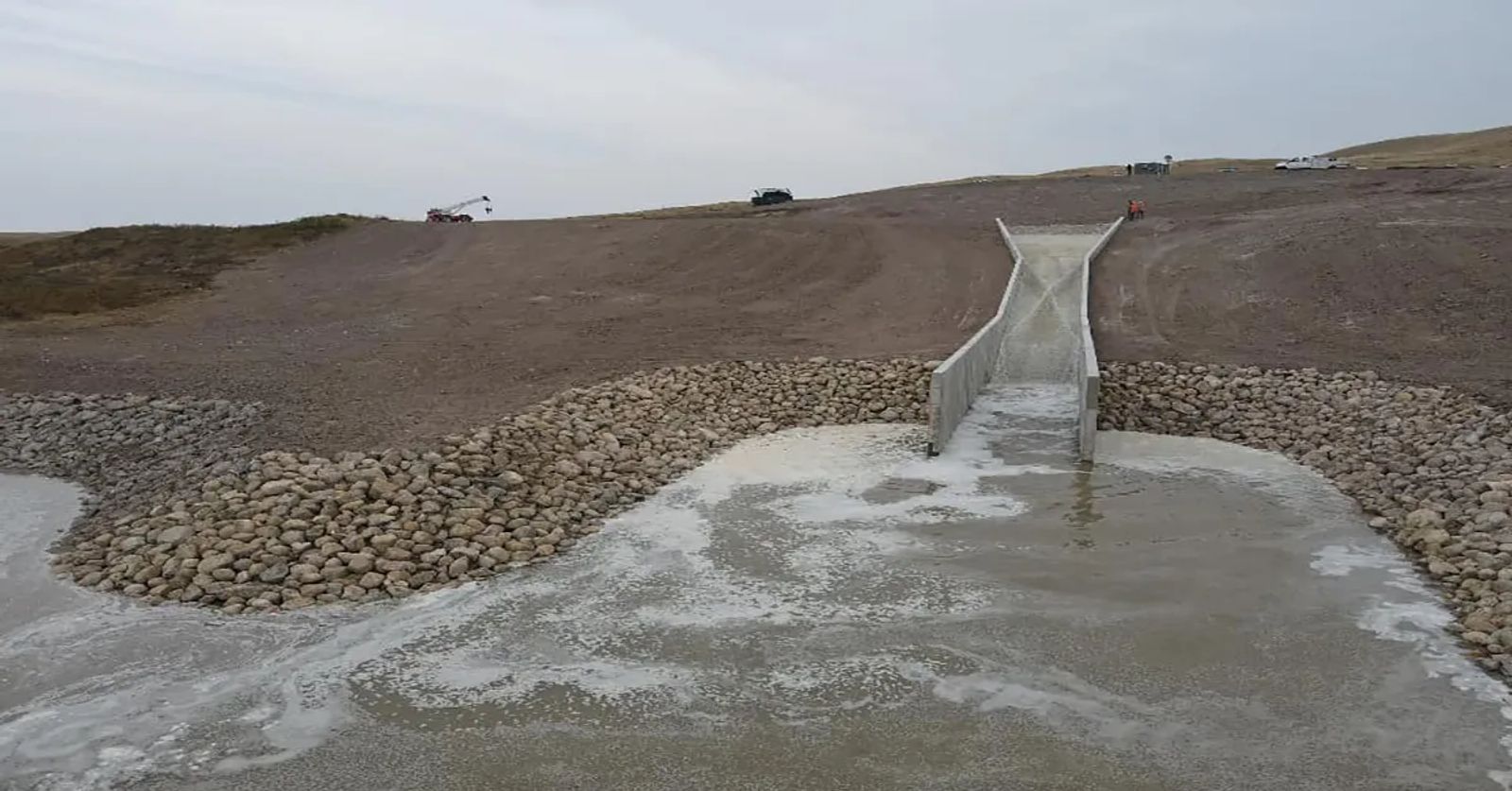 Water Flowing Again into Milk River after Repairs to St. Mary Canal
October 15, 2020
Water is once again flowing into the Milk River after a catastrophic structural failure on May 17, 2020 at the St. Mary Canal northwest of Cut Bank left Montana's Hi-Line community high and dry.
It's good news for Hi-Line residents who depend on the Milk River for it's drinking and irrigation water.
Structural repairs to Drop 2 and Drop 5 were recently completed and Milk River Joint Board of Control Project Manager Jennifer Patrick from Havre is excited to have the necessary repairs finished for all water users along Montana's Hi-Line.
"Well, I don't think anyone else's as excited as we are, myself included and the project managers on this. Today we got word that water just hit Milk River, Alberta" said Patrick. "So, it's a couple of days from Fresno, which is huge. So, we're excited to see that reservoir come up and move on."
She says the repairs done to Drop 2 and Drop 5 were long overdue.
"Absolutely, and people have been working on the whole system along with the working group for 20 years saying this is going to happen, this is going to happen; and it finally happened" said Patrick. "So, people are looking at it. There's a lot of other structures up there that are 100 years old that have never been addressed. So, these aren't the only ones."
She says the Milk River truly is the lifeline of Montana's Hi-Line.
"It's huge because all of the commodities coming out of this Milk River basin also depend on it" said Patrick. "It goes down to Nashua. So, we're running this 700-mile stretch of river for all of these different entities, the fish, wildlife, everything. When you talk about the Hi-Line, this is the lifeline of the Hi-Line."
A ribbon cutting ceremony was held at St. Mary's Drop 5 on October 15th to celebrate the new structures. The ceremony included remarks from Montana dignitaries plus Brenda Burman, the Bureau of Reclamation Commissioner from Washington, DC.
Congressman Greg Gianforte (R-Mont.) and U.S. Senator Steve Daines (R-Mont.) joined in the celebration at the junction of the St. Mary's diversion and the Milk River.
"This is really fabulous that water is flowing through the Milk River project, flowing life back to the Hi-Line. This project is so important because over 100,000 acres irrigated out of the Milk River, five communities, and two Tribal governments rely on it for their domestic water," Gianforte said. "When it failed in May, people weren't sure their faucets were going to work anymore. It got fixed because of collaboration, and we're here to celebrate that."
"We've officially got water running again through the Saint Mary's Canal! I'm glad to have helped speed this project along to support our Montana farmers, ranchers, Tribes and Hi-Line communities," Daines said. "Today was a great day and the culmination of hard work to quickly rebuild the Drop two and five structures will ensure Montanans on the Hi-Line have reliable access to water once again."
Source: Montana Ag Network & Western Ag Network & Congressman Greg Gianforte