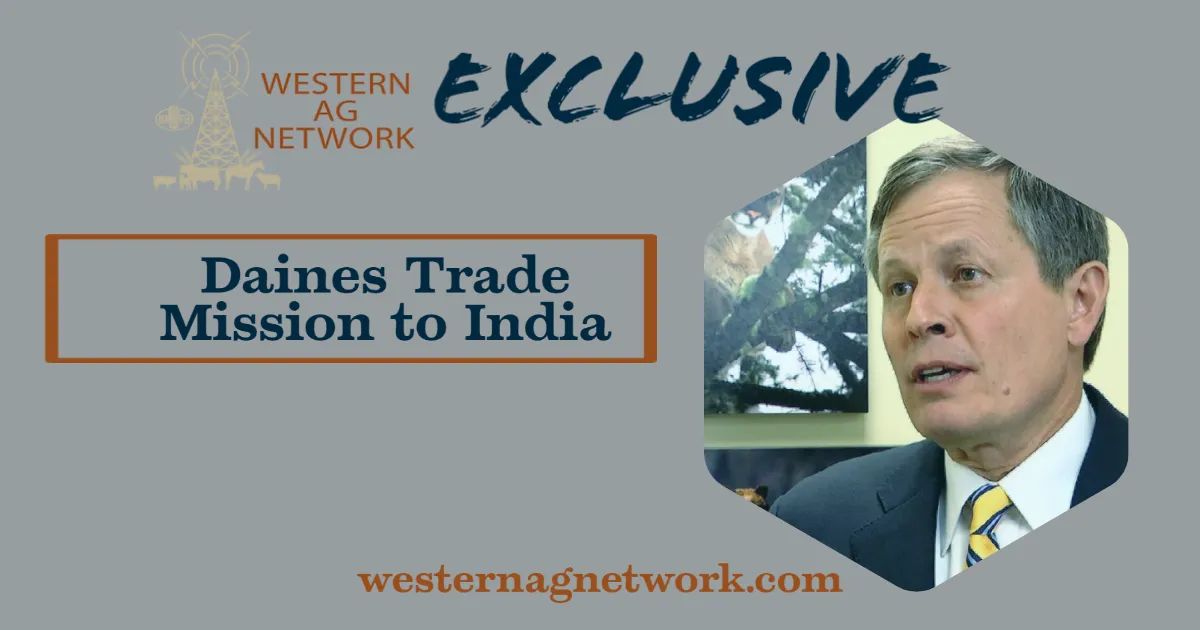 Sen. Daines Makes Ag Trade Mission to India
November 8, 2021
Montana is the largest producer of pulse crops in the U.S. In 2020, USDA reports that the combined sales of peas, dry beans, lentils and chickpeas grown in Montana was valued at $203,978,000 million. That value could have been higher if the world's largest consumer of pulse crops would not have had tariffs barring the importation of U.S. pulse crops into their country.
The nation of India is the largest consumer of pulses in the world. For several years, India has continued to levy tariffs on U.S. pulse crops. Tt's an issue Montana U.S. Senator Steve Daines has been working to resolve. This week, Daines is completing a trade mission to meet with decision makers and pulse crop buyers in India to re-open U.S. market access.
In exclusive interview Sen. Daines spoke with Western Ag Networks Lane Nordlund on the trip.
"Access to these foreign markets is critical for our Montana producers," said Daines. "We worked on the China beef issue several years ago and we got Chinas beef export ban removed for U.S. beef producers. Now, China is our second largest to beef export markets. Well, now we've got an opportunity in India. They've got 1.3 billion people. The largest consumer of pulse crops. Montana's the largest producer of pulse crops in the nation. I'm heading over there, myself. I'm Going to have face-to-face meetings with the Minister of Commerce to talk about how we can get better access into that India market for U.S. pulse crop producers.
History of the India's Pulse Crop Tariffs:
In June 2018, the Government of India announced an intention to adopt tariffs ranging from 10 to 50 percent on various products imported from the United States. This was in retaliation against the Trump Administration's decision to adjust U.S. imports of steel and aluminum articles under Section 232 of the Trade Expansion Act of 1962.
Privacy Shield reported that initially, "India raised import duties from zero percent to 60 percent on chickpeas, 50 percent on peas, 40 percent on large chickpeas, and 30 percent on lentils, severely impacting U.S. pulse exports to India."
On September 17, 2021, the Government of India (GoI) announced an increase of their retaliatory tariff on U.S. origin lentils from 10% to 20%. The global tariff enjoyed by U.S. competitors is 10%, making the
total tariff on the U.S. at 30%. Add an additional surcharge, the final tally for U.S. lentils is a 33% GoI tariff to enter the Indian marketplace.
Weeks before the U.S. shut down in the beginning days of the Covid-19 pandemic, Sen. Daines was making headway in lifting India's tariffs on U.S. pulse crops.
In fact, our Lane Nordlund was on assignment in February 2020 in Washington D.C. interviewing Sen. Daines when the senator got word that, President Trump had hand delivered a letter to Indian Prime Minister Modi.
The letter was from Sen. Daines and Montana farmers, urging the Prime Minister to do what was best for Indian consumers and Montana pulse farmers. Opening back up the market to U.S. Pulses. But, the pandemic slowed the progress. Daines trip to the sub-continent this week is about building lasting trade relationships.
"When you work these trade issues, a lot of it comes down to relationship and trust," Daines told Western Ag Network. "We continue to build those open channels of communication. Nothing beats a good face to face meeting. They appreciate the fact you're willing to leave your own country and go to their country and talk face-to-face. We're going to talk with pulse crop buyers, the minister of Commerce and Industry in India. He's the number one guy that will have a big voice in terms of getting access for U.S. pulse crop producers. Getting Montana pulse crop producers into the biggest market, which is India.
More will follow on Sen. Steve Daines agriculture trade mission to India in the coming days.
Source: Western Ag Network and Montana Ag Network