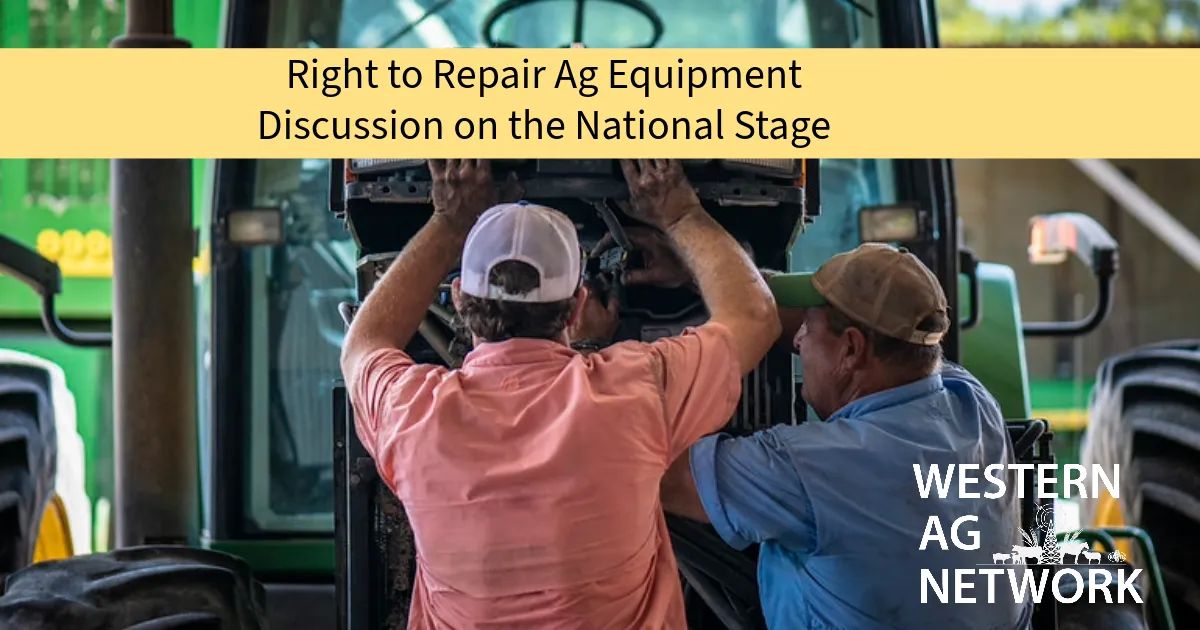 Right to Repair Discussion on the National Stage
October 30, 2023
This year, as numerous state legislatures deliberated on the issue, Colorado emerged as the inaugural and solitary state to enact a Right to Repair law specifically for agricultural equipment. This development led to divided opinions within agricultural advocacy groups regarding the ability of farmers and ranchers to independently repair their own equipment.
While right to repair advocates continue to push for similar bills in state legislatures nationwide, the conversation is getting attention from the White House.
Last week, Danny Wood, a member of the Rocky Mountain Farmers Union, received an invitation to participate in a White House panel focused on the Right to Repair movement and the recently approved Colorado Consumer Repair Bill of Rights Act.
Accompanying Danny on the panel were high-ranking officials from the White House, as well as representatives from Apple, Federal Trade Commission Chair Lina Khan, and other prominent Right to Repair advocates.
Danny discussed personal challenges he faced when trying to repair his brand-new combine during harvest.
"We went to harvest wheat with it, a message came up on the monitor saying there was a problem with the diesel exhaust fluid system," Wood told the White House panel. "We called the servicing dealer, and we're told it would be five days before they could come look at it. When harvesting your crop is your soul your sole source of income this is completely unacceptable."
Wood said that once a technician finally arrived, he found it was a cracked set of tubes that was keeping the engine from running properly.
"I asked if he had the tubes to replace and repair the machine and was told 'no'," said Wood. "I asked if they have the tubes at their dealership and was told 'no'. I asked if he could come right back after they got the tubes and install them, which was going to be four days before they came in, and I was told 'no' that I'd have to reschedule another service call after they came in. That would have been another five days for a total of 14 days the combine would have been sitting still."
Wood said that he risked losing nearly $80,000 if the crop was left unharvested and made the decision to repair the combine himself.
"Ultimately, we went out and bought and installed the tubes ourselves risking the warranty of the machine," explained Wood. "Farmers are not people that like to rely on others. We like to fix things ourselves. The right to repair will finally give us the ability to do that and save farmers thousands of dollars and valuable time. I'm pleased that President Biden has been so vocal on this issue and made it a priority to strengthen the right to repair."
Wood said that having legislation on the state level in Colorado is important, but a national law should be enacted.
"I testified in front of the Colorado House and Senate Agriculture Committees in support of our Colorado law, and I think the policy is great," said Wood. "I feel strongly that we need to make this a national policy to drive the point home and make sure manufacturers follow. The letter of the law is intended making a strong right to repair the standard across the whole country will be good for farmers everywhere."
Earlier in the week, the Agriculture Equipment Repair Act was successfully advanced by the Michigan House Agriculture Committee. This achievement was made possible through the dedicated support and active involvement of both the Michigan Farmers Union and the National Farmers Union (NFU) in the process of advocating for the bill.
Michigan Farmers Union President Bob Thompson expressed pride in their collaboration on the bill's development and affirmed their ongoing commitment to champion its passage. Thompson also extended gratitude to agriculture committee Chair Reggie Miller for his steadfast support of farmers' Right to Repair their farm equipment. The Farmers Union remains steadfast in its advocacy for equitable and comprehensive access to equipment repair for family farmers not only in Michigan but also across the nation.
Source: Western Ag Network