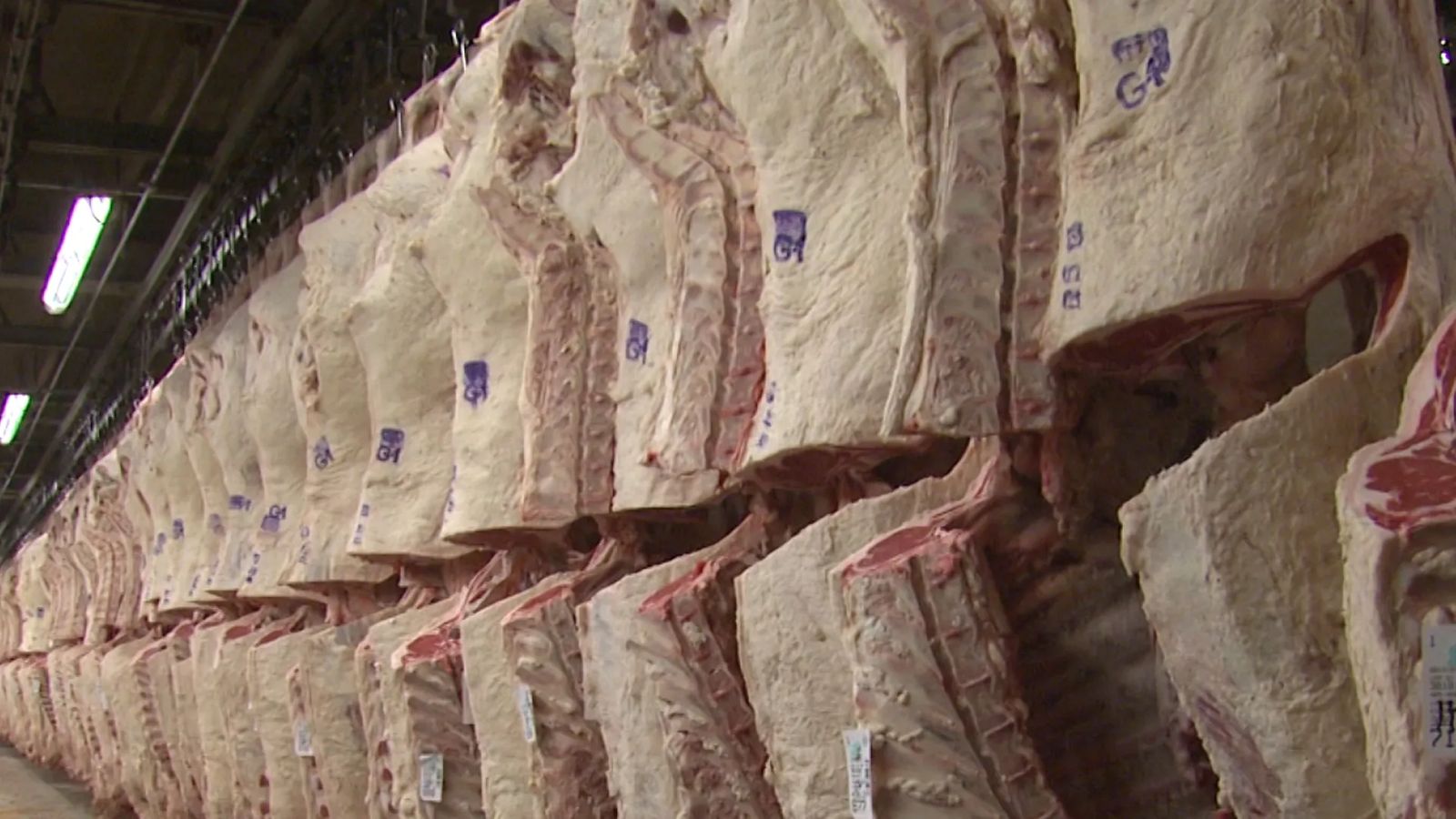 President Trump Uses Defense Production Act to Reopen Closed Meatpacking Operations
April 29, 2020
President Donald Trump became directly involved in the meatpacking crisis on Tuesday signing an executive order declaring packing plants as "critical infrastructure" under the Defense Production Act. The order will require plants to remain open or return to processing animals.
Trump said early Tuesday he would sign an executive order on liability issues and the food supply chain by the end of the day. The executive order using the Defense Production Act is meant to ensure meatpackers have liability protection over the risk that employees contract the virus at work.
At a White House event, Trump was quoted saying he would sign the executive order to address liability concerns and ensure there remains enough supply of food products.
"We're working with Tyson, which is one of the big companies in that world," Trump said. "And we always work with the farmers. There's plenty of supply."
Right now, according to USDA reports, hog slaughter capacity is down 37% from a year ago, and cattle slaughter is down 31%. For pork, especially, the situation has caused a backup of hogs on farms, as an estimated 160,000 hogs a day are now held up due to plants that either closed or dramatically reduced production. The situation is such the chairman of the House Agriculture Committee took the lead in getting a packing plant to help euthanize hogs.
Labor unions and advocates for meatpacking workers denounced the White House decision, citing that the reason packing plants were closed was because of high infection rates among the employees.
"If the administration had developed meaningful safety requirements early on as they should have and still must do, this would not even have become an issue," said Stuart Appelbaum, president of the Retail, Wholesale and Department Store Union (RWDSU). "Employers and government must do better. If they want to keep the meat and poultry supply chain healthy, they need to make sure that workers are safe and healthy."
Jen Sorenson, communications director for Iowa Select Farms and president-elect of the National Pork Producers Council, told CNN on Tuesday that coordination is needed at the local, state and federal level to reopen plants, and farmers need indemnity payments for being faced with the task of euthanizing hogs.
"We're exhausting every plant, every resource to prevent farmers from having to euthanize their hogs," Sorenson said. "So we're definitely in a terrible situation of peril right now and we're asking for help."
Sen. John Thune, R-S.D., said on a telephone town hall on Tuesday that a disruption of the meat supply chain situation needed to be resolved soon or consumers would see food shortages. Thune cited the Sioux Falls, South Dakota, Smithfield plant and recommendations made by the Centers of Disease Control (CDC) to reopen it.
"I'm hoping we can figure out a way to get these plants up and functioning again, making sure first and foremost that we're taking care of the safety of the workers," Thune said.
Sen. Joni Ernst, R-Iowa, said she visited with a meatpacking company earlier Tuesday about the safety measures being installed by packing plants as they follow guidance handed down over the weekend by CDC and the Occupational Safety and Health Administration (OSHA).
"Once those are in place, then those workers should feel more secure about going back to work," Ernst said. "I'm glad the president is taking notice of this situation and that he put the Defense Production Act out there."
House Agriculture Committee Chairman Collin Peterson, D-Minn., spoke to reporters early Tuesday before news broke of Trump's executive order. Peterson said he spent much of last week making logistical calls with hog producers and packing plants, especially after it was suggested JBS plant in Worthington, Minnesota, could be retooled to euthanize hogs.
JBS staff said they could reengineer a setup at the plant for that. The plant could euthanize as many as 13,000 market hogs a day with a staff of roughly 10 people, Peterson said.
Gov. Tim Walz has been working with Peterson on the depopulation and disposal plan, and Walz also is expected to see the operation on Wednesday.
Peterson emphasized the plan to kill 13,000 animals a day that were meant for food is not anyone's desire. He credited JBS for working to depopulate the swine in the most humane way possible.
"We want the plants open. That's our primary goal," Peterson said. "We don't want to do this. We don't want to euthanize hogs, but we don't have any choice."
Right now, though, there is not a situation set up to test all of the packing plant workers. The volume of illness in Nobles County [Worthington, Minnesota] is higher per capita than any other county in the state.
"You have got to get the employees well, and you have got to get the testing," Peterson said.
Walz spent part of Tuesday with Vice President Mike Pence at the Mayo Clinic in Minnesota to specifically discuss testing capabilities. Pence also has been inundated with requests from various state and federal officials to get the White House Coronavirus Task Force more engaged with getting packing plants back operating.
Peterson cited some of the other pork plants in South Dakota and Iowa that are closed and the need to reestablish processing capacity.
SOME PLANTS, PRODUCERS RESORTING TO DEPOPULATION
Given the volume of packing plant capacity now offline, Peterson said 160,000 hogs a day would have to be euthanized. So putting down 13,000 head a day at one plant is not going to solve the problem. But Peterson said other packers may be looking more closely at similar ways to depopulate hogs.
State officials will help dispose of the carcasses from the JBS plant, and the carcasses will go to rendering plants, landfills, compost and likely burial ditches that will need to be created.
Along with hogs, at least one turkey plant in Minnesota has closed, and that was now going to lead to destroying flocks of turkeys as well.
Peterson said he has been in frequent contact with USDA Under Secretary for Marketing and Regulatory Programs Greg Ibach about the euthanasia plans. USDA is not taking a lead in involvement, though, because department officials state they do not have funds to work on such depopulation plans. USDA officials also do not think they have authority to pay farmers indemnity for killing the hogs because the animals themselves are not infected with any disease.
Lawmakers will work to clarify the indemnity options for farmers who are faced with euthanizing animals due to the pandemic, Peterson said.
"If we do not get indemnity payments for these farmers in my district, they are going to go bankrupt," he said.
Peterson described the challenges of farmers having to euthanize market hogs on their farms. A farm with 3,000 head to depopulate took 12 people 10 hours to finish. In addition to having to remove that many hogs that might have an average 290-pound market weight, Peterson alluded that having to destroy that many animals takes a mental toll as well.
"I don't think anybody will ever be the same for having participated in that," Peterson said. "So we can't do that. There's just no way you can do this on the farm. That's why I've been trying to push these plants into helping us."
LAWMAKERS SEEK HELP FROM WHITE HOUSE
Iowa Sen. Chuck Grassley, R-Iowa, said he spoke with White House Chief of Staff Mark Meadows on Saturday night about the packer closures. Grassley told Meadows in his phone call that the only way to get workers back to the packing plants is to ensure the work environment is safer. That also would probably require slower line speeds, he said.
Several top Iowa officials wrote to Pence on Monday, calling on the Trump administration to "utilize every authority available to keep plants open. The letter cited the need to test and protect workers, as well as provide resources to help humanely euthanize hogs and provide an indemnity payment to producers. The letter also calls for mental-health resources to producers who have to euthanize animals.
Iowa officials in their letter, along with Sen. Mike Rounds, R-S.D., and others, had each recommended Trump use the Defense Production Act to reopen packers.
Grassley later tweeted that the president is right to use authority to keep processing plants operating a critical infrastructure. In the same tweet, Grassley added that a society is just nine meals away from food riots, that the federal government should provide personal protective equipment (PPE) and testing, and that plans should follow CDC and OSHA guidelines to protect workers.
"Pres @realDonaldTrump is right 2use authority 2 keep open meat processing plants Its critical infrastructure 4 country's food supply chain As saying goes society is 9 meals away from food riots Fed govt shld help w PPE&testing/plants need 2follow CDC&OSHA guidance 2protect wrkers," the senator tweeted.
CRACKS IN FOOD SUPPLY SYSTEM EXPOSED
The pandemic has exposed some significant market cracks in the country's just-in-time food supply system for market delivery and processing for produce, dairy and now live animals.
Peterson said he has gotten a lot of questions about dumping food and killing animals that he hasn't been able to answer. He said he wants to demand changes in how the country installs preventive measures to avoid such disruption again.
"We need to have on the shelf a way to deal with this stuff going forward so we are not in a crisis flying by the seat of our pants," Peterson said, "Not only with the food shelves, but on the other side -- the production side."
Any new funds should include a strategy to have a "FEMA-like" program ready to go for the next crisis, Peterson said. The Federal Emergency Management Agency (FEMA) provides the federal government response to natural disasters.
Some lawmakers have introduced a bipartisan bill to increase USDA funding under the Commodity Credit Corp. to at least $50 billion. The CCC fund has been set at $30 billion since 1985 and would be roughly $68 billion if it had kept with the rate of inflation.
Peterson said he would support more funding for CCC only if provisions were added to ensure USDA is held to more accountability to the House and Senate Agriculture Committees on how the department spends such funds.
"I will guarantee you this: I'm not giving the secretary or the CCC any more money until we have a say on how it is spent," Peterson said. He added, "There is not going to be any bill to give them $50 billion without some strings attached."
Source: DTN