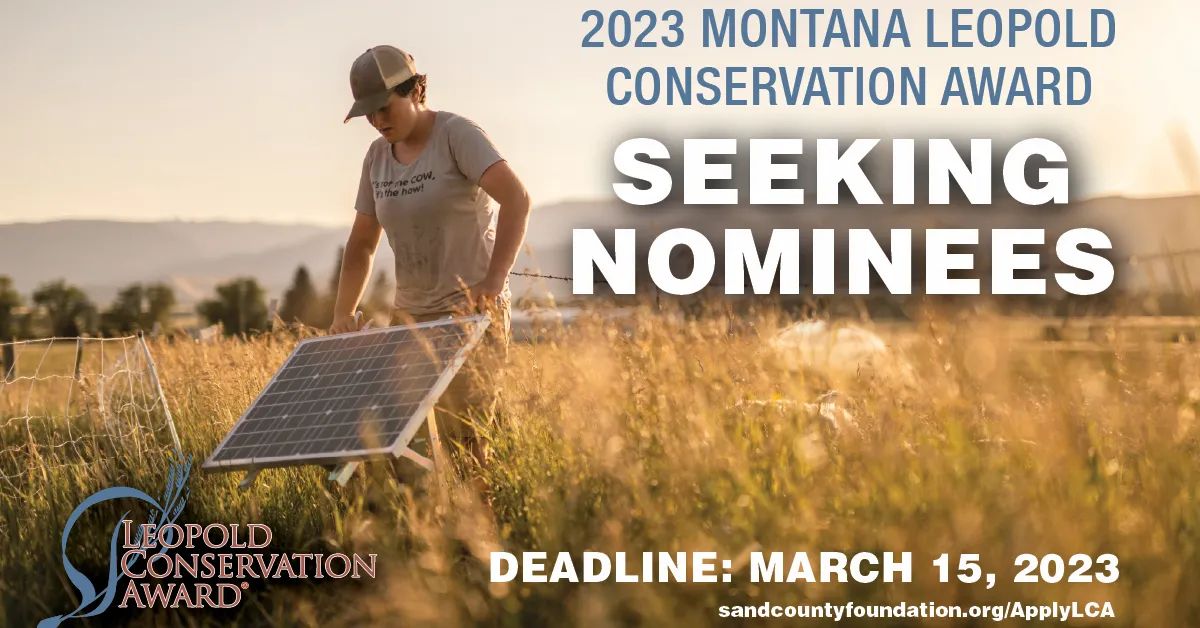 Nominations Open for Leopold Conservation Award®
October 17, 2022 - Know a Montana rancher, farmer or forestland owner who goes above and beyond in the stewardship and management of natural resources? Nominate them for the 2023 Montana Leopold Conservation Award®.
Sand County Foundation and national sponsor American Farmland Trust present the Leopold Conservation Award to private landowners in 24 states for extraordinary achievement in voluntary conservation. In Montana, the $10,000 award is presented with the Montana Department of Natural Resources and Conservation, and the Montana Rangeland Resources Committee.
Given in honor of renowned conservationist Aldo Leopold, the award recognizes landowners who inspire others with their dedication to land, water, and wildlife habitat management on private, working land. In his influential 1949 book, "A Sand County Almanac," Leopold called for an ethical relationship between people and the land they own and manage.
Nominations may be submitted on behalf of a landowner, or landowners may nominate themselves. The application can be found HERE. The deadline is March 15, 2023. Applications can be emailed to sbarta@mt.gov or postmarked by March 15, 2023, and mailed to:
Leopold Conservation Award
c/o Rangeland Resources Program CoordinatorDept. of Natural Resources & Conservation
P.O. Box 414
Clyde Park, MT 59018
Applications are reviewed by an independent panel of agricultural and conservation leaders.
"These award recipients are examples of how Aldo Leopold's land ethic is alive and well today. Their dedication to conservation shows how individuals can improve the health of the land while producing food and fiber," said Kevin McAleese, Sand County Foundation President and CEO.
"Landowner-driven conservation helps ensure that our natural resources provide benefits for present and future generations of Montanans. We are grateful for their dedication and thankful to partner with Sand County Foundation to recognize an outstanding agricultural landowner once again with the 2023 Leopold Conservation Award," said Amanda Kaster, Montana Department of Natural Resources and Conservation Director.
"As the national sponsor for Sand County Foundation's Leopold Conservation Award, American Farmland Trust celebrates the hard work and dedication of farmers, ranchers and forestland owners," said John Piotti, AFT president and CEO. "At AFT we believe that conservation in agriculture requires a focus on the land, the practices and the people and this award recognizes the integral role of all three."
Visit the Leopold Conservation Award Program page for more information.
Source: Montana Department of Natural Resources and Conservation