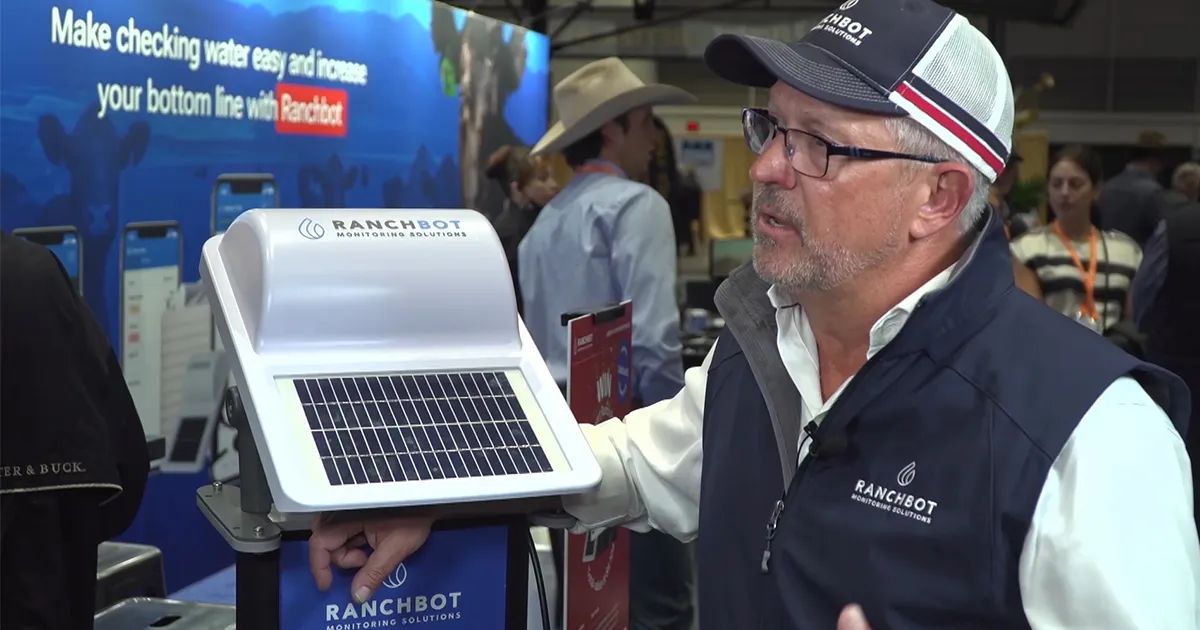 New Ranchbot Technology Makes Checking Livestock Waters Easy
February 13, 2023
No question, water remains the lifeline of agriculture. But water can also be one of the most poorly managed assets on farms and ranches.
During the NCBA Trade Show in New Orleans, Andrew Coppin, co-founder of Ranchbot Monitoring Solutions described their new technology to help ranchers do a better job of water management.
"So, six years ago, my co-founder, Craig Hendricks, and I started thinking about how could we provide a service for ranchers that would allow them to better manage their water resources and be able to know when there's a problem, when there's a problem, because all of us as ranchers, spend a lot of time driving around checking water that fundamentally doesn't need checking," said Coppin. "But the 5% of times that it does is critical. And we all know that. So, our device Ranchbot allows ranchers to see all of their water resources across the ranch in real time from their cell phone or their computer. Over morning coffee, you can check out what's happening. And if nothing's happening, you can reallocate your time to other important tasks. And if there is a problem, you're going to know about it as soon as it happens."
Russell Nemetz talked with Andrew Coppin about Ranchbot at the NCBA Trade Show in New Orleans.
He says Ranchbot installation is easy allowing ranchers to monitor and make adjustments from their cell phone, computer or other smart device.
"Well, we sort of found that a lot of the technology in the past was coming out of the oil and gas sector or something," said Coppin. "So, we built something from the ground up by ranchers, for ranchers with a basic premise, if we can't put it in the box, send it to a rancher, have them open it, not read the instructions, because we don't and install it on their own in 10 minutes, turn it on and it works. Then don't send it. So, that was our premise on everything that we've done at Ranchbot and everything that we do. We're a service focused technology company, so my team is there to support the ranchers. That's helped us grow immeasurably because as we all know, when I'm trying to ring someone for help on the ranch, it's when I've got a few spare minute and I don't want to be put on hold and I don't want to go to a call center. I want to talk to someone that can help me. So, service focused technology designed by ranchers for ranchers, that's been our big story."
He says to date, over 10 million head of cattle and 10 million head of sheep in both Australia and the United States are drinking water being monitored by Ranchbot.
"Over the last four or five years in Australia, obviously we had a massive drought and water management became the critical thing," said Coppin. "As we know, ranchers are always focused around what's important and critical. We started having the conversation about better water management. And as I stand here today, we're on like 4000 ranches or as we call them cattle stations across Australia and sheep stations overseeing the water and infrastructure of around 10 million beef cattle and 10 million head of sheep. It's a big responsibility to help those ranchers oversee that water. But what we consistently hear is that we're giving them peace of mind, saving them an immense amount of time, both travelling and in gas, and allowing them just to run a more productive and profitable operation. Over the last 18 months, I've driven like 10,000 miles across the country meeting with ranchers and associations and and other folk in the sector to really deeply understand the challenges and make sure that they're aligned with our thinking. So, we're now building Ranchbot in Dallas, Texas for this market, and we're on about 200 ranches across America."
For more information about Ranchbot Monitoring Solutions, call 512-706-9084 or visit www.Ranch-Bot.com.
Source: Western Ag Network, Haylie Shipp