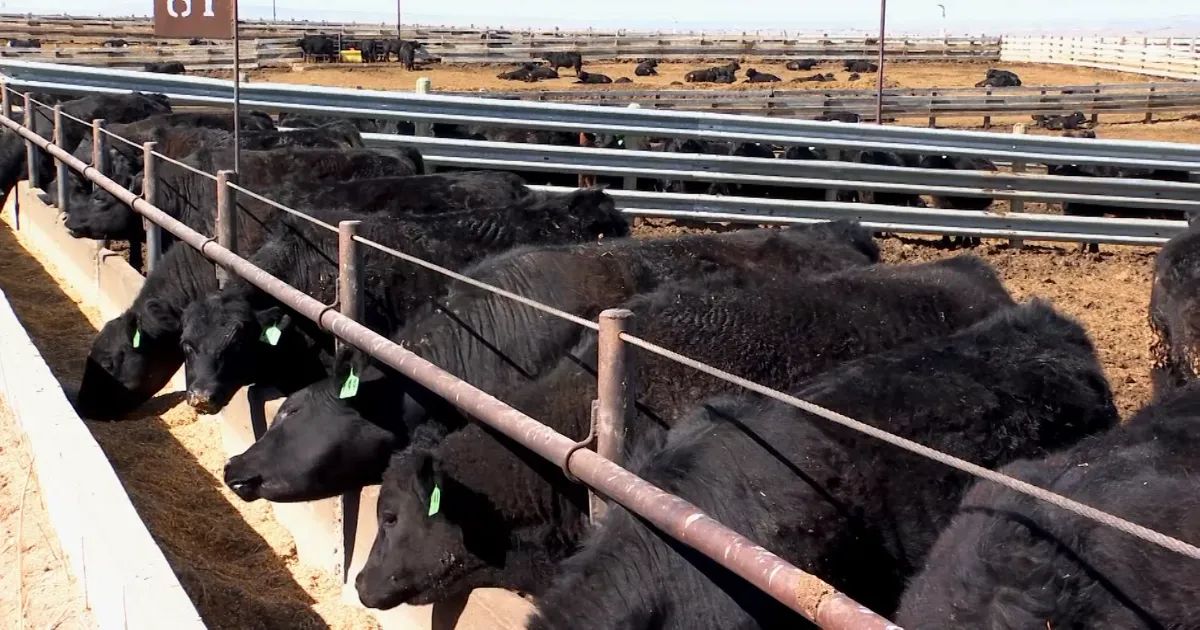 More or Less Government: Cattle Price Discovery and Transparency Act
April 26, 2022
Is more government regulation the solution to creating more fairness in the cattle markets? That was the key question being asked during a U.S. Senate Committee on Agriculture, Nutrition, and Forestry hearing on the Cattle Price Discovery and Transparency Act of 2022 that took place the morning of April 26, 2022.
The bipartisan bill was introduced in November 2021 by Senators Deb Fischer (R-Neb.), Chuck Grassley (R-Iowa), Jon Tester (D-Mont.), and Ron Wyden (D-Ore.).
Click play to watch a recap of the hearing.
New Jersey U.S. Sen. Cory Booker compared the beef packing industry to that of the consolidation that has occurred in the pork and poultry industries.
"I've watched what's happened to the pork and the poultry industry and how great traditions of farmers and ranchers in this country have been perverted by corporate concentration," said Booker. "And now these contract farmers live almost like sharecroppers in constant, outrageous debt. If we continue to let the cattle industry go in that direction, we are undermining yet another great American tradition."
Booker also joked that "in all of American there is no vegan more passionate about fighting for American ranchers than me."
Mississippi cattlemen and lawyer William Ruffin testified before the committee on behalf of the U.S. Cattlemen's Association in support of the bill.
"We got to have a cash market," Ruffin said. "We've got to have the opportunity to sell our cattle and that's the way we sell them. All the competition is taken away. Now I only talk to one buyer, and I have to try to guess (the prices) because I don't have the information to really determined whether I'm getting a fair offer or not. I only have one buyer. And I daresay that if we don't pass this bill where we have some transparency in this and we don't make an effort to re-establish the cash price, I'm not going to have any. When that happens, I'll go the way of most of the producers in this business."
While some senators and agriculture groups like the National Farmers Union and U.S. Cattlemen's Association support the entire bill, others oppose the government mandated minimums for negotiated cattle purchases.
Alabama U.S. Senator Tommy Tuberville said his constituents do not support all aspects of it.
"Alabama cattle producers have made it clear to me they do support taking actions in our cattle markets to help facilitate better price discovery for cattle sales and for transparency in the marketplace," said Sen. Tuberville. "However, these bills presented before the committee today are not the answer for those that I represent back in Alabama."
Tuberville cited that more government interference in mandating minimum cash cattle trade will only complicate the situation.
In January, famer and rancher delegates at the American Farm Bureau Convention in Atlanta voted "to revise 2022 Farm Bureau policy. While Farm Bureau supports robust negotiated sales, delegates voted to oppose government mandates that force livestock processing facilities to purchase a set percentage of their live animal supply via cash bids."
"AFBF appreciates the hard work that has been done on both sides of the issue to address the pressing needs facing America's cattle industry," said AFBF President Zippy Duvall. "The Cattle Price Discovery and Transparency Act takes positive steps toward ensuring fairness for America's farmers and ranchers as they work to feed this country's families.
"We support the majority of this legislation, but we cannot support mandatory cash sales. We are committed to working with the sponsors of the bill to make revisions to ensure it aligns with the priorities outlined by our membership," said Duvall.
The National Cattlemen's Beef Association (NCBA) and its members also have passed policy in opposition to government mandated cash minimums.
NCBA said , " today's conversation highlighted the vehement opposition to government mandates by a majority of U.S. cattle producers."
Kansas Livestock Association and NCBA member Shawn Tiffany testified in opposition to a government mandate as it could potentially result in fewer marketing opportunities and less incentive for producers to invest in genetics and innovative production techniques that lead to higher-quality beef.
"Every producer wants fair market value for the animals we raise and produce and many of us achieve that true value through value-based alternative marketing arrangements. Accordingly, I do not support a government mandate, of any kind," said Tiffany. "Regardless of how well intentioned the concept of helping producers obtain fair market value for their animals, the end result will be fewer marketing options for U.S. producers."
Dr. Stephen Koontz, a professor of Agricultural & Resource Economics Colorado State University, said the mandate will limit sellers' potential.
"Would you rather have one bid from the packer with what is $200 a head costs," asked Koontz? "Or would you rather have three bids from packers with $500 a head cost?"
Sen. Ag Committee Ranking Member Sen. John Boozman of Arkansas said, "There is no doubt that the bills we are discussing this morning are the result of the frustration at the prices America's farmers and ranchers receive for cattle in relation to the prices consumers ultimately pay for beef products."
Boozman added that before Congress passes any changes to the law, he believed the committee has a responsibility to understand the issue we are seeking to solve and to understand the proposed solution.
"Over the last few months, as I and my staff have studied S. 4030 (and its predecessor), we have learned a few things about the potential impact of the legislation," said Boozman. "I share this with my colleagues to help inform the discussion and hopefully allow us to seek comments and clarifications from our witnesses.
If adopted, the impacts of S. 4030 would include:
The number of cattle marketed under alternative marketing agreements (AMAs) will decrease and the number of cattle sold in the cash market will increase. For example, in Texas, Oklahoma and New Mexico, between 340 thousand and 2.5 million fed cattle will need to move out of formula contracts annually. In Iowa and Minnesota, it's fewer than two thousand head a year.
Using Texas A&M's analysis and economic cost estimates from Dr. Koontz, the costs of this shift away from AMA's will cost cattle producers between $23 million and $249 million annually, depending on how the Secretary of Agriculture decides to implement the law. Over the five years analyzed by Texas A&M, the costs are in the hundreds of millions to billions of dollars.
The costs to cattle producers are not all borne equally. Some regions will be more heavily impacted that others. Nearly 90 percent of the economic costs of this bill are estimated to be borne by farmers in Kansas and the Southern Plains, including Texas, Oklahoma and New Mexico."
R-CALF USA is also urging Congress to reject the compromised bill saying, "that the reforms decisively favor the status quo, the group states Congress is giving the U.S. Department of Agriculture carte blanche as to whether the packers will be required to change their current procurement practices and is giving the USDA two years to make its decision."
Source: Western Ag Network