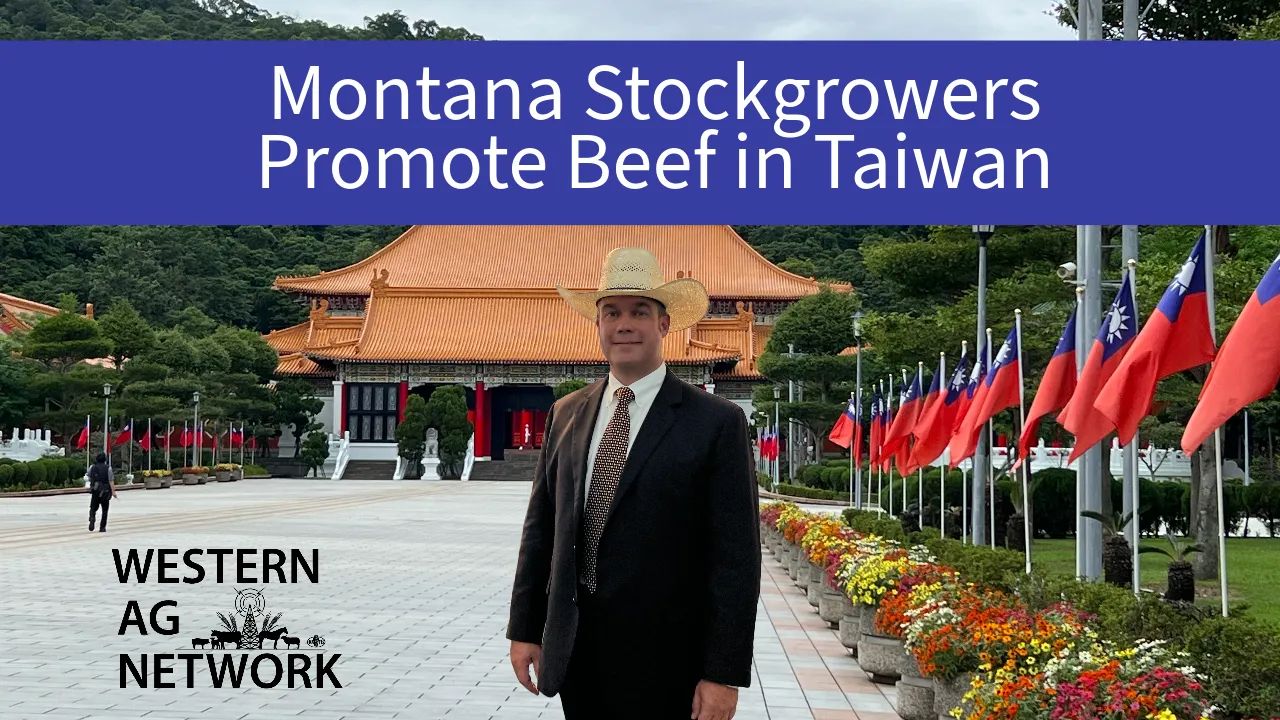 Montana Stockgrowers Promote Beef in Taiwan
October 30, 2023
On Sunday, Montana Governor Greg Gianforte embarked on a trade mission to Taipei, Taiwan aiming to bolster Montana's enduring ties with Taiwan, recognized as a bastion of democracy and technological advancement in East Asia.
Accompanying the governor on this mission are representatives from Montana's agricultural, semiconductor, photonics, and bioscience sectors.
Turk Stovall, Montana Stockgrowers Association Second Vice President is one of the agricultural producers partaking in the trade mission. Western Ag Network's Lane Nordlund spoke with Stovall about the trip. Watch below.
Lane Nordlund spoke with Turk Stovall while he was on the ground in Taiwan about the significance of the trip.
"It is absolutely eye-opening," said Turk Stovall. "The amount of opportunity our state has here from wheat, barley and beef. Just going through and visiting with the different institute's and with the people that are actually using our products. I've really come to realize that Montana really means something to these consumers in this marketplace."
In 2022, the total value of U.S. agricultural and related products exported to Taiwan reached a record $4.4 billion, an increase of 13 percent compared to the previous year. Taiwan successfully remains the 6th largest market for U.S. agricultural & related exports. The record year surpassed the previous record set in 2018 of $4.1 billion.
U.S. beef exports continued to set new export records with year-over-year trade value gaining 13 percent to reach $747 million.
"There's really a growing demand for U.S. beef," explained Stovall. "As a board member of the Cattlemen's Beef Board, we talk about 'are we making making a difference here with our Checkoff dollars?' and 'are we making a difference here with the products that we're sending?' and it is. There's looks to be a lot of growth opportunities for U.S. Beef in this marketplace."
Stovall said that part of the trade mission is exploring have a Montana Label on food products like beef in Taiwan grocery stores.
"Gov. Gianforte is all about Montana products," said Stovall. "He has gotten us in front of the decision makers in this neck of the woods. Having us show that this is what we do back home. And this is why our products are of a high quality and they come from real families that are really living and breathing this everyday. That it's the best production, literally in the world."
U.S. wheat exports value grew 24 percent YoY to $379 million, the highest value in 10 years despite an 8 percent decline in quantity.
"A Taiwanese consumer is eating more wheat than rice," said Stovall. "Wheat makes up 55% of that diet where maybe in years past it was 100% rice. So that has a lot to do with just the great products coming right from our state of Montana."
Lane Nordlund spoke with Turk Stovall while he was on the ground in Taiwan about the significance of the trip.
Stovall said meeting face-to-face with consumers and commodity buyers whether it's down the road or an ocean away is important to the success of rural America.
"We've been here for three days and we're getting the same message," said Stovall. "They're saying, 'We really enjoy our relationship with Montana and we're wanting some more products here'."
Governor Gianforte emphasized, "Taiwan stands as one of Montana's pivotal trade partners, aligning with our shared values of freedom and free enterprise. It is a privilege to be present in Taipei, actively fortifying our long-standing bond with Taiwan, championing our top-notch Montana commodities and burgeoning industries, and broadening Montanans' access to this vital market."
Source: Western Ag Network