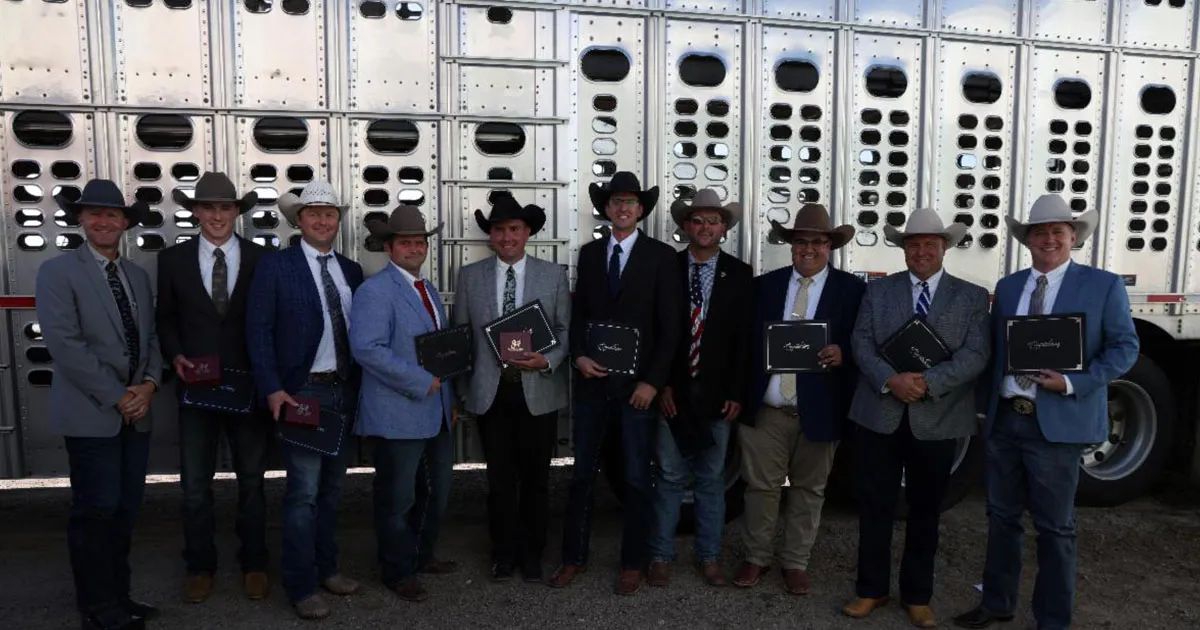 Michigan auctioneer wins qualifier for World Livestock Auctioneer Championship
TORRINGTON, WY., Sept. 14, 2023 —Wade Leist, Boyne City, Michigan, qualified for the 2024 World Livestock Auctioneer Championship and was named champion at the qualifying event in Torrington, Wyoming.
The event, hosted by Torrington Livestock Markets, was the first of three qualifying events building up to the 2024 WLAC Championship. Thirty-six contestants from across the U.S. and Canada competed for the title. The top 10 auctioneers earned a spot in the 2024 WLAC semifinals to be held next June at Oklahoma National Stockyards, Oklahoma City.
The competition was held as part of a special sale at Torrington Livestock Markets that featured more than 4,000 head of yearlings, feeder cattle, calves and a complete herd dispersal of breeding stock.
Jason Santomaso, manager of Sterling Livestock Commission competed and secured a top ten position and his tenth trip to the world championships.
"I lucked out big time," he said. "There was a pile of talent there."
Contestants are scored by a panel of livestock marketing industry judges on the clarity and quality of their chant, presentation, ability to catch bids as well as conduct of the sale and how likely the judge would be to hire the auctioneer. The contestants are taking bids from buyers on the seats at the auction and online while working on behalf of the livestock producer customers of Torrington Livestock Markets.
Along with Leist, the individuals advancing to the semifinals for 2024 are Reserve Champion (and High Score Rookie) Jace Thompson of Billings, Montana; Runner-Up Champion Brennin Jack of Virden, Manitoba; Eric Drees, Caldwell, Idaho; Dean Edge, Rimbey, Alberta; Brandon Hamel, Natoma, Kansas; Michael Imbrogno, Turlock, California; Jason Santomaso, Sterling, Colorado; Andrew Sylvester, Westmoreland, Kansas; and Curtis Wetovick, Fullerton, Nebraska.
Other contestants who competed were Cinch Anderson, Izee, Oregon; Zach Ballard, Presho, South Dakota; Brandon Barton, Mountain Grove, Missouri; Andy Baumeister, Goldthwaite, Texas; Albert Carroll, Downeyville, Ontario; Spencer Cline, Kingston, Arkansas; Casper Corfield, Oshkosh, Nebraska; David Cox, Orderville, Utah; Gary Crawley, Kiowa, Oklahoma; Tristan Hunter, Ardmore, South Dakota; John Kisner, Hays, Kansas; Lane Marbach, Victoria, Texas; Tilon Mast, Kalona, Iowa; Mark Mast, Billings, Montana; Ross Parks, New Concord, Ohio; Jack Riggs, Glenns Ferry, Idaho; Troy Robinett, Decatur, Texas; Kade Rogge, Rupert, Idaho; Austin Schaben, Dunlap, Iowa; Seth Schneider, Elsie, Nebraska; Ethan Schuette, Washington, Kansas; Shawn Silverberg, Fort Collins, Colorado; Preston Smith, Imperial, Nebraska; Sam Stamper, Checotah, Oklahoma; Scott Twardowski, Swanville, Minnesota; and Brad Veurink, Platte, South Dakota.
The next WLAC qualifying event will be held at Tri County Stockyards, Motley, Minnesota, on Wednesday, Oct. 25. Rules and entry information are available at lmaweb.com.
Source: Livestock Marketing Association