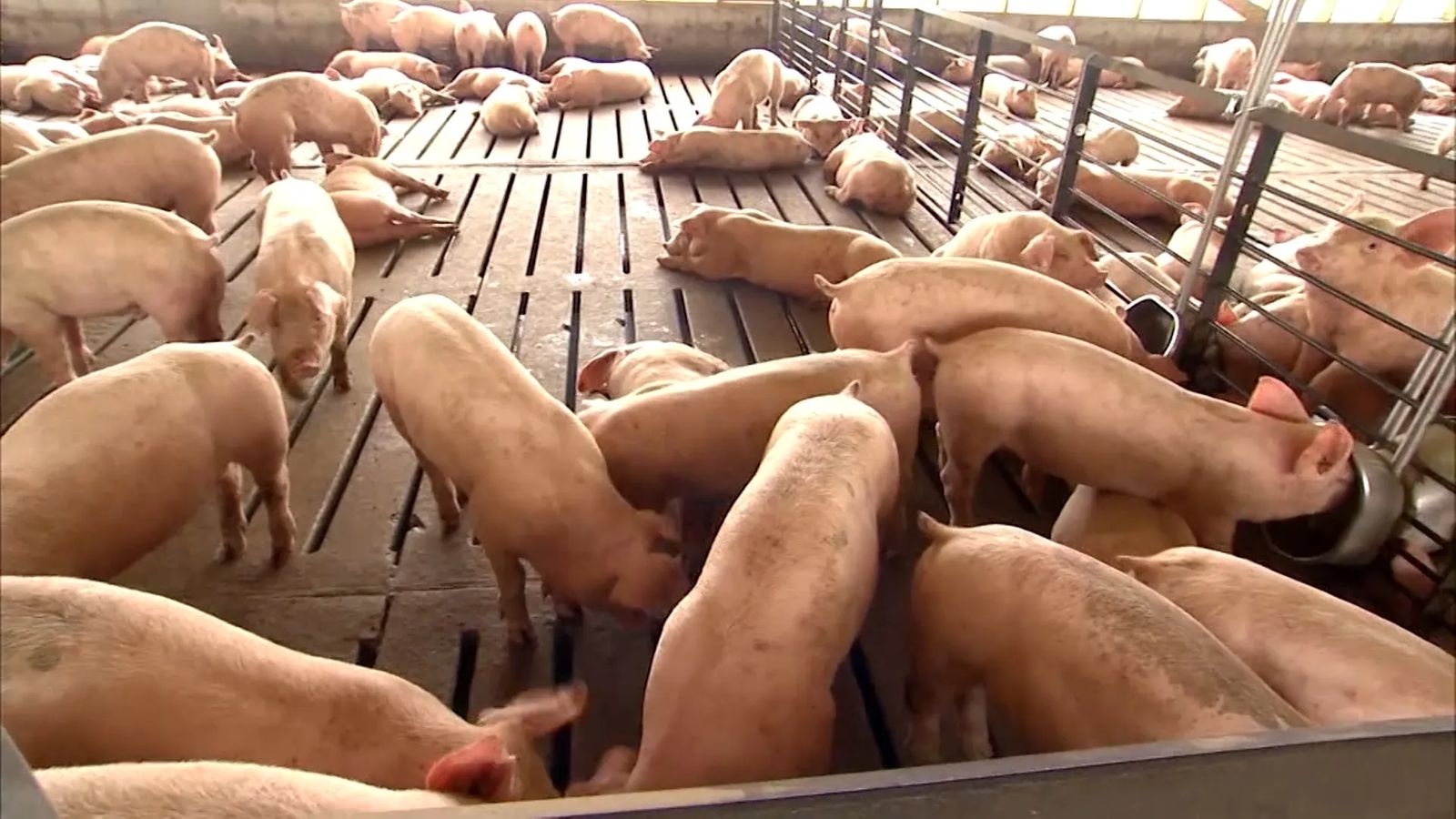 Hog Farmers Could Face $5 Billion Loss
April 16, 2020
A backup of hog supplies on farms across the country as restaurants and food services are closed during the COVID-19 pandemic has sent the industry into a tailspin.
With high expectations for exports, analysts had expected 2020 to be a profitable year for pork producers. Instead, the coronavirus now has the industry on track for at least $5 billion in losses, absent a cash influx during the pandemic.
While USDA is considering how to dole out billions of dollars in federal funds to agriculture industry sectors, hog producers told reporters on Tuesday the industry is desperate for help. To immediately stem the financial losses, the National Pork Producers Council wants USDA to buy at least $1 billion in pork for food-aid programs, as well as provide direct aid to pork producers.
"COVID-19 has had a sudden and devastating impact on the industry," said Howard 'AV' Roth, president of NPPC and a hog farmer from Wauzeka, Wisconsin.
"We are in a crisis. Hogs are backing up on farms with nowhere to go, leaving farmers with tragic choices to make. Dairy producers can dump milk. Fruit and vegetable growers can dump produce. But hog farmers have nowhere to move their hogs."
An analysis conducted by Dermot Hayes, an economist at Iowa State University, and Steve Meyer, a pork industry economist with Kerns and Associates, found U.S. hog farmers can expect to lose nearly $37 per hog, or almost $5 billion collectively for hogs marketed for the rest of the year.
Prior to the COVID-19 crisis, and after two challenging years, hog farmers were generally expecting a profitable year with industry analysts forecasting earnings of about $10 per hog on average for 2020.
Nick Giordano, vice president and counsel for global government affairs for the NPPC, said hog farmers likely are seeing losses currently of about $50 per animal. So it costs farmers more to feed hogs than the price they receive.
"We are hearing, for a lot of producers, they're hanging on for dear life," he said. "This is likely to blow out a significant amount of production."
PORK PLANTS CLOSING
Smithfield Foods announced the indefinite closure of its Sioux Falls, South Dakota, pork plant last weekend after more than 80 employees tested positive for COVID-19. That move leaves more than 550 hog producers in a lurch as to where they can sell hogs.
Iowa Gov. Kim Reynolds said 86 positive COVID-19 cases were confirmed on Tuesday from an outbreak at the Tyson Foods pork plant in Columbus Junction, Iowa, which also is now closed. The governor said the state will continue testing workers at the plant, and officials are reaching out to the other Iowa packing plants to see about testing those workers as well.
NPPC CEO Neil Dierks said retail pork demand remains strong, but the backup in hog supplies has resulted from about a 25% loss of demand when the food service industry shut down dining operations. About 70% of all bacon produced in the United States typically goes to food services.
"Because of COVID, we have seen the idling of packing plants, and pork is time-constrained," he said. "We've tried to run operations in a fashion on an even flow, but we ran into a constraint of getting pigs processed."
Dierks said consumers will not experience supply or pricing issues despite the difficulties.
For farmers, however, the situation is dire.
"If producers continue to face the current economic situation, in the long term, it hurts the sector," he said.
Hayes said the supply situation remains strong for pork, probably for several months.
"The only concern is if we lose multiple plants," he said.
Producers across the country may soon face the decision to euthanize hogs if the supply chain remains backlogged.
Michael Formica, NPPC assistant vice president, domestic affairs and counsel, said EPA granted animal feeding operations a waiver of federal requirements on the threshold for number of animals allowed before being considered confined animal feeding operations, or CAFOs.
So a medium swine animal feeding operation doesn't become a CAFO -- 2,500 or more animals -- while holding onto animals during COVID-19.
NPPC OUTLINES NEEDS
As is the situation with many other ag commodity groups, the NPPC has consulted with farmers across the country to identify several measures the federal government needs to take to help the industry.
NPPC is calling for USDA to purchase more than $1 billion in pork to clear the backed-up pork supply and supplement agency food bank programs facing increased demand because of rising unemployment.
NPPC said it wants those purchases to accommodate pork products packaged for restaurants and other segments of the food services market.
In addition, the industry is asking for direct payments to hog producers, without eligibility restrictions.
NPPC also wants Congress to make adjustments to Small Business Administration emergency loan programs for farmers as well.
According to NPPC, about 10,000 family hog farms are in jeopardy because they lack access to capital offered by the Small Business Administration.
The NPPC said it is urging Congress to increase the cap on qualifying businesses to those that employ up to 1,500 workers and to make agricultural businesses eligible for the Economic Injury Disaster Loan program.
Source: DTN