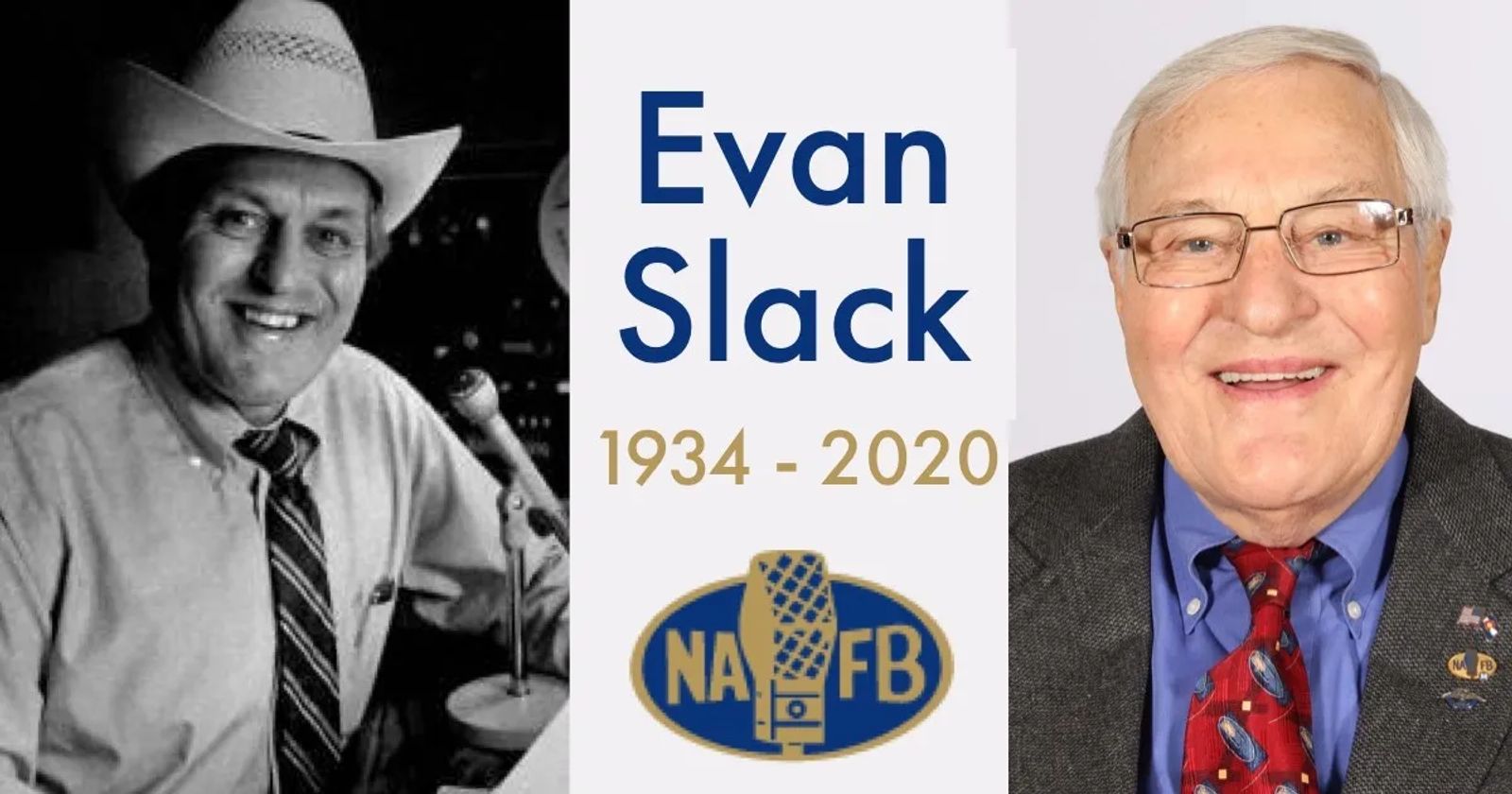 Farm Broadcaster Evan Slack Passes Away
September 20, 2020
Evan Slack, hall of fame farm broadcaster, has died at the age of 86. He passed away on Saturday, September 19, 2020.
His radio career spanned 68 years including most recently as owner of the Evan Slack Network based in Denver, Colo. During that time, he broadcasted from 45 states, 4 Canadian Provinces and Australia.
Not only did he interview thousands of farmers and ranchers during his career, but also several celebrities and politicians like John Wayne, Elvis Presley and President George H.W. Bush.
"I'm saddened by the loss of my friend Evan Slack" said Russell Nemetz, owner of the Western Ag Network (formally the Evan Slack Network), Billings, Mont. "The agriculture and broadcast industries have lost one of their biggest advocates. Evan truly had a passion for both and he worked tirelessly to make sure his listeners always stayed informed. I was honored when Evan first asked me to help with his network in 2016, first becoming a broadcast teammate and then ultimately purchasing the network from him earlier this year. Not only did he have a positive impact on me, but Evan touched the lives of millions of people during his amazing career and we can all be thankful for that. My thoughts and prayers go out to his long-time significant other Carolyn Browne and his family during this very difficult time."
Evan was a leader in the National Association of Farm Broadcasting (NAFB) and served as it's president in 1987. He was inducted into the NAFB Hall of Fame in 2009.
He was also inducted into the Broadcast Pioneers of Colorado (BPC) Hall of Fame in 2011.
Evan's story begins on a livestock farm in southwest Missouri where his dreams were in the clouds and on the air. As a young boy, he had two goals: to become a radio broadcaster, and to fly his own plane. His radio career began in June 1952 at KWTO in Springfield, and he has "slept, ate and breathed" radio ever since. Early on, he even worked at a radio station in Hollywood - Florida, that is - while he was stationed there during a two-year stint in the Marines.
Evan returned to Missouri to receive a degree in Agriculture with a minor in Journalism from the University of Missouri. After that, he moved westward, into the Rocky Mountains of Colorado, establishing Farm and Ranch departments at two different radio stations.
Once he got his pilot's license in 1967, he literally took off and he has been flying the friendly skies of this country ever since bringing his own brand of personal charm to the airwaves via the airways. The freedom of flight helped Evan become an agricultural radio network pioneer in the west, working to establish network programming specifically targeted for the farmers and ranchers of that region in the early 1970s.
He was been a strong leader in the farm broadcast industry, serving as president of the National Association of Farm Broadcasters, and has won recognition from several agricultural organizations for his service.
A celebration of life for Evan Slack will be announced at a later date. If you would like to send your condolences to Carolyn and the family, please send them to:
Carolyn Browne
41329 N. Laurel Valley Ct
Anthem, AZ 85086
Source: Western Ag Network
Video Courtesy: NAFB and BPC