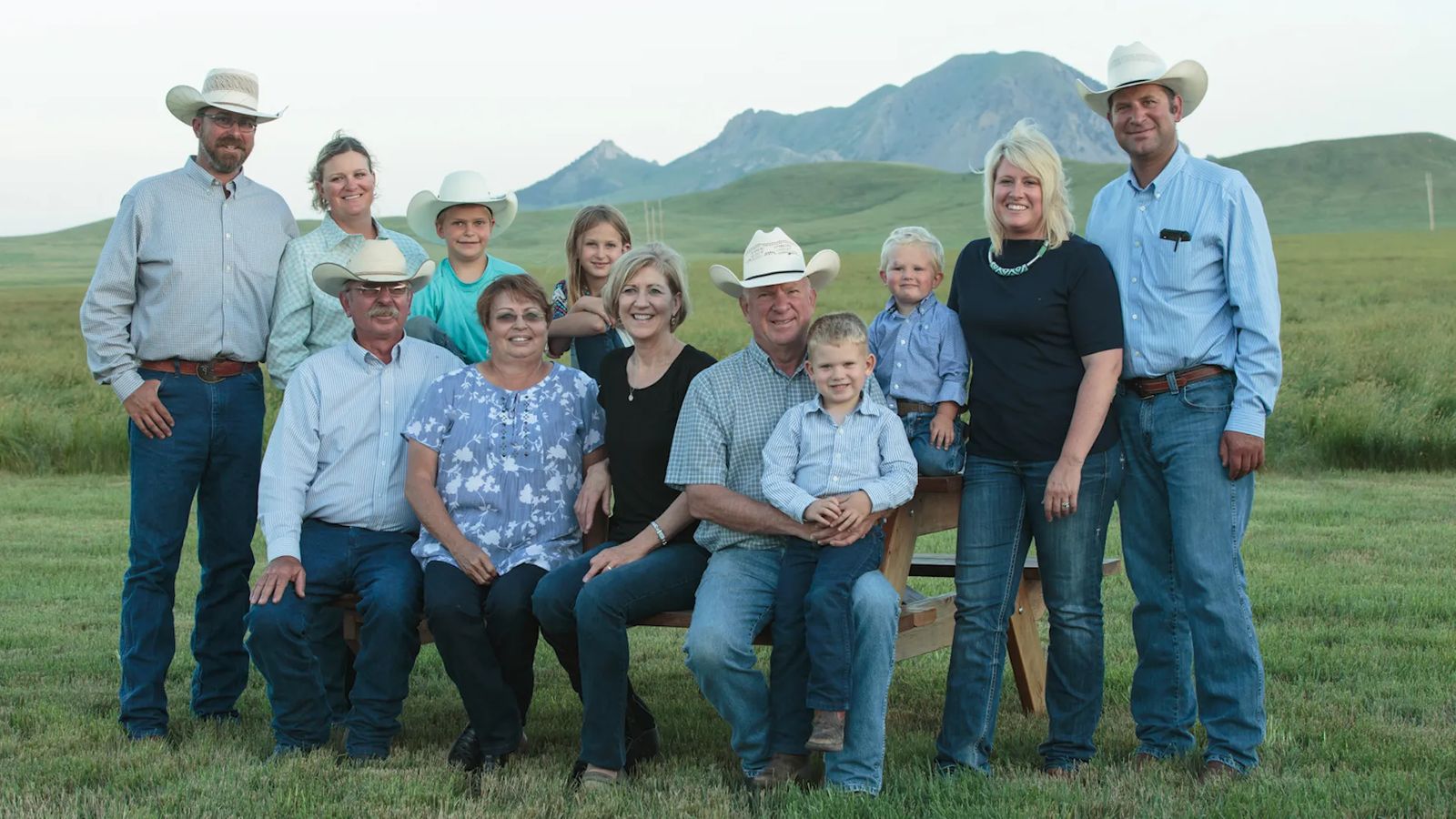 Blair Brothers Angus Ranch to Receive South Dakota Leopold Conservation Award
April 23, 2020
Blair Brothers Angus Ranch of Sturgis has been selected to receive the 2020 South Dakota Leopold Conservation Award®.
In conjunction with Earth Day, Governor Kristi Noem announced that Blair Brothers Angus Ranch would receive the prestigious award, given in honor of renowned conservationist, Aldo Leopold. It recognizes private landowners who inspire others with their dedication to the land, water and wildlife resources in their care.
In South Dakota, the award is presented annually by Sand County Foundation, the South Dakota Cattlemen's Association and the South Dakota Grassland Coalition.
Brothers Ed and Rich Blair, and their sons Chad and Britton are the namesakes of Blair Brothers Angus Ranch. The cow-calf, stocker and feed lot business spans 40,000 acres of deeded and leased rangeland near Sturgis and Vale in western South Dakota. Embracing conservation practices that enhance soil, water, livestock and wildlife has allowed the ranch to evolve and grow with each generation since Enos Blair established it more than a century ago.
The Blairs will be presented with the $10,000 award at the South Dakota Cattlemen's Association's Annual Convention in Rapid City, December 1-2.
"The South Dakota Cattlemen's Association congratulates the Blairs on being named our 2020 Leopold Conservation Award winners. Their operation exemplifies how cattle, wildlife and the range can mutually benefit from thoughtful management, while also supporting a multi-generational family business," said Jodie Anderson, South Dakota Cattlemen's Association Executive Director. "We congratulate them as our 2019 Leopold Conservation Award recipients and applaud their conservation ethic."
"The Blairs' natural resources stewardship includes practices such as rotational grazing, no-till farming, seeding cropland back to grass and developing a drought management plan. Their commitment to conservation has proven beneficial not only to their cattle, but also to their watershed and the diverse species of wildlife that call their ranch home," said Jim Faulstich, South Dakota Grassland Coalition Chairman. "The South Dakota Grassland Coalition extends our congratulations to the Blairs for being named this year's Leopold Conservation Award winners."
"Recipients of this award are real life examples of conservation-minded agriculture," said Kevin McAleese, Sand County Foundation President and Chief Executive Officer. "These hard-working families are essential to our environment, food system and rural economy."
Award applicants were judged based on their demonstration of improved resource conditions, innovation, long-term commitment to stewardship, sustained economic viability, community and civic leadership, and multiple use benefits.
The Leopold Conservation Award Program in South Dakota made possible thanks to the generous support of South Dakota Cattlemen's Association, South Dakota Grassland Coalition, First Dakota National Bank, South Dakota Department of Agriculture, South Dakota Farm Bureau Federation, South Dakota Game, Fish & Parks, South Dakota State University College of Agriculture and Biological Sciences, SD DENR Discovery Center, USDA's Natural Resources Conservation Service, Audubon Dakota, Bad River Ranches, Belle Fourche River Watershed Partnership, Daybreak Ranch, Ducks Unlimited, McDonald's, Millborn Seeds, North Central SARE-Sustainable Agriculture Research and Education, Professional Alliance, South Dakota's Conservation Districts, South Dakota Soil Health Coalition, The Nature Conservancy, South Dakota Pheasants Forever, Todd Mortenson Family, U.S. Fish, Wildlife-Partners for Fish and Wildlife, Wagner Land & Livestock, and Kopriva Angus LLC of Raymond, South Dakota.
Sand County Foundation presents the Leopold Conservation Award to private landowners in 21 states for extraordinary achievement in voluntary conservation.
For more information on the award, visit www.leopoldconservationaward.org
Source: Sand County Foundation