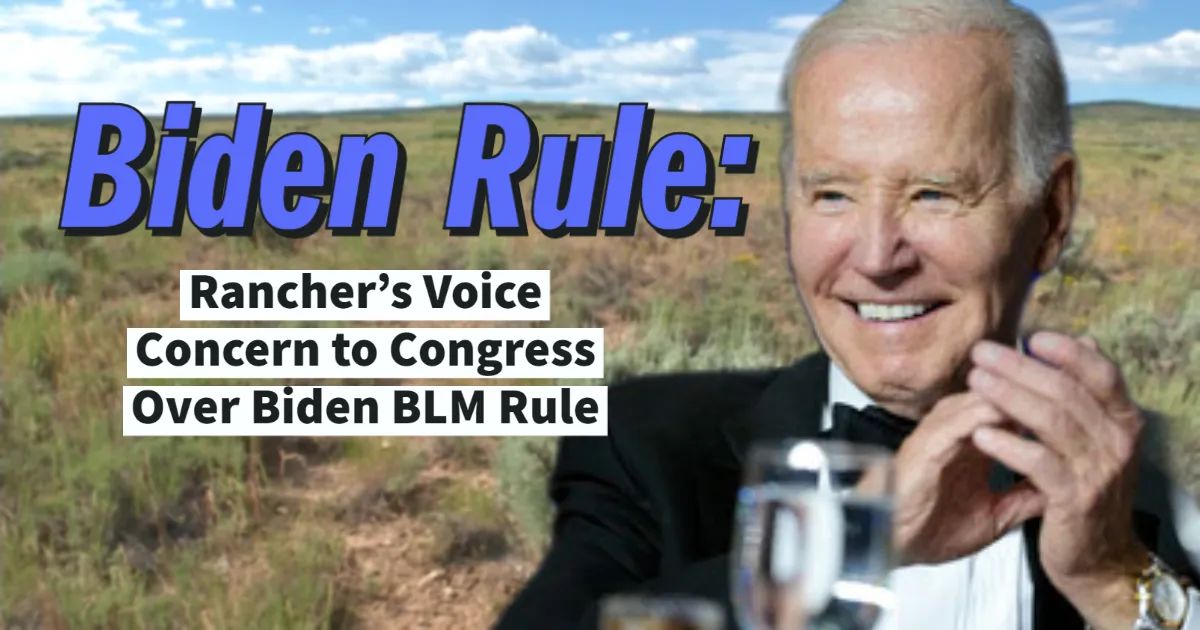 Biden Rule: Rancher Voice Concern to Congress over Biden BLM Rule
May 24, 2023
Public land stakeholders testified before the House Natural Resources Subcommittee on Oversight and Investigations regarding the Biden administration's burdensome regulations on public lands, including the highly controversial proposed rule entitled "Conservation and Landscape Health" issued by the Bureau of Land Management (BLM).
Rancher and Director of the Nevada Department of Agriculture J.J. Goicoechea, D.V.M. was one of the individuals who testified.
Watch Goicoechea's testimony below:
"The proposed rule would give conservation – and these leases – the ability to prevent other users from accessing and using public lands if the use is 'incompatible' with the conservation lease. This is a power no other multiple use has," Goicoechea testified. "Hikers, bikers, grazers, hunters, fishermen, energy development – including wind and solar – would all be at risk the way this rule is written. That means that the $29 billion derived from BLM lands each year in Nevada would also be at risk."
Major concerns with the proposed rule include the BLM's claims that the rule would not have a major economic effect, and the agency's attempt to implement it without Congressional direction or oversight.
"[The Nevada Department of Agriculture] interprets this as BLM circumventing Congress' ability to represent the best interests of their constituencies and denying other federal agencies the opportunity to ensure BLM is adequately considering the full breadth of stakeholder impacts," Goicoechea testified.
Watch the entire committee hearing:
Goicoechea, a regional policy vice chair for the National Cattlemen's Beef Association (NCBA) and a board member for the Public Lands Council (PLC), also highlighted concerns with the utilization of the Antiquities Act to designate large national monuments. The last three presidents have each used the Antiquities Act to change the management of at least 1,507,751 aces in the State of Nevada alone, occurring without local consultation and creating challenges for agriculture and land management.
"Western ranchers and rural communities face a unique set of challenges that bureaucrats in Washington simply do not understand," said PLC and NCBA Natural Resources Executive Director Kaitlynn Glover. "The BLM should hear the concerns voiced by Director Goicoechea and reverse course on their extremely overreaching proposed rule that clearly targets public lands ranchers."
Prior to his current position, Goicoechea served as Nevada's State Veterinarian. He is a past president of the Nevada Cattlemen's Association and has also served on the board of the Nevada Association of Counties, chaired the Nevada Sagebrush Ecosystem Council, and operated a veterinary practice for over 20 years. Goicoechea is a fourth generation cattle producer stewarding both his family's private land and public lands managed by the BLM and U.S. Forest Service.
Source: Western Ag Network, NCBA, House Natural Resources Subcommittee on Oversight and Investigations