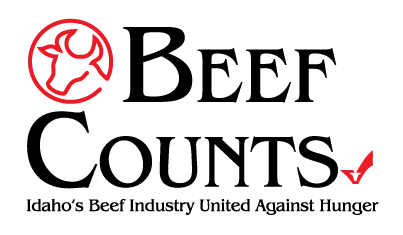 Agri Beef Donates 16,000 Pounds of High-Quality Beef to The Idaho Foodbank for Immediate COVID-19 Relief
April 14, 2020
Through the Beef Counts statewide initiative, Agri Beef donates 16,000 pounds of high-quality beef (equating to 85,000 3oz servings) to The Idaho Foodbank helping to meet their ever-growing need during the COVID-19 pandemic. With over 400 schools and partner agencies in The Idaho Foodbank network, the need has risen by 100% in some communities, and 30-50% across the state in a matter of just a few weeks.
Melissa Delgadillo is Agri Beef's Public Relations Manager and talked with the Western Ag Network's Russell Nemetz about their recent donation to the Beef Counts Program.
Idaho's Beef Industry, an essential industry amid the COVID-19 pandemic is the state's second largest industry. "With more cattle than people in Idaho, beef is a natural solution to the high-quality protein needs for the food insecure. One 3-ounce cooked serving of beef provides about 25 grams of protein, roughly 50% of the daily value, making it a highly concentrated way to support good health." said T.K. Kuwahara, Chief Executive Officer at the Idaho Beef Council.
Beef Counts is a program designed to provide a consistent supply of high-quality beef protein throughout the year to The Idaho Foodbank. With the support of Idaho's cattle ranchers along with community fundraising and support from grocery retailers including Albertsons, the program has consistently stepped up to address the challenge for providing high-quality protein, which is often a scarce commodity in the food bank network. As the first program of its kind in the United States, Beef Counts and its partners, the Idaho Cattle Association, Idaho CattleWomen Council, Idaho Beef Council and Agri Beef Co., collectively support this innovative program, which provides nutritious beef for hungry Idaho families and ask that others join to assist their cause if they are able.
"As a family-owned business it has always been a priority for us to contribute to the families in our community that need a little help, and that is especially true during hard times like those we are currently facing." said Jay Theiler, Executive Director of Marketing at Agri Beef. "To date Beef Counts has provided over 1.5 million 3oz servings of beef to families in Idaho."
To contribute to the Beef Counts program, donations can be made on The Idaho Foodbank website, https://idahofoodbank.org/beef-counts-donation/
Source: Agri Beef