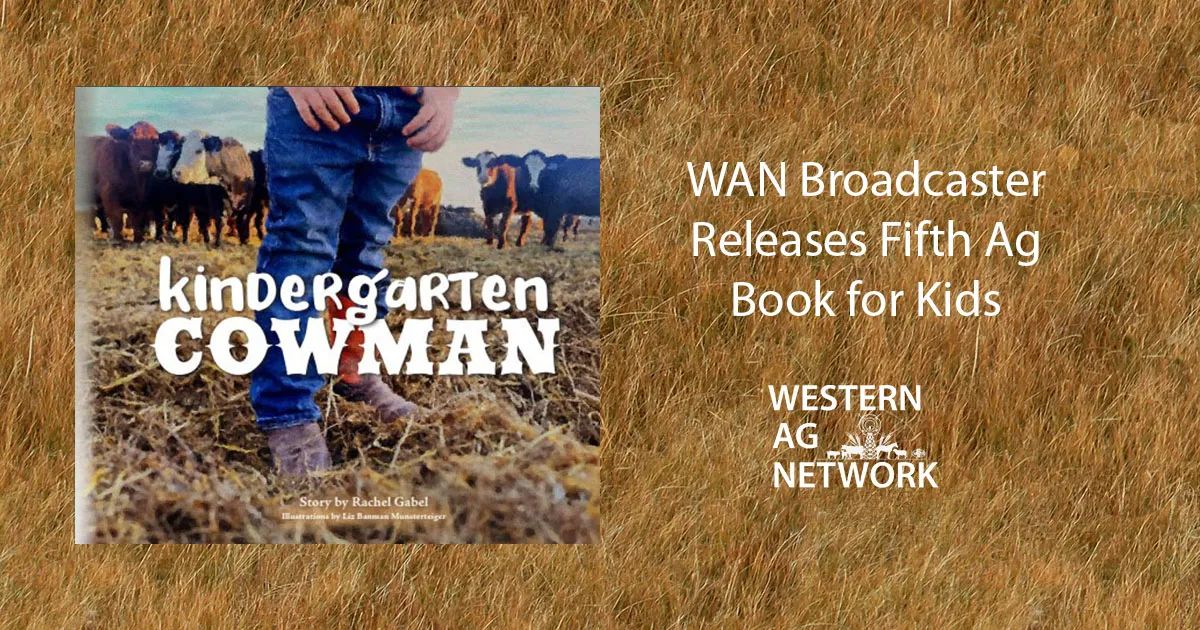 WAN Broadcaster Releases Fifth Ag Book for Kids
October 6, 2023 — Western Ag Network broadcaster Rachel Gabel has released her fifth children's agriculture book, Kindergarten Cowman. The book follows a young cowman who is growing right alongside the calves on his family's ranch. When fall arrives on the ranch, it means weaning time for the calves and Kindergarten for Luke. Discovering there are no cattle at Kindergarten, Luke discovers whether he and the calves have everything they need to go and grow.
This book is the fourth illustrated by former Fence Post Magazine digital editor Liz Banman Munsterteiger. The illustrations are beautifully crafted from ranch scenes that allow young readers to see themselves and their farm or ranch accurately.
Gabel is excited to partner with the Logan County Cattlewomen this year to bring Kindergarten Cowman to fruition. The book will be used by the group as part of their Flat Rancher initiative to further their goal of teaching children how beef gets from the pasture to their plate.
LCCW president Brit Pratt said she is thrilled to partner with Gabel to make possible a book that kids and parents will both enjoy.
"After I read Kindergarten Cowman, I was touched," she said. "Having my own little cowman, this book pulled at me heartstrings and I can't wait to use it in conjunction with our Flat Rancher project. The education this book provides is unmatched to anything we've used."
LCCW member and agriculture advocate Jaci Wagner provided a review of Kindergarten Cowman.
"Kindergarten Cowman is full of captivating vocabulary that when closing my eyes, I can picture my own years on the ranch as a young girl with my family on the plains," she said. "From the unrolling of the round bale in the powdery snow, the sandpaper tongue feel on Luke's hand, the calves bucking and running up and down the manure piles in the spring, to the excitement of branding day; Rachel encapsulates so many memorable moments on the ranch. The way Luke brings his toys to the table, builds his herd, and changes it with each season reminds me of my own boys along with their friends playing and changing their cattle with each growing stage of the year. Rachel described so beautifully the connection that our ranch children make through raising cattle to their own lives. Beginning at the exciting stage of the first Hereford on the ground, to weaning and ready for their own pasture, and each stage in between, this book allows ranch kids and all kids alike the opportunity to connect it to their own growth and life stages."
The Logan County Cattlewomen formed in March of 2021 at the First Annual "Meat In" Day in an effort to advocate, educate and fight to preserve agriculture in Colorado. President Brit Pratt said in response to Governor Polis proclaiming a "Meat Out" day, we set up a table and gathered close to 80 women to join our cause.
Logan County Cattlewomen are dedicated to the beef industry. The purpose of LCCW is to promote beef as a product, to educate the public about the industry and its contributions, currently and historically; and to educate about and protect the agricultural lifestyle.
LCCW members head to the city to host legislators from both sides of the aisle for their annual Calling on the Capitol steak fry dinner. One of LCCW's finest achievements, Pratt said, has been the opportunity to visit local schools to present the Flat Rancher program.
"The Flat Rancher program teaches kids how beef gets from our pastures to their plates," she said. "The program involves a high energy initial presentation from members about life on the ranch, a curriculum-based letter writing campaign with producers from across the state and ends with the kid favorite beef byproducts presentation with our very own "Steve the Steer." Preserving our agriculture roots starts locally and we are honored to have awarded $8,000 dollars in scholarship money to local students going on to trade school or majoring in agriculture fields."
The group's Annual Heifer Feeding Contest is a fundraising event that allows LCCW to continue their mission to educate Coloradoans about the beef industry and the important role it plays in everyone's everyday lives, from the jobs it provides to the byproducts we use every day.
Kindergarten Cowman is available now for preorder at rachelgabel.com.
Source: Western Ag Network