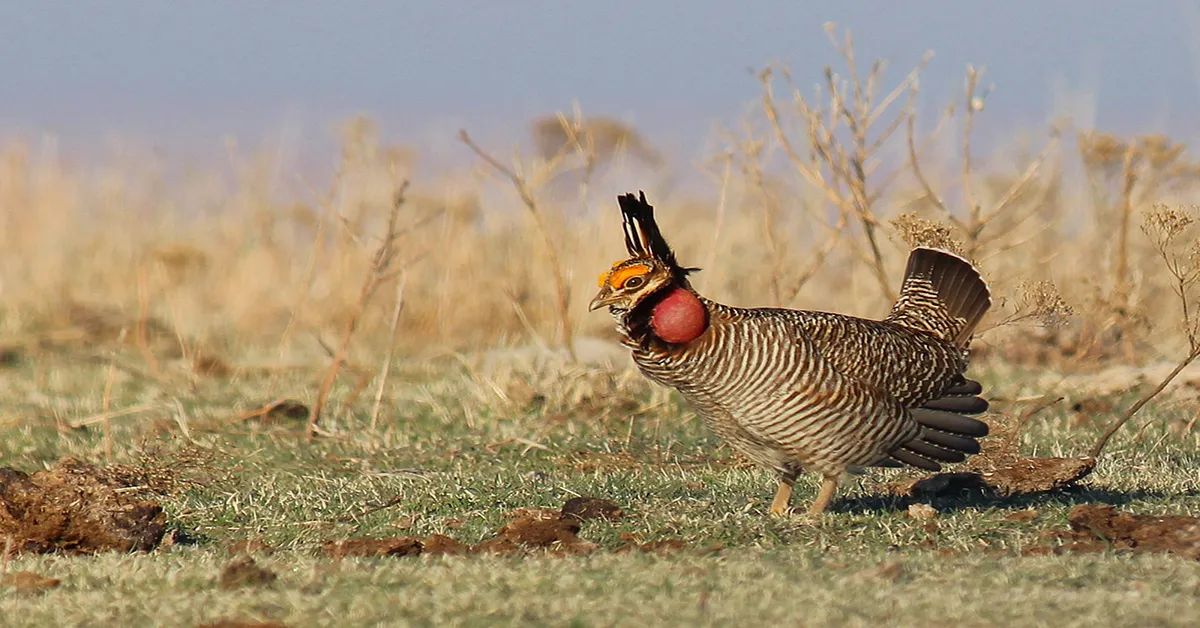 USFWS Sued Over Lesser Prairie Chicken Listing
November 10, 2022
An environmental group filed suit against the U.S. Fish and Wildlife Service (USFWS) for the agency's failure to issue final rules by the June 2022 deadline regarding the listing of the lesser prairie chicken under the Endangered Species Act (ESA).
The Center for Biological Diversity (CBD) said the inaction by USFWS "delays crucial, lifesaving protections for the lesser prairie chicken, increasing its risk of extinction."
In May 2021, USFWS proposed listing two distinct populations on the ESA. The Southern distinct population, which includes populations in eastern New Mexico and across the southwest Texas Panhandle, would be listed as endangered. The Northern distinct population, which encompasses southeastern Colorado, south-central to southwestern Kansas, western Oklahoma and the northeast Texas Panhandle, would be listed as threatened, with an ESA 4(d) rule that tailors protections to allow for agriculture production.
USFWS said the conversion of grasslands to crop production fragmented the available habitat. The agency also noted that livestock grazing does not have a detrimental effect on the bird and "in many cases, is needed to maintain appropriate vegetative structure."
CBD states in court documents that in addition to grazing and agriculture, the main threats to the prairie chicken's population are oil and gas production, mining, wind energy production and "fences, power lines, and other tall structures that beckon predators to perch."
Through aerial surveys, USFWS estimated the five-year average population in the five states is 27,384 birds. USFWS said the prairie chicken once numbered in the "hundreds of thousands" and has lost 90% of its habitat due to fragmentation and habitat loss, despite voluntary conservation efforts.
In 2011, USFWS reached a settlement with CBD and other environmental groups to submit a proposed listing rule for the lesser prairie chicken by 2012. After a delay, the agency listed the bird as a threatened species in 2014. The bird was removed from the list after the U.S. District Court for the Western District of Texas vacated the rule in 2015. In September 2016, USFWS received a new petition from environmental groups to list the lesser prairie chicken as endangered, and in November 2016, it made a substantial 90-day petition finding that listing may be warranted.
In May 2021, USFWS proposed listing the two distinct populations. At the time of the announcement, the National Cattlemen's Beef Association and Public Lands Council expressed disappointment with the decision to list the lesser prairie chicken despite "a decades-long conservation partnership." The groups said it "directly disincentives continuation of effective, public-private conservation partnerships."
CBD contends USFWS should have published the final rule by June 1 and, as a result, violated the ESA.
"Defendants' violation of the ESA's nondiscretionary mandatory deadlines has delayed the ESA's protections for the lesser prairie chicken, harming the center's members' interests in them," CBD said in court documents.
CBD is asking the court to declare that USFWS violated the ESA and to compel the agency to issue a final rule.
"The lesser prairie chicken needs the protections of the Endangered Species Act," said Michael Robinson, a senior conservation advocate at CBD. "With no dispute about the bird's long-term decline and near-term peril and all the bureaucratic excuses for not listing it having already been used up, we're left with baffling agency inaction that calls for court intervention."
Source: Western Livestock Journal