Sukup Breaks Ground for World's Largest Grain Bin
October 12, 2020
Sukup Manufacturing Co. has designed and manufactured the world's largest free span grain bin, with a diameter of 165 feet. The previous record-holding bin has a diameter of 156 feet, which Sukup also manufactured and designed.
Ground was broken for the new bin on September 14, 2020, at Golden Grain Energy, an ethanol production plant in Mason City, Iowa. Representatives from Sukup Manufacturing attended, as well as representatives from partner organizations Buresh Building Systems Inc., a Sukup dealer located in Hampton, Iowa, and construction partner McGough Construction out of St. Paul, Minnesota.
The bin will hold 2.2 million bushels, and will include 30 rings with a peak height of 155 feet and 7 inches. Construction is expected to be complete in May or June of 2021.
Chad Kuhlers, Golden Grain CEO, said, "This system will increase GGE's grain storage from approximately 1.275 million bushels to almost 3.5 million bushels. We currently have about 10 days of storage, and the addition of this bin will increase our storage capacity to approximately 30 days of storage. In addition, GGE will increase its receiving capacity from 40,000 bushels per hour to 65,000 bushels per hour."
"Our customers often tell us that adding storage gives them one of the quickest returns on an investment in their facilities," said Brent Hansen, who manages commercial accounts for Sukup. "Storing grain in Sukup bins keeps it in better condition versus a temporary pile, and it's safer, easier, and cost effective to reclaim the grain back into their processing facility. We always try to listen to our customers' needs, which includes watching the bottom line!"
"Sukup constantly strives push the boundaries of innovation, while maintaining the excellent customer service and high quality that the agriculture industry has come to expect of us as a family owned company," said Steve Sukup, President and CEO of Sukup Manufacturing. "We are thrilled to again have achieved the mile stone of designing and manufacturing the largest freestanding grain bin in the world."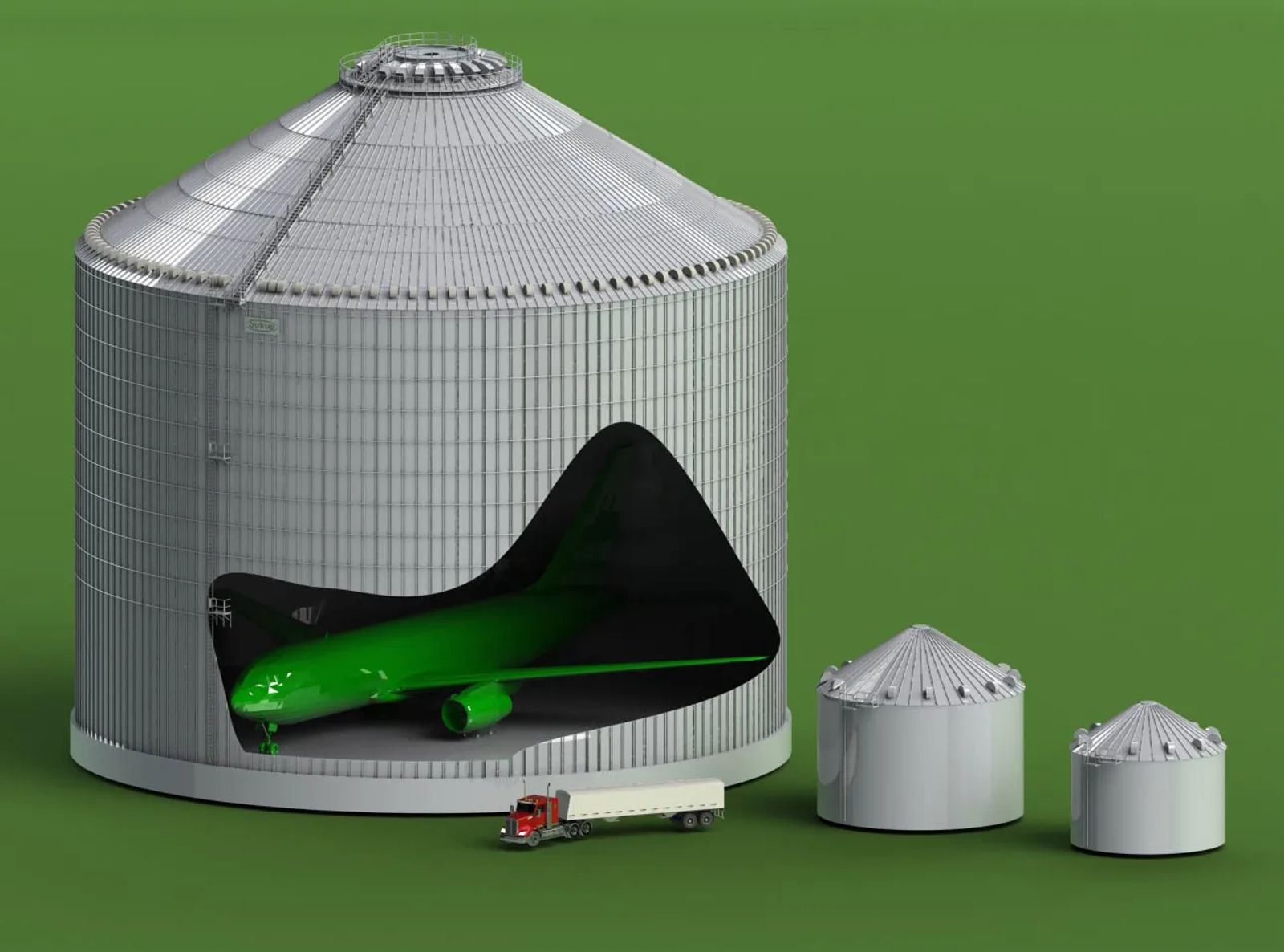 For now, this rendering will help you imagine what it will look like when construction is complete next summer.
Some facts:
It will hold 2.2 million bushels, or 126 million pounds of corn
2,500 trucks needed to fill
Boeing 767-200 fits inside
Could hold 6.3 million gallons of ethanol
Could drive 157 million miles off the ethanol alone (at 25 mpg)
That's 6,325 times around the world
Could drive over 1 billion miles if used for E15
(42,150 times around the world)
Could drive over 1.5 billion miles if used for E10
(63,250 times around the world)
Source: Sukup Manufacturing Co.