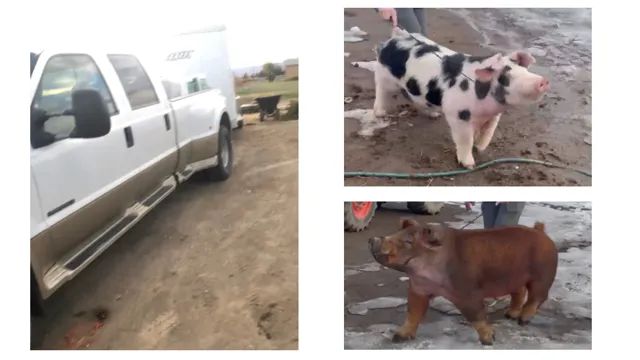 FOUND! Stolen Pigs and Rig End Last-Year Exhibitor's NWSS Trip
January 16, 2023
DENVER, CO., January 16, 2023 — UPDATE- The pickup and trailer, with both pigs inside was located by Denver Police about 10 minutes north of the hotel where they were stolen. The hogs have been checked into the NWSS and staff is allowing Lee to exhibit them.
Monday morning 19-year-old Myles Lee should have been checking his two market hogs in to show at the National Western Stock Show, but instead he's without pigs and without a rig after it was stolen.
Lee and his family returned to Denver to use his last year of eligibility as a junior market livestock showman to take a run at a sale qualification and a banner once more. After a 24-hour trip from Washington, the family arrived a few days early to allow the pigs to rest before check-in Monday, but when they went outside Sunday morning – coincidentally Myles' birthday - their pickup and trailer with pigs inside was gone. His brother Blaine, also a past NWSS sale qualifier said the family is on the grounds to watch the show and to support their friends in the livestock show world.
Myles and his older brother Blaine have both shown at the NWSS in the past, as well as other shows including the World Pork Expo, Arizona National, and shows all along the West Coast. Blaine said the family is remaining in Denver to watch the hog show and support their friends who are exhibiting. He said there hasn't been major news from the police department.
The pickup was stolen from the Comfort Inn and Suites on Tower Road and is a white and tan 2000 Ford F-350 with Washington plate JAMNJON. The trailer is a 2003 Exiss stock trailer with Washington plates 0239US. The hogs stolen are barrows, one is a Spot and the other is a Duroc. If you have any information, call the Denver Police Department at 720-913-2000.
Source: Rachel Gabel, The Fence Post Magazine