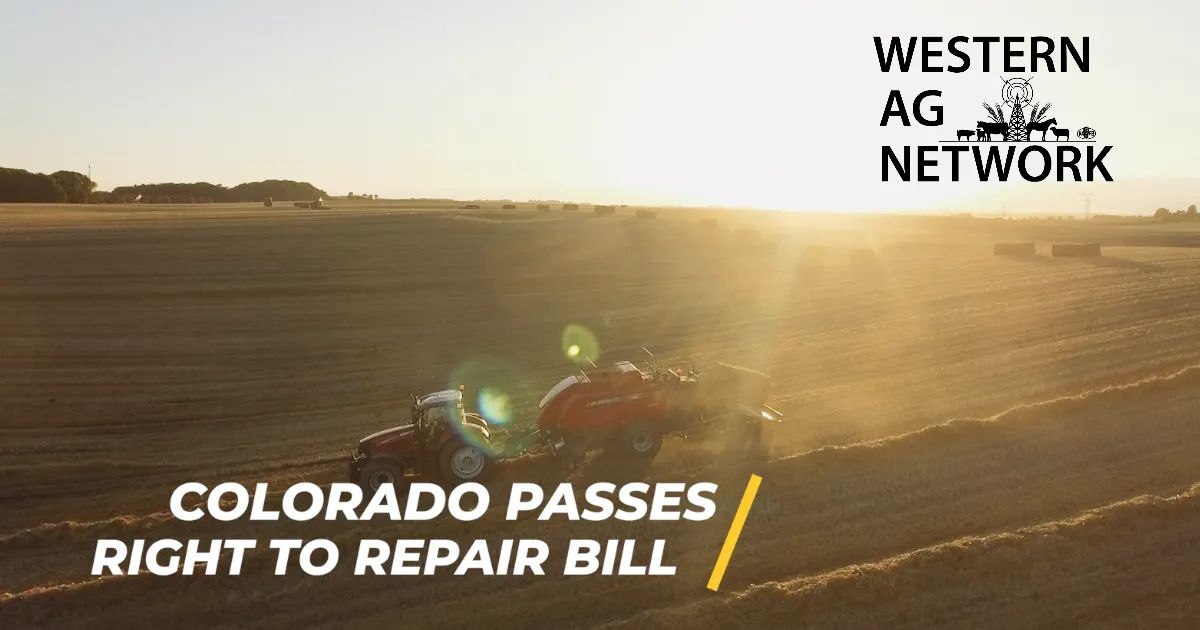 Right to Repair Bill Approved by Colorado Legislature
April 12, 2023
While multiple state legislatures debated the matter this year, Colorado was the first and only state to pass a Right to Repair law for agricultural equipment. The issue had agricultural advocacy groups split in their support of farmers and ranchers ability to repair their own equipment.
The Consumer Right to Repair Agricultural Equipment Act has been sent to Democratic Colorado Gov. Jared Polis, who has 10 days to sign the legislation.
Watch Montana Farmers Union President Walter Schweitzer respond to the Right to Repair law.
The bill's primary sponsor was Jefferson County Democrat Rep. Brianna Titone (D- Arvada). She said the amendments with regard to MOUs and federal agriculture right to repair laws were concessions made though she was hoping to avoid.
The bill saw numerous amendments throughout the process, including one that repeals the law in the event that a federal law is enacted that establishes a right to repair agricultural equipment, and another that clarifies if an agricultural equipment manufacturer enters into, or is covered under, a nationwide memorandum of understanding (MOU), that agreement will govern an owner's right to provide services, or to engage the services of an independent repair provider if compliance with the MOU would deny the owner the right to any documentation, including data, tools, or embedded software.
Colorado State Sen. Cleave Simpson called the bill "a solution looking for a problem." The majority of legislators from ag-heavy districts did not support the bill.
The Rocky Mountain Farmers Union said in a statement it expects Polis to sign the bill.
"We have been tireless advocates for farmers and ranchers on this issue for years and are very proud that we were intimately involved in the passage of the bill in Colorado," RMFU President Chad Franke said in a statement.
"Farmers and ranchers in Colorado will now be able to diagnose and repair their own equipment however they choose. In addition to still being able to have a dealer diagnose and repair the equipment, farmers and ranchers now also have the opportunity to use an independent repair provider if they choose not to fix the equipment themselves. Simply put, farmers and ranchers now have the freedom to choose how to repair the equipment that they own without the burdensome restrictions that could leave their equipment down at a critical time for their operation."
The bill also has the backing of Colorado Cattlemen's Association, Colorado Association of Wheat Growers, Colorado Wool Growers Association, Colorado Corn Growers Association, Colorado Fruit and Vegetable Growers Association.
Even outside of Colorado, farmers are celebrating the bill's passage.
"I am ecstatic about the news of the passing of Right to Repair in Colorado. This will provide an opportunity for all producers and independent repair shops across America to be able to buy the tools to repair our own farm equipment without being held hostage to the equipment manufacturers," Montana Farmers Union President Walter Schweitzer said.
John Deere announced a new agreement with American Farm Bureau Federation in January to expand access to repair materials, but the Public Interest Research Group (PIRG) and other repair advocates opposed the agreement. In March, CNH Industrial announced its own MOU with AFBF that closely mirrors the Deere agreement.
The legislation would require John Deere and other farm equipment manufacturers to share access to all materials needed by farmers and independent shops to repair tractors, combines and other farm equipment.
Similar legislation has been introduced in at least 11 states this year.
"For farmers, simply getting access to all the tools needed to fix their tractors has been a tough row to hoe," said Kevin O'Reilly, PIRG right-to-repair campaign director.
"With this bill, Colorado legislators are giving farmers the repair relief they deserve. But farmers across the country should know: This is just the start. The 'pinky swear' MOUs signed by Deere and Case New Holland simply weren't getting the job done. By passing a real right to repair, Colorado lawmakers are setting the standard for what right to repair can look like across the country."
Willie Cade, a Repair.org board member and agricultural repair advocate, said the measure "goes a long way" toward solving problems for producers, technicians and dealers.
"This legislation supports the great American tradition of competitive markets by expanding repair opportunities of equipment owners," he said in a news release.
"This legislation also gives technicians the ability to freely compete for jobs or to start their own business and not be chained down. Robust, fair and competitive markets are fundamental to who we are here in America."
Kyle Weins, CEO of iFixit, said modern agriculture technology has been good for the industry.
"Electronics have been a blessing and a curse for farmers," he said in a statement.
"The benefits of precision agriculture have come with software shackles that took away agency and local independence, imperiling the future of family farms. Fortunately, it doesn't have to be that way, and this law goes a long way towards making ownership work the way we all expect."
When contacted by DTN John Deere provided the following statement: "John Deere supports a customer's decision to repair their own products, utilize an independent repair service or have repairs completed by an authorized dealer. John Deere additionally provides manuals, parts and diagnostic tools to facilitate maintenance and repairs. We feel strongly that the legislation in Colorado is unnecessary and will carry unintended consequences that negatively impact our customers."
RIGHT TO REPAIR EFFORTS
In March, a bipartisan group of 27 state attorneys general called on Congress to pass national legislation to address the issue, https://www.dtnpf.com/….
In February, the Biden administration sided with farmers in an ongoing right-to-repair antitrust lawsuit filed against John Deere. The Department of Justice asked the U.S. District Court for the District of Northern Illinois to rule against a company motion that could lead to dismissal in the case, https://www.dtnpf.com/…. A status hearing on the case has been set for May 11.
All the cases allege John Deere violated the Sherman Antitrust Act and seek damages for farmers who paid for repairs from John Deere dealers beginning on Jan. 12, 2018, to the present.
The cases allege the company has monopolized the repair service market for John Deere brand agricultural equipment with onboard central computers known as engine control units, or ECUs.
In December 2022, the company filed a motion seeking judgement on the pleadings. Deere essentially asked the court to rule on the facts already presented before a trial can be held.
Source: Western Ag Network, DTN, MFU