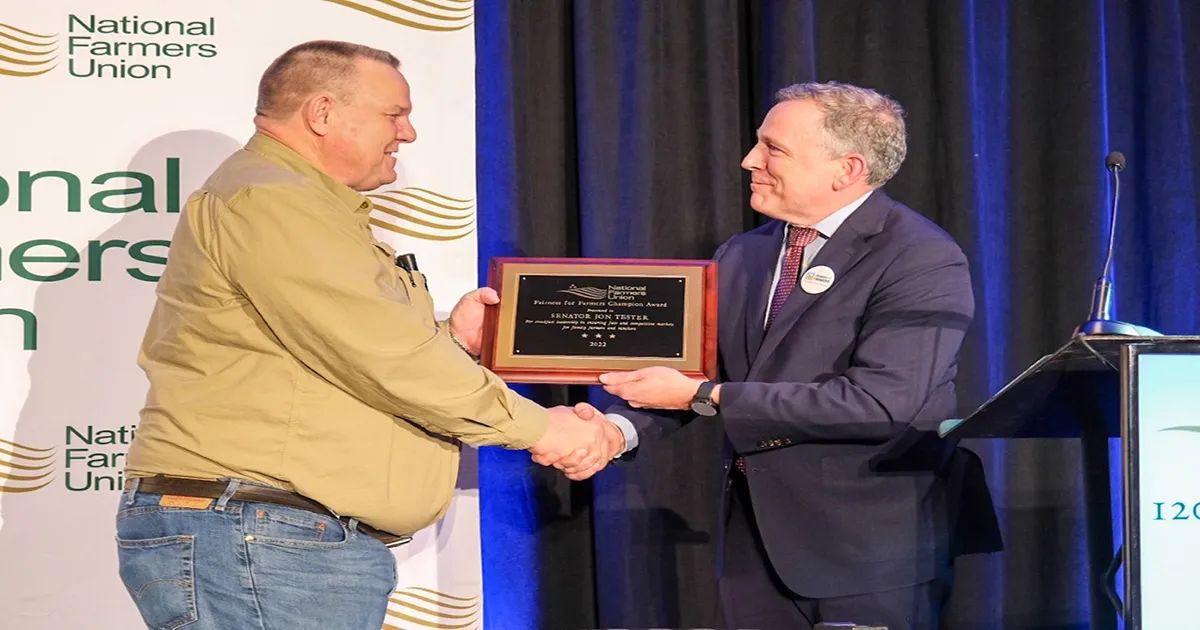 Montana Senator Jon Tester Receives NFU Award for Work on Competition in Agriculture
February 28, 2022
As Farmers Union members meet this week in Denver, Colo. for the National Farmers Union's 120th Anniversary Convention, one of the big topics being discussed is restoring competition to America's agriculture industry so family farmers and ranchers can stay in business and keep Rural America alive.
Montana Farmers Union President Walter Schweitzer says restoring competition is what NFU was founded on and continues to fight for it's members on this very important issue.
"We have a broken food supply chain and it's really because of the anti-competitive practices of these corporate monopolies," said Schweitzer. At Farmers Union, our roots are taking on these big guys and saying enough is enough. Let's play fairly."
For his efforts in addressing competition issues like country-of-origin labeling, restoring fairness to beef markets, right to repair and more, the National Farmers Union has awarded it's Fairness for Farmers Champion Award to Senator Jon Tester (D-Mont.).
"Well, it's all about making sure that we've got competition in the marketplace," said Tester. "There's way too much consolidation that's gone on for decades, and I've put in five bills that will really make some inroads into making sure there's more competition in putting some transparency into that marketplace. We've got folks in cow calf business, small and medium sized feeders that are going broke and are on the verge of going broke. It's time for Congress to step up and act. If we do that, it's not going to be only good for folks in production agriculture but also for consumers."
A long-time advocate against consolidation in the ag industry, Tester also spoke in support of NFU's Fairness for Farmers campaign during its launch last fall.
The Fairness for Farmers campaign fights against corporate monopolies and for stronger enforcement of antitrust laws to create more fairness for farmers and consumers.
"I believe that if you have people in the marketplace that are playing by the rules, everybody can benefit," Tester adds. "If we lose family farm agriculture... this country will be changed, and changed for the worst."
Montana Farmers Union President Walter Schweitzer, who introduced Tester, remarked "There's no bigger champion for agriculture in the halls of Congress today than Senator Jon Tester- and that's because he is a farmer. He's from rural Montana, and he gets it."
"I have a dream" Senator Tester concluded during his acceptance, "and that dream is that rural Montana will become vibrant again. We'll grow again, and how we will grow is through agriculture."
National Farmers Union President Rob Larew says it's an issue that isn't just impacting cattle producers
"Although it's gotten a lot of attention in the beef markets and the struggles that our ranchers have had out there, we're also seeing the same kind of problems in the input markets like fertilizer and fuel," said Larew. And that's concerning especially with spring planting just around the corner."
Source: Montana Farmers Union/Montana Ag Network/Western Ag Network