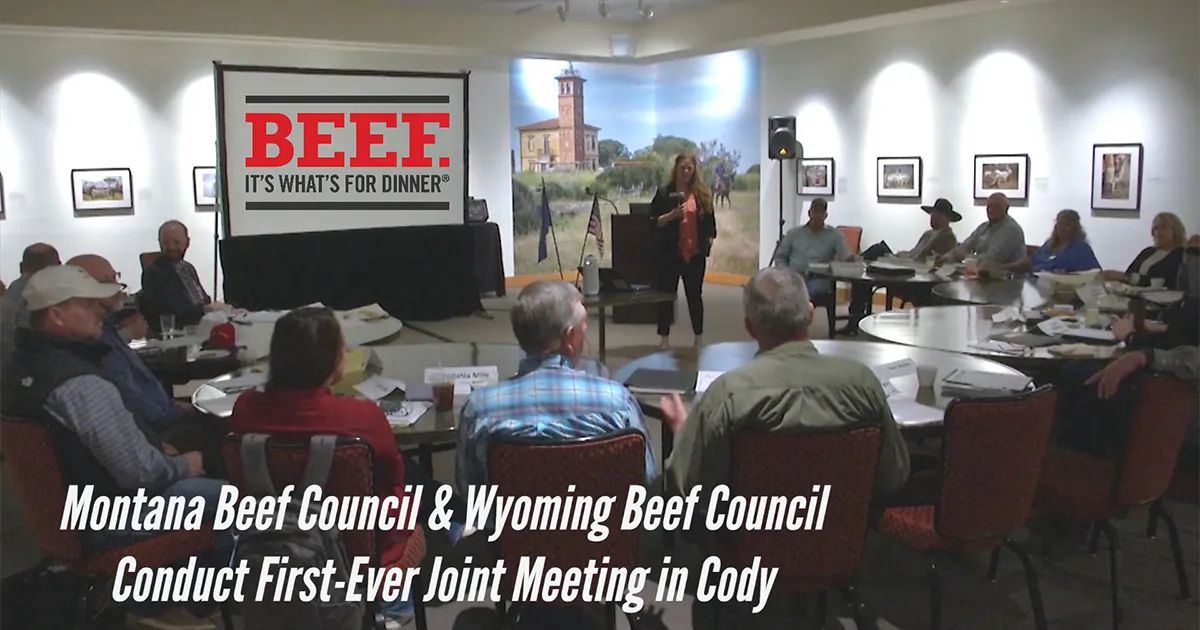 Montana and Wyoming Beef Councils Conduct First-Ever Joint Meeting in Cody
May 8, 2023
For the first time in the history of both organizations, the Montana and Wyoming Beef Councils held a joint meeting in Cody, Wyo. at the Buffalo Bill Center of the West. This marks the first time the two councils have held a joint meeting since their inception (Wyoming in 1971 and Montana in 1954).
Ea'mon O'Toole is the Wyoming Beef Council chair from Baggs and told me they've been looking forward to hearing and sharing ideas with their Montana counterparts.
"The great friendships are the biggest thing in our industry but we all live so far away and we don't see each other a lot," said O'Toole. "So, being able to meet some other people that are in the same business you are seems like one of the most important things we can do. And then obviously, figure out where's the best place that we can spend our producer's checkoff money."
Andy Kellom is the Montana Beef Council vice president from Hobson and said one of the main goals of having joint meeting was the opportunity to learn something from each other.
"Every state that has a beef council is set up a little bit differently," said Kellom. "Montana has set up the way it was. It was designed years ago and Wyoming is the same way. So, we're kind of here to see a little bit about how they do it in Wyoming and share a little bit about how we do it in Montana. And, you know, maybe we come out of it with some ideas that we bring home and maybe we can improve our process."
State Beef Council executives Ann Wittmann of Wyoming, and Chaley Harney of Montana coordinated the joint meeting in order to capitalize on learning opportunities for members, program sharing between the two councils, and checkoff collaboration.
The main mission of both state beef councils is to educate consumers about the nutritional benefits of beef and to increase demand both states and beyond. Cattle producers can always learn more information about their beef checkoff investment by visiting www.MyBeefCheckoff.com.
Source: Western Ag Network