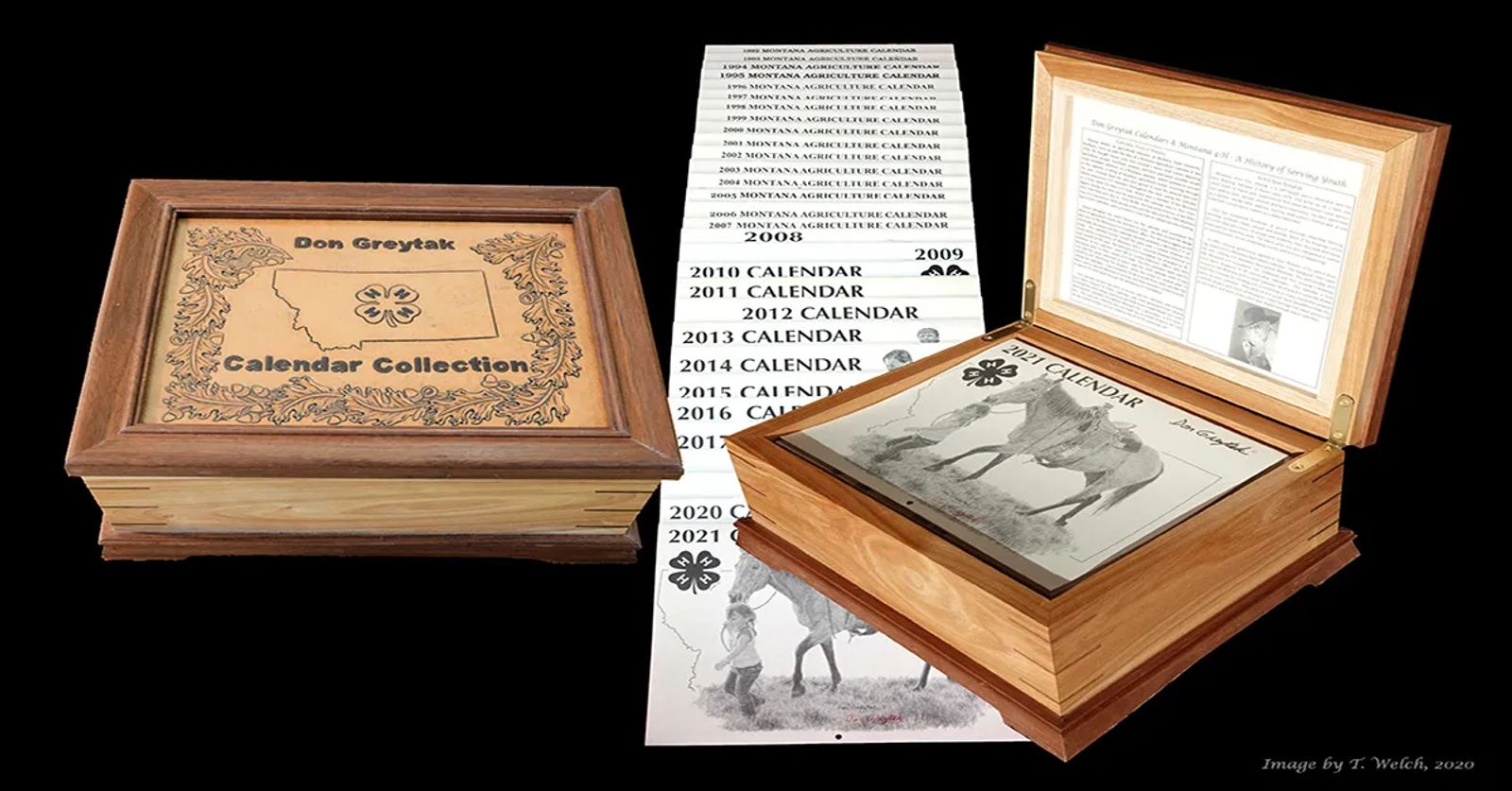 Montana 4-H Foundation to Raffle 30-Year Don Greytak Calendar Collection
December 28, 2020
For fans of popular Montana pencil artist Don Greytak, it's an opportunity to own a final collection of his 4-H calendars to celebrate thirty consecutive years of a very successful 4-H calendar project.
The Montana 4-H Foundation is set to raffle off a final collection of Don Greytak 4-H calendars to celebrate thirty consecutive years of a very successful 4-H calendar project. Montana 4-H Foundation Executive Director Sandra Germann says those who purchase a 2021 calendar have three chances to win the collection by submitting their name into a drawing.
"This year we have a special raffle going on. It's 30 years of the Don Gretak calendars" said Germann. "I think if we do the math, it's 390 pictures that someone will be receiving. It's 12 months plus the cover page. We have them in a birch and maple box made by Jim Potter in Havre. The top will be leather tooled made by Ray Besel out of Lewistown. So, these guys have been great to do this for us. The collection is actually donated by Tom Welch and he's been an ag educator at MSU Northern for many years and just retired this year."
She says over the years, sales from these calendars have benefitted over a generation of local 4-H members throughout Montana.
"All the proceeds go to 4-H and it's been a great fundraiser for us" said Germann. "Over the years, I'm sure it's hundreds of thousands of dollars that have gone back into the 4-H programs around the state. And that's all thanks to the generosity of Don Greytak doing these calendars every year. And there's never been a duplicate for 30 years strong. So, we certainly appreciate all of his generous support."
The 2021 Calendars are on sale now through local county extension 4-H offices and the Montana 4-H Foundation in Bozeman at 406-994-5911, or online at www.mt4hfoundation.org.
Calendars are $15 each with all proceeds benefiting Montana 4-H. The drawing for the 30-year Don Greytak Calendar Collection will take place March 1, 2021.
Source: Montana Ag Network & Western Ag Network