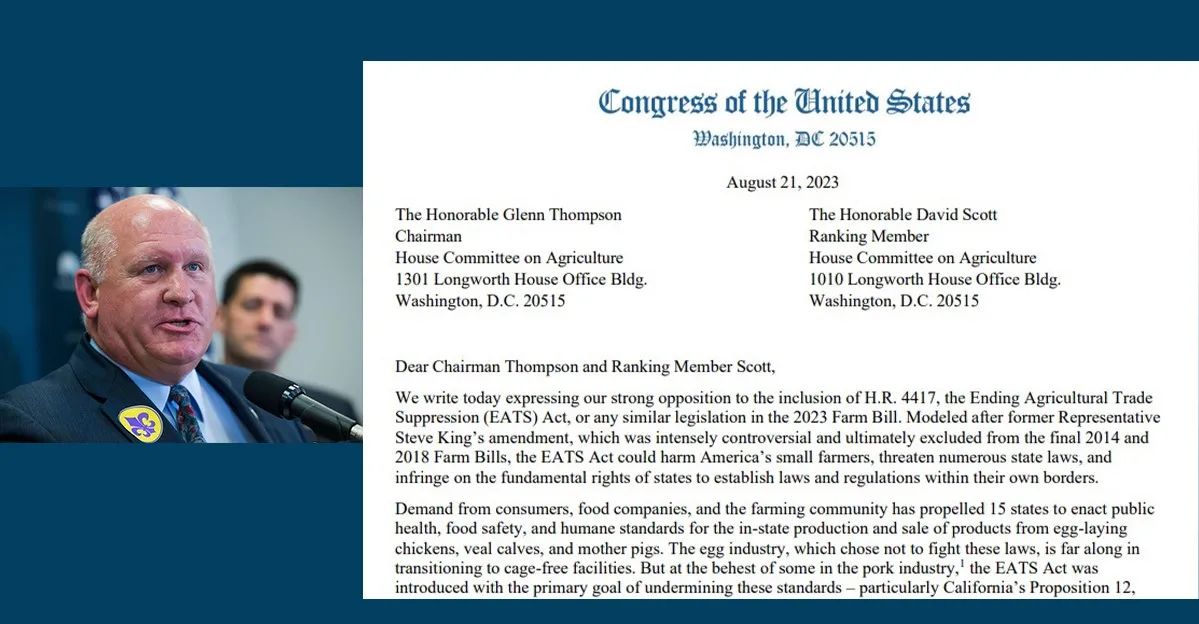 Members of Congress Oppose EATS Act
August 21, 2023
WASHINGTON, D.C. — On Monday, 171 members of Congress signed a letter opposing the inclusion of the EATS Act in the 2023 Farm Bill. Four members of Colorado's Congressional delegation – U.S. Representatives Joe Neguse, Diana DeGette, Brittany Pettersen, and Jason Crow – all signed the letter sent Monday to Rep. Glenn Thompson, chairman of the House Committee on Agriculture, and Rep. David Scott, Ranking Member.
The members of Congress oppose the Ending Agricultural Trade Suppression Act (EATS) or any similar legislation, that would prevent legislation like California's Prop 12. Challenged before the SCOTUS, Prop 12 was upheld in a 5-4 vote and allows California to prohibit the sale of pork in their state from hogs not raised in the production standards adopted by California.
In the letter, the members of Congress said Prop 12 is not a case of California imposing its standards on other states. "Producers in any state can choose not to supply another state's consumers or to segregate animals for different markets. Pork industry economists noted this in an amicus brief, writing, "Only those producers for which compliance with Proposition 12 is economically beneficial will choose to do so, while all others will continue to supply the vast majority of the North American pork market beyond California's border and face little or no economic impact."
The letter also said many large pork producers, including Hormel, Perdue, Tyson, and Smithfield, have indicated that they already can or will be able to comply with Proposition 12's standards to supply the California market.
A joint amicus brief submitted by small and independent farming businesses, farm advocacy organizations including the National Sustainable Agriculture Coalition, and state farmers unions for Indiana, Iowa, Pennsylvania, Idaho, Oregon and Washington stated, "Independent farmers are willing to meet this demand, and in doing so, can access some of the wealth and power that has accumulated only for pork integrators, and redistribute it back to local communities, businesses, and families."
Source: Western Ag Network