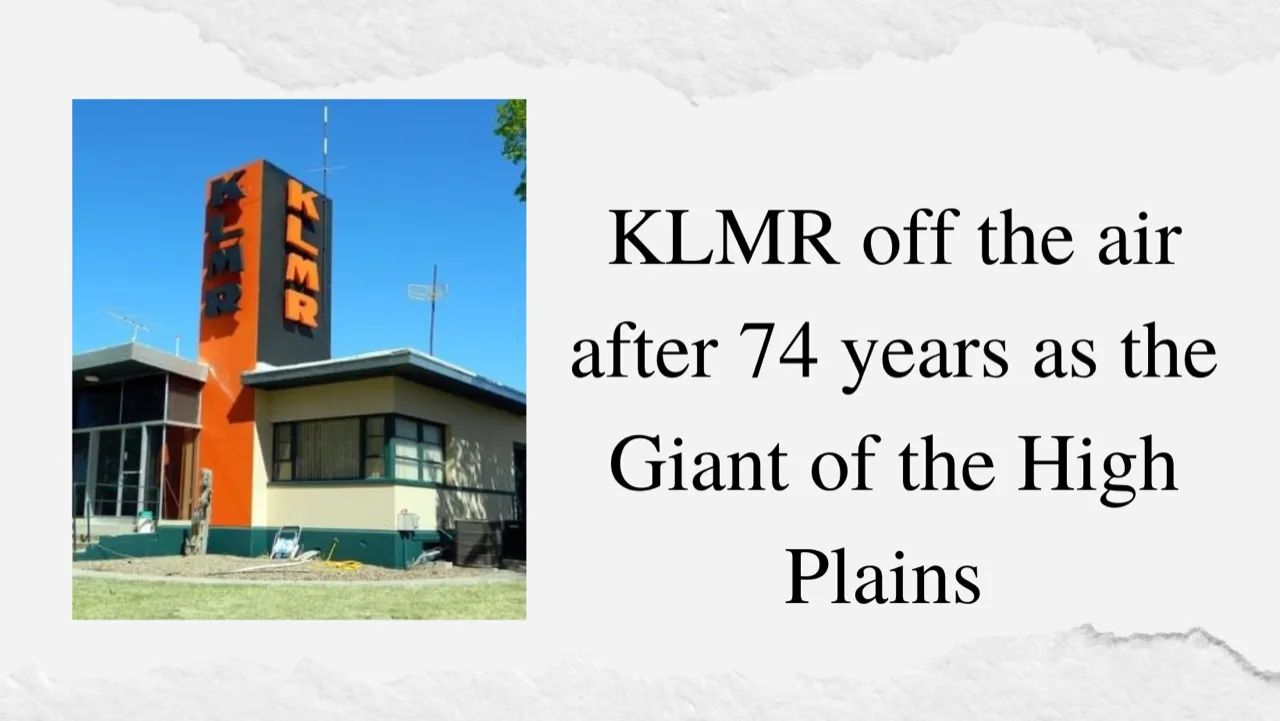 KLMR in Lamar surrenders FCC license, call letters
Sept. 30, 2022
LAMAR, CO, September 30, 2022 — The iconic hallmark of Lamar, Colo., known as KLMR Radio, Giant of the High Plains by generations of listeners has gone silent and will more than likely never be on air again. On Sept. 26, 2022 the current owner of the heritage radio station, Beacon Broadcasting owned in the majority by Bob Delancey and his daughter Janee, have surrendered the Federal Communications Commission licenses for both KLMR 920 AM and 93.5 FM.
According to an article by Radio Insight, a radio trade news website, the reason the licenses are being surrendered is due to the damage to the building and transmission equipment during a July 23, 2022, microburst storm that took out the roof and studio towers located on the Highway 287 curve north of Lamar. Dalancey indicated to Radio Insight that it was a complete loss, and he was unable to restore service to both KLMR AM and FM stations.
Delancey's statement to the FCC read: "Studios are a complete loss. Unable to restore service for both KLMR-AM (920) & KLMR-FM (93.5). 25-7 Media requesting to cancel both licenses, return spectrum, and release call letters."
The owners told Radio Insight, "Our insurance company believes the building could be a total loss. We should know about that within the next few days. What hasn't helped is that we have had storms every night since."
An article from July 2022 by Radio Insight described the damage based on the information given to them by Delancey who said, "The microburst hit the station's building and ripped off half of the roof."
When Delancey arrived to the building it was flooded. His engineer had already arrived and had shut off the power to the FM 100 kW signal on 93.5 and the AM station that was running at 950 KHz with 5 kW during the day and 500 watts at night. "All the computers, monitors, microphones and UPS were quickly removed to the KVAY radio station site in downtown Lamar. Delancey indicated after the storm, "KLMR-FM stayed on the air, although it was not fully functional." The RF site transmitter for the KLMR AM was removed and has been in protective storage.
In addition, the iconic and historic building was totaled according to Aaron Leiker owner of 25-7 Media who was majority owner of the KLMR stations when the storm occurred. In a brief statement Leiker indicated he sold his share of the station to Delancey and 25-7 Media is no longer associated with the KLMR radio station.
We asked Leiker why insurance couldn't help to pay for the storm damage that flooded two stories of the KLMR building and took out the roof along with the radio transmission equipment. Leiker stated, "I do know insurance has not come through. The building is expected to be a total loss."
Recently, the KLMR stations had been serving Lamar and surrounding areas with News Talk/Agriculture News and Local News and Sports on AM 920 and Hits from the 90s and Today on the FM side.
Leiker's 25-7 Media company had bought the radio stations in Lamar as well as two other stations in La Junta, Colo., in 2018 for a reported $400,000. According to Radio Insight the two stations in La Junta were sold to Thunder Media in 2022 for $275,000.
In a May 2019 article Radio Insight quoted Leiker about his insights shared with the FCC regarding local radio ownership. The article stated, "Smaller broadcasters like 25-7 Media, which owns two radio stations in rural Colorado, make compelling arguments for why the commission should relax ownership rules, particularly in small, unrated markets."
Leiker commented to the FCC, "A change in ownership rules — to allow for no restrictions in small, unrated markets — would give companies like 25-7 Media the opportunity to merge with other small broadcast owners, a move that would create significant efficiencies and allow small stations to become profitable."
Leiker added, "This is the most viable way to see radio thrive in Lamar and rural communities like ours across the country. I am one that typically favors regulation, but in this instance, I ask for deregulation. Otherwise, my company or my friend's [company] across town may eventually be forced into bankruptcy, sale or closure." Leiker urged the FCC, "Please help struggling small media companies like ours thrive. Vote to remove ownership restrictions on small, unrated markets."
For 74 years the call letters KLMR have been a staple, a fixture, a friend, a guide for not only the people of Lamar but also for hundreds of people across southeastern Colorado, southwestern Kansas and into areas of Oklahoma and Texas.
According to an article posted at Placedigger.com, KLMR was first signed on as KIDW-AM in 1932. The station was 100 watts and on the air from 6 a.m. to 10 p.m. It was located at 1420 on the AM dial and the first physical studio was located at 117 Elm Street in Lamar. This ownership group consisted of Arthur Gordon, W.G. (Bill) Brown and M.R. Sunday. The general manager was listed as Roland Green. KIDW signed off the air and went dark for approximately 12 years in 1936.
From 1948 to 1962 a group of city leaders formed the Southeast Colorado Broadcasting Group. Jack Christolear was the general manager. Other owners included C.C. Reese of Reese Motor Company, Dr. L.E. Likes, W.R. Henry, Ralph Eaton, Fred Betz, Sr. (Lamar Daily News), and Charles Kendall. In 1948 the call letters were changed to KLMR and the signal strength was boosted to 250 watts.
It was originally located on the 1340 AM dial but by 1953 the frequency changed to 920 AM along with the increase in wattage to 500.
The current building located north of Lamar was built by Dick Beauchamp in 1948 in order to house the KLMR radio station.
From 1962 to 1983 was the golden years of KLMR radio in Lamar. Dennis Behan and Douglas Kable of Behan Broadcasting, Inc. brought the legendary Clare Behan to the news programming informing southeastern Colorado listeners every day at noon. Under their tutelage they received a 5,000 watt radio signal and it was also the Behan Broadcasting Company that added a second radio station KLMR FM 93.3. Those call letters changed to KSEC in 1983 and KLMR AM was then identified as "The Giant of the High Plains." Dan Gittings was the general manager during this prosperous time period.
From 1987 to 1999 ownership changed to F.B. Begel and Bill Arnold who hired Monty Spearman as the general manager. Spearman overcame changes in music formats and local issues in the area before negotiating a change in January 1999.
A series of owners, general managers and programming followed into the turbulent 21st Century. In 2004, Cherry Creek Radio, LLC purchased the entire holdings and KLMR-FM came back into use with a new radio dial of 93.5. Formats changed to Classic Country on KLMR-AM and Classic Hits on KLMR-FM. The Noon News returned to KLMR-AM with the General Manager Pat Gittings.
In 2018 25-7 Media purchased the radio stations from Cherry Creek Radio, LLC and the rest, as they say, is history.
The loss of KLMR and KLMR-FM leaves Beacon Broadcasting Country 105.7 KVAY as the only commercial FM audible in the Lamar area. KVAY Owner/GM/afternoon host Bob DeLancey owned 33 percent of 25-7 Media, while his daughter Janee Queen held a 16 percent stake.
Leiker has indicated, "Beacon Broadcasting owns KVAY not 25-7 [Media]. I am exiting the ownership as Bob (Delancey) is purchasing my share of 25-7."
Source: Betsy Barnett/Kiowa County Independent