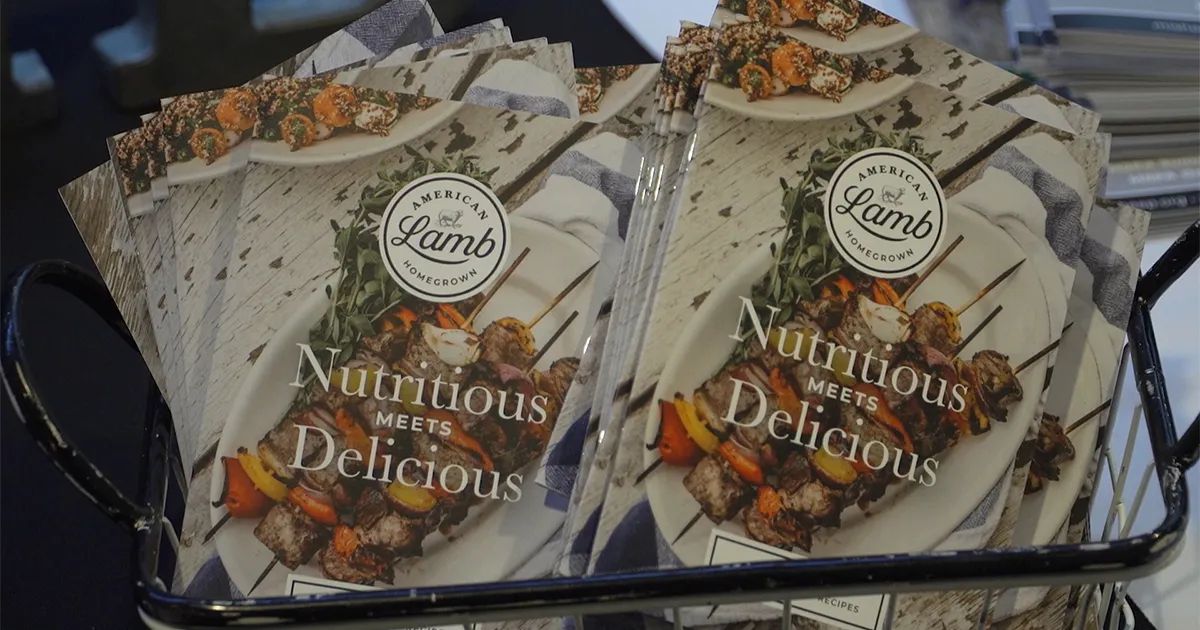 Increasing the U.S. Lamb Industry's Competitiveness and Recapturing Market Share from Imports
September 26, 2022
The 2022 American Lamb Summit addressed a lot of important topics including challenges and opportunities for the U.S. lamb industry to increase its competitiveness.
Nick Forrest is a sheep producer from Oxford, Ohio and is also a past American Lamb Board (ALB) member. He says producing a high-quality and consistent product that can compete with imported lamb from Australia and New Zealand all starts at home.
"They need to learn about their breed," said Forrest. "They have to learn about opportunities in that breed like genetics. Some breeds you can't take them up to 150 pounds. Some breeds stop at 110 pounds. Producers have to be educated about when lambs are ready to go to market. We have to teach our producers when their lambs are ready to slaughtered at that optimal weight when there's no fat and to get that flavor with that lamb."
He says one of the proven strategies is listening to the consumer about what they want.
"We have to listen to our consumer," said Forrest. "They're dictating what they want and their needs. If we don't do this and we keep giving them what they don't buy, we're going to be out of business. I worked for Kroger for 45 years and they taught us to listen to our consumers. Listen to what they have and what they need when they go to the meat case. They want to know what what kind of deal they can have or what kind of meal they can do with lamb. We need to give them more opportunities so they can go back to their home and have a better dining experience."
During his career in food service, he says he and his wife Kathy would put on in-home cooking demonstrations to help educate consumers about American lamb.
"We've been doing this for over 45 years," said Forrest. "The Tupperware program is what started it where they tried to sell you that plastic ware. We would bring a bunch of friends in and we turned it into the the Ohio Lamb Road Show. We would go to their house and put on a two hour presentation. I would talk about educating the people that was in in our area. And Kathy and I would then cook about three or four different meals to give those consumers that we had locked in the house and they couldn't leave until they tasted the lamb dishes we would prepare. And by the end of the evening, they had a better understanding about lamb. Once they tasted the lamb, they found out it wasn't as bad as their grandpa told them was."
He says children can play a big part in getting their parents to buy and enjoy delicious American lamb.
"Absolutely," said Forrest. "Whenever we do a demo at the grocery store, we are always looking for little kids walking with their parents. Why? Because they're more inquisitive and they want to see what we're doing. And if we can get them to try one little sample and they like it, they're going to tell their mom and that's all it takes."
He says the American Lamb Board is doing a great job of educating consumers about the benefits of American lamb and the producers who raise it.
"The lamb board is out there promoting your product on the national level at Lamb Jams or other types of eating events," said Forrest. "If you look at the amount of time, the recipe cards and the material they do, it's first class. If I would do that on my own dime, I couldn't afford it. I'd rather support somebody like the lamb board who can do a better job and get more bang for my buck. They're also right on the money with their consumer research. We need to continue to educate our producers and consumers to get everything to work together."
For more information about the Lamb Checkoff and the American Lamb Summit, visit www.LambResourceCenter.com.
Source: Western Ag Network