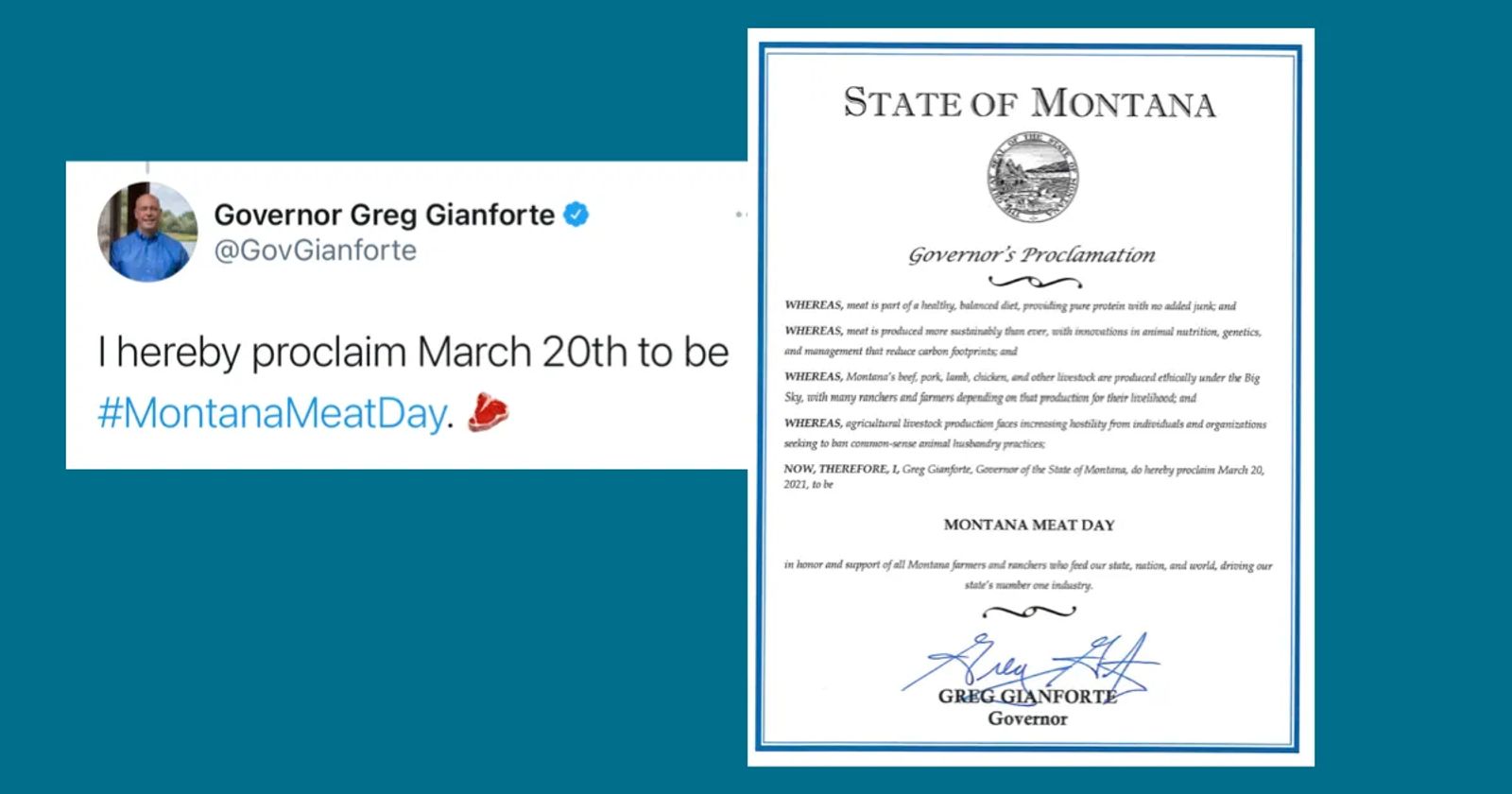 Governor Gianforte Proclaims March 20th "Montana Meat Day"
March 19, 2021
Governor Greg Gianforte today proclaimed March 20th to be "Montana Meat Day" in honor and support of all Montana farmers and ranchers that feed Montana, the nation, and the world.
As Governor Gianforte said in his newly issued video, "Every day is meat day in Montana."
Gov. Greg Gianforte joined Lane Nordlund to discuss his proclamation of March 20 as "Meat-In Day" and his efforts to support and protect Montana farmers and ranchers.
The proclamation reads as follows and can be found here:
WHEREAS, meat is part of a healthy, balanced diet, providing pure protein with no added junk; and
WHEREAS, meat is produced more sustainably than ever, with innovations in animal nutrition, genetics, and management that reduce carbon footprints; and
WHEREAS, Montana's beef, pork, lamb, chicken, and other livestock are produced ethically under the Big Sky, with many ranchers and farmers depending on that production for their livelihood; and
WHEREAS, agricultural livestock production faces increasing hostility from individuals and organizations seeking to ban common-sense animal husbandry practices;
NOW, THEREFORE, I, Greg Gianforte, Governor of the State of Montana, do hereby proclaim March 20, 2021, to be MONTANA MEAT DAY in honor and support of all Montana farmers and ranchers who feed our state, nation, and world, driving our state's number one industry.
Source: Office of Montana Governor Greg Gianforte, Western Ag Network