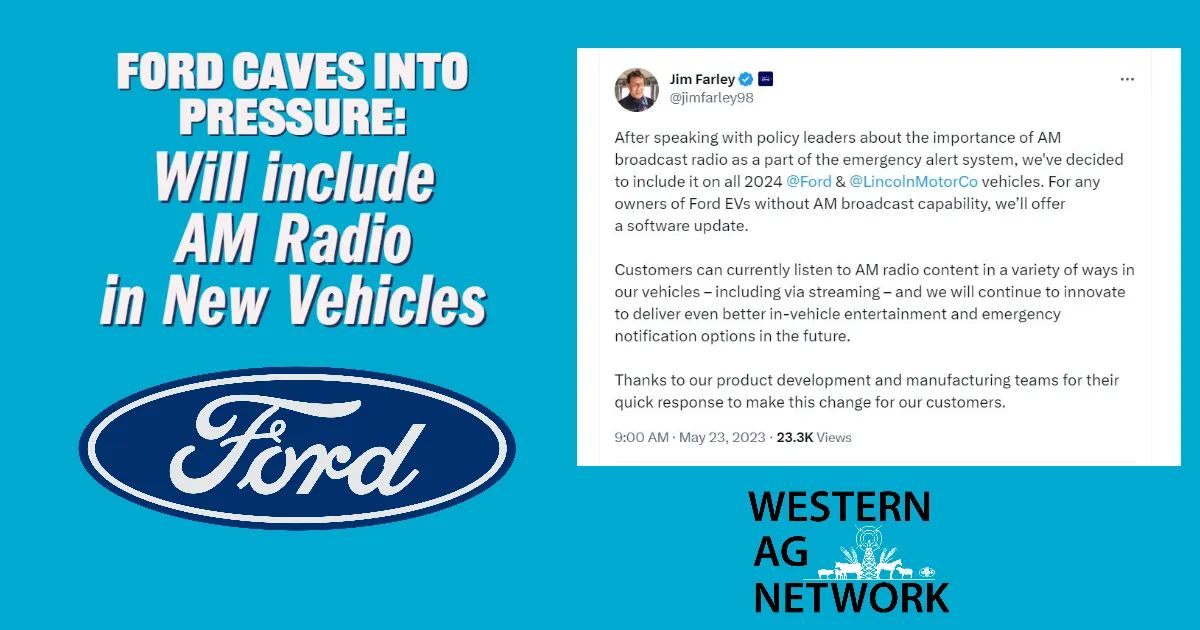 Ford Caves into Pressure: Will Include AM Radio in New Vehicles
May 23, 2023
After pressure from Congress and rural America, Ford has announced they have reversed their decision to remove AM radios from new vehicles.
Ford CEO Jim Farley made the announcement in a tweet this morning.
In response to the announcement that Ford Motor Company has reconsidered removing AM radio from future vehicles in the U.S. and will now include the technology in their newer model cars, the following statement can be attributed to NAB President and CEO Curtis LeGeyt:
"NAB commends Ford for committing to keep AM radio in their vehicles, which will keep Americans safe and informed, particularly in times of emergency. With tens of millions of listeners, AM radio continues to serve as a vital lifeline to the public and a critical source of community news and exchange of diverse ideas.
"In light of Ford's announcement, NAB urges other automakers who have removed AM radio from their vehicles to follow Ford's lead and restore this technology in the interest of listeners and public safety.
"NAB thanks the numerous lawmakers who are leading the charge to keep AM radio in automobiles, particularly the supporters of the AM Radio for Every Vehicle Act. Their bipartisan voices are helping to shine a light on the need to keep this critical service. Broadcasters will continue to support this major legislation to ensure consumer access to AM radio in all vehicles."
On background:
Last week, Reps. Bob Latta (OH-5), Greg Pence (IN-6) and 100 of their bipartisan House colleagues sent individual letters today to Ford, Volkswagen, BMW, Mazda, Volvo, Tesla, Polestar, Rivian, GM and Mercedes-Benz urging them to maintain AM radio in all vehicles.
The bicameral, bipartisan AM Radio for Every Vehicle Act was recently introduced by Sens. Ed Markey (MA), Ted Cruz (TX), Tammy Baldwin (WI), Deb Fischer (NE), Ben Ray Luján (NM), J.D. Vance (OH), Bob Menendez (NJ) and Ricker Wicker (MS), and Reps. Josh Gottheimer (NJ-5), Bruce Westerman (AR-4), Tom Kean, Jr. (NJ-7), Rob Menendez (NJ-8) and Maria Gluesenkamp Perez (WA-3).
Under the AM Radio for Every Vehicle Act, the Secretary of Transportation has one year to establish a standard for all new motor vehicles in the U.S. to come with AM radio reception and playback. This feature should be clearly visible on the vehicle's dashboard. Between the legislation's enactment and the new standard taking effect, cars lacking AM radio receivers must be explicitly labeled for buyers.
Source: Western Ag Network, NAB