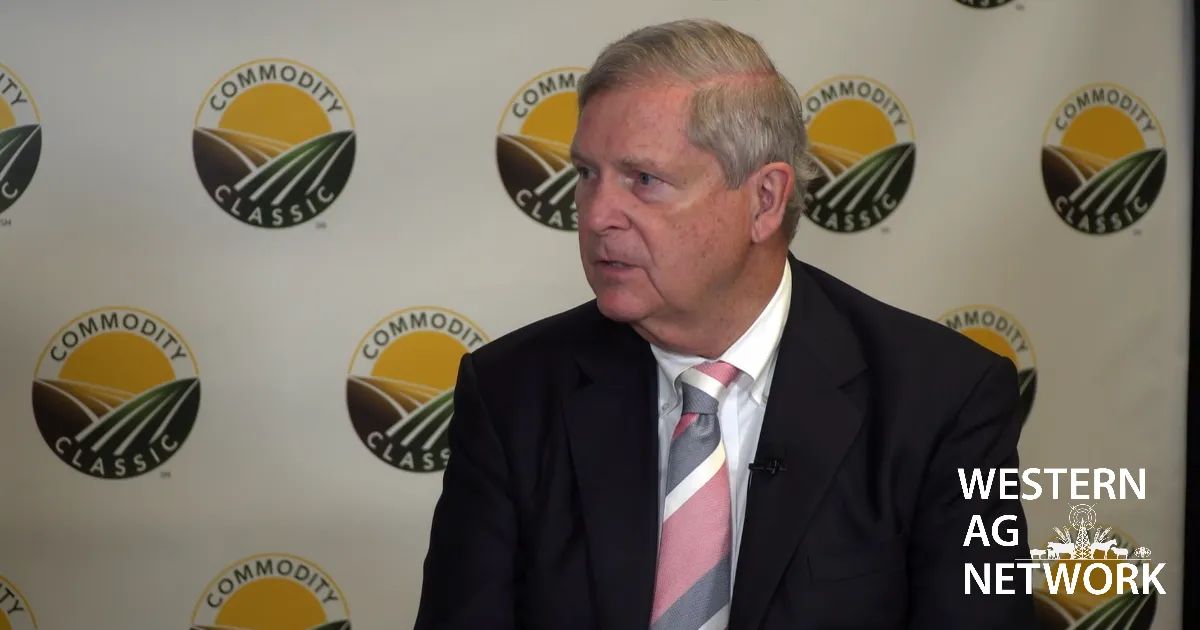 Farm Bill Extension Likely Needed
October 11, 2023
Agriculture Secretary Tom Vilsack on Tuesday criticized efforts in Congress to cut USDA's budget, adding he expects lawmakers will be forced to pass an extension of the current farm bill or face potential "havoc" for farmers.
Along with giving his whiteboard talk about farm income and ways to help small and medium farmers, Vilsack heard from community leaders who rely on USDA Rural Development funding for wastewater treatment, rural electricity, broadband, housing, community buildings, revolving loans to small businesses, and other rural community needs such as child care.
"We use a ton of your programs to make the people that do the work out here figure out how to do it better, or cheaper, or with grants or whatever," said Jason Passmore, the Howard County economic development director who referred to the three-legged stool USDA funds help provide. "And I'll tell you in rural America, not just in northeast Iowa but in rural America, we struggle with that three-legged stool big time. We struggle with that workforce; we struggle with housing. We love to use the USDA housing programs as much as we can."
A lot of these USDA programs are on the chopping block because of the stalled fiscal year 2024 USDA appropriations bill. It failed to pass the House in late September just before Congressman Kevin McCarthy was ousted as speaker of the U.S. House of Representatives.
"The budget cuts are real," Vilsack told residents at the Lime Springs community center, which was built using USDA funds.
He questioned how long it would take a new House Speaker to be selected, then get their feet on the ground and provide some direction for the chamber. The new House Speaker will have to figure out how to pass the USDA/FDA funding bill that has failed multiple floor votes already in the past month, largely because of the steep cuts in the bill.
"It too deeply cuts the Department of Agriculture, and it's just not workable," Vilsack said. "How do you then negotiate between the Senate and House?"
USDA now is operating under the short-term funding extension Congress passed to keep the government operating through Nov. 17. Asked what the bigger concern is for him right now -- the budget or the farm bill -- Vilsack pointed to both the latest funding deadline for the government and the need for Congress to now consider an extension on farm bill programs. If Congress doesn't address the farm bill by Dec. 31, there is the potential for complications.
"At that point in time, the Dairy Margin Protection Program and some other programs go out of business, at which point farmers are in a tough, tough space," Vilsack said.
Without a farm bill extension, farm policy reverts to "permanent law" going back to 1938 and 1949. In the dairy market, permanent law creates the "dairy cliff," meaning government milk prices would spike to more than $50.70 per cwt, forcing USDA to essentially outbid any commercial price for dairy products and it would cost taxpayers billions of dollars.
"You go back to permanent law and that creates havoc that I don't think anybody wants," Vilsack said. "At the end of the day, I think Congress knows that and they're going to have to pass an extension of the existing bill, or they are going to have to pass a farm bill. How do you do that?"
One of the key issues that has stalled a new farm bill involves reference prices for the Agricultural Risk Coverage and Price Loss Coverage (ARC and PLC) programs. Raising reference prices even 10% across the board for commodities would cost a minimum of $20 billion over 10 years. Those dollars would have to come from somewhere else.
"Unless you are really creative about it, you're going to have to rob Peter to pay Paul and nobody wants to rob Peter to pay Paul. That's the dilemma," Vilsack said.
An option, he said, is allowing USDA to use the Commodity Credit Corporation "in creative ways." The CCC already pays for ARC and PLC programs as well as the Conservation Reserve Program.
"The CCC is a tool that you use to try to respond to challenges you see within the farm bill," Vilsack said.
Yet, among the provisions in the House appropriations bill for USDA is language that would essentially block Vilsack from using CCC funds for anything other than emergencies.
He also reiterated the need to protect $19.5 billion from the Inflation Reduction Act directed to USDA conservation programs for efforts to sequester carbon and reduce greenhouse gas emissions in agriculture.
The secretary drew back on his whiteboard discussion where he pointed out the country has lost 437,000 farmers since 1981. Reversing that trend requires more attention to rural economic development initiatives, which Vilsack continues to press as alternative revenue sources for farmers beyond programs like ARC and PLC. "A lot of it depends on them being able to preserve what's in the farm bill, protect what's in the Inflation Reduction Act and also provide the Secretary of Agriculture with the continued flexibility with the Commodity Credit Corporation," Vilsack said.
Source: DTN