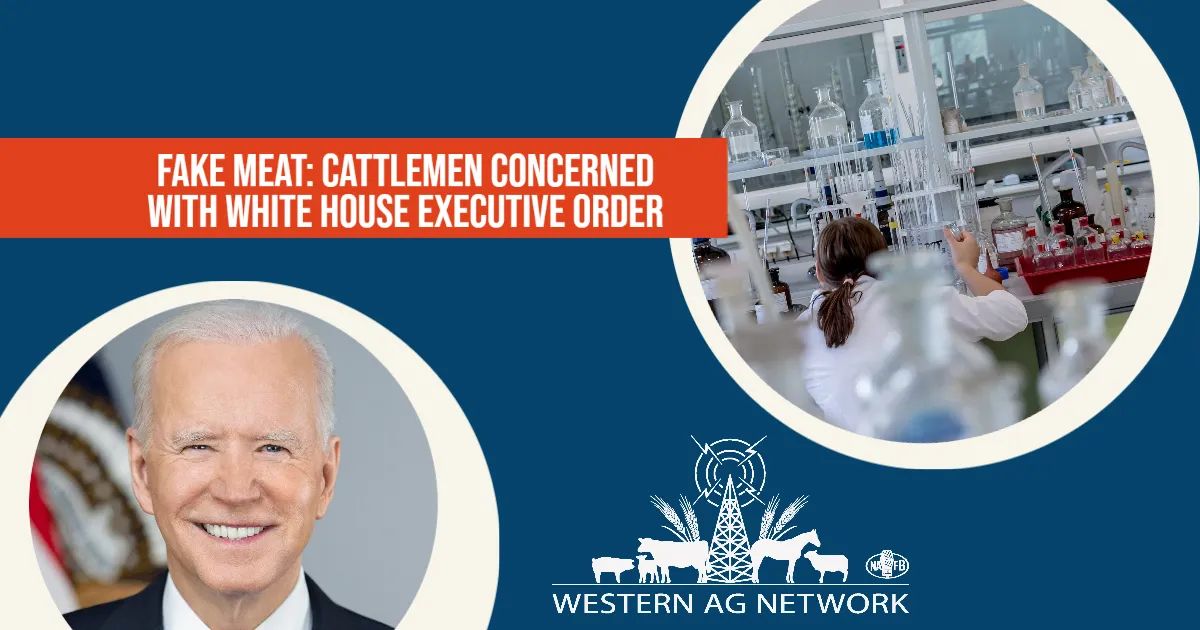 Fake Meat: Cattle Groups Disappointed in Biden Executive Order
September 21, 2022
President Biden's Executive order on Biotechnology and Biomanufacturing signed last week is being both praised and questioned by different sectors of agriculture. The Biden Administration said that the "U.S. government is dedicated to investing in biotechnology that will advance the United States food security, with the promise of cultivating alternative food sources through new technologies."
"The president's executive order implements provisions of CHIPS and Science Act that will unlock the power of biotechnology and biomanufacturing to address climate change, create jobs and improve human health and advance our safety," said Alondra Nelson Acting Director of the White House Office of Science and Technology Policy.
WATCH: Learn on the Executive order on Biotechnology and Biomanufacturing.
Livestock groups say concealed in the text of the order is a push for the expansion of lab cultured cells.
Both the National Cattlemen's Beef Association and United States Cattlemen's Association were alarmed to discover that hidden within the Executive Order is a call directing the Secretary of Agriculture to "submit a report assessing how to use biotechnology and biomanufacturing for food and agriculture innovation, including…cultivating alternative food sources such as lab grown, cultured animal cells."
NCBA President and Minnesota cattlemen, Don Schiefelbein shared his frustration.
"We encourage the administration to support the biotechnology innovations already occurring in the cattle industry. Technology like gene editing is critical to improving cattle health and wellbeing, while also helping the U.S. cattle industry demonstrate climate neutrality by 2040. These tools are necessary to build on our legacy as sustainable providers of beef to consumers in the U.S. and around the world," said Schiefelbein. "Unfortunately, we are extremely disappointed that this Executive Order also addresses fake meat production under the guise of food security. Supporting cell-cultured, fake meat products is the wrong approach and the administration should remain focused on supporting America's farmers and ranchers."
U.S. Cattlemen's Association (USCA) President Brooke Miller shared similar sentiments.
"The cultivation of animal cells for human consumption does not further the goals of the Biden Administration in supporting independent agricultural producers. Instead, it promotes corporate and consolidated control of the food supply system. Cell-cultured products cannot be independently produced – the technology is shrouded in intellectual property protection and requires intensive capital resources. These factors could lead to the monopolistic control of America's sovereign food supply that we see already today in the U.S. livestock and meat industries.
"USCA applauds the $1 billion investment by the Biden Administration towards beefing-up independent producers and processors of wholesome, nutrient-dense animal protein. However, this Executive Order flies in the face of that investment by proposing increased funding and support for the massive, multinational corporations that are behind the production of cultured animal cells. The record profits these companies have made off the backs of cattle producers should be more than enough to fund their petri-dish protein production. U.S. taxpayers should not foot the bill for a product that we aren't even sure is safe for human consumption. For these reasons, USCA opposes the provisions of this Executive Order calling for the advancement of foods produced using cell-cultured technology."
While these two livestock groups are urging the administration to refocus its efforts from lab grown protein to other areas of research that benefit cattlemen and women, the Executive Order does provide more opportunities for the development of crop and crop input technologies.
During last week's White House Summit on Biotechnology and Biomanufacturing, Jason Kelly, cofounder and CEO of Ginkgo Bioworks, discussed collaboration in biotechnology that is benefiting farmers.
"We work with Bayer Crop Science on a one hundred-million-dollar project to engineer microbes to produce fertilizer for crops," Kelly explained. "They take nitrogen right out of the air and feed it to the crop. If you were successful at this, that's one to two percent of global greenhouse gas. It's a big supply chain problem as we know today and fertilizers. That's one project."
Other agriculture related items in the Executive Order include boosting sustainable biomass production and create climate-smart incentives for American agricultural producers and forest landowners.
Source: Western Ag Network