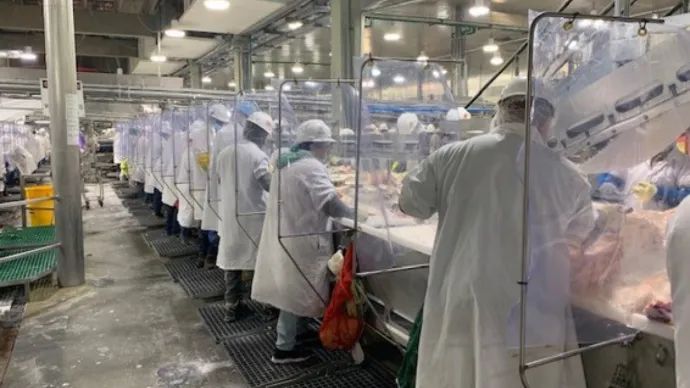 DOJ Subpoenas Big 4 Beef Packers
June 5, 2020
The Department of Justice has formally demanded information from America's Big 4 U.S. beef packers regarding potential antitrust violations, Bloomberg reported Thursday, citing a source familiar with the matter.
The DOJ antitrust division sent investigative demands, similar to subpoenas, to Tyson Foods, JBS SA, Cargill, Inc., and National Beef Inc., and has contacted state attorneys general about the probe after a group of states called for an investigation, said the source, who declined to be named because the inquiry is confidential.
The DOJ request comes at a time of intense scrutiny on beef packers who have struggled with shutdowns and reduced plant outputs due to the coronavirus. Cattle markets have seen increased volatility which reduced prices paid to producers while supply shortages dramatically increased the price of wholesale beef, increasing packer revenues per animal processed.
While the coronavirus produced a massive industry-wide impact on cattle and beef markets, it was the second black swan event creating disruptions in less than a year. Last August a fire at Tyson Foods' Finney County facility closed operations for several months, with similar abbreviated impacts on both live cattle and wholesale beef prices. The Big 4 beef packers control about 80% of the beef processed for U.S. consumption, and their market dominance has spurred longstanding concerns over their market leverage over cattle producers.
In early May, President Donald Trump said he asked the Justice Department to look into allegations that U.S. meat packers broke antitrust law because the prices paid to farmers and ranchers has declined even as meat prices rose.
"I've asked the Justice Department to look into it. ... I've asked them to take a very serious look into it, because it shouldn't be happening that way and we want to protect our farmers," the president said at a White House event attended by Agriculture Secretary Sonny Perdue and Iowa Governor Kim Reynolds.
That statement came at the height of coronavirus slow downs as many beef, pork and poultry plants had either closed temporarily or significantly reduced production. Both beef and pork processing capacity had been reduced by nearly 40%, though both industries have seen slaughter capacity steadily increase in recent weeks.
Prior to asking the DOJ to investigate, Trump issued an executive order labeling meatpacking plants "critical infrastructure" that must stay open. The order came at a time when packers struggled to keep plants open while coronavirus cases among workers were spiking. The slow downs revealed how even small disruptions in processing could ripple through supply chains and create product shortages at retail outlets.
Disruptions at beef packing plants reduced slaughter of cattle and left many standing in feedyards, increasing producer costs and further disrupting feeder cattle and calf markets across the country. Industry analysts estimate the backlog of cattle could be near 1 million head before processing levels return to pre-COVID-19 levels.
Source: Drovers