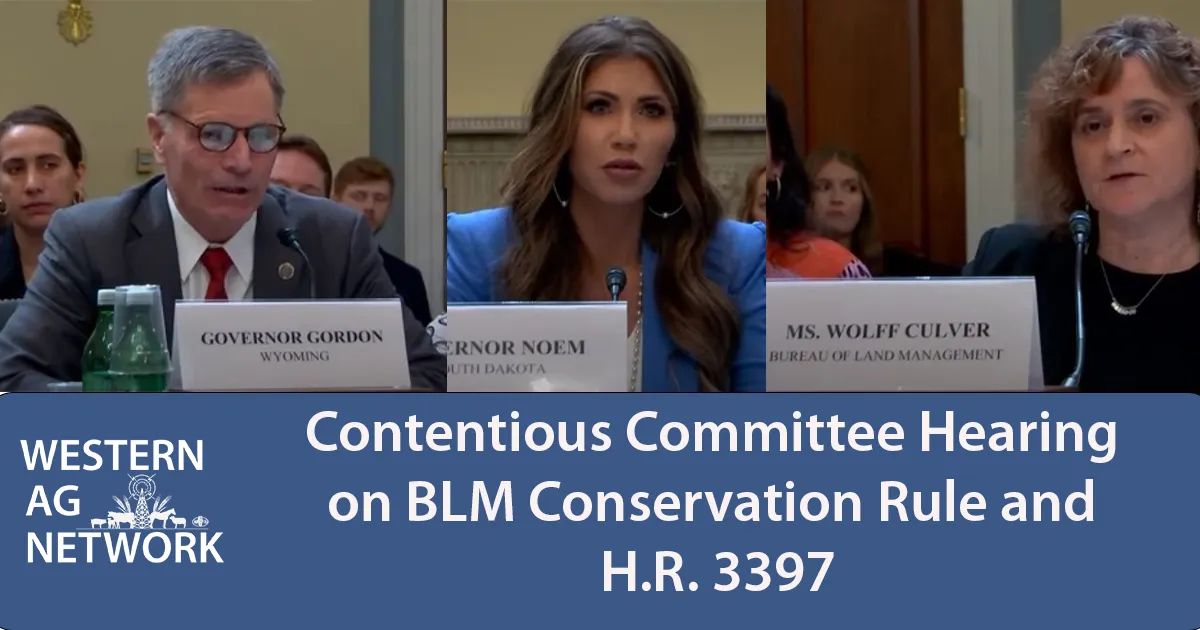 Committee Hears Testimony and Support for Bill to Withdraw Proposed Conservation Rule
June 16, 2023
WASHINGTON, D.C. — The House Committee on Natural Resources held a legislative hearing on June 15 on HR 3397, sponsored by Rep. John Curtis (R-Utah) to require the Director of the Bureau of Land Management to withdraw the proposed conservation rule.
In her prepared testimony, South Dakota Governor Kristi Noem told the committee that nearly 98% of BLM surface lands in South Dakota are grazed by permittees; her state hosts 76 actively producing oil and gas leases that cover 36,762 acres; and the acres managed by the BLM provide recreation opportunities. Noem said the proposed rule overemphasizes conservation rather than the economic needs of Americans; lacks an economic analysis, fails to provide data to indicated better outcomes for conservation practices if implemented; and the BLM claims the rule does not have a "significant economic effect" or that it does not affect "a significant amount of small entities," a claim Noem called ridiculous.
Noem also testified that the rule creates unnecessary competition for other approved uses and opens the door for conservation leases to be purchased by outside groups that do not adhere to or embrace the mission of federal land use, including activist groups.
She compared the proposed rule to what she called President Biden's failed effort to overregulate so-called Waters of the US, meant to regulate "every drop of water and every inch of land from coast to coast." She also mentioned the Biden Administration's publicly stated desire to seize control of 30% of all land in the US by 2030.
Wyoming Governor Mark Gordon testified that Wyoming is no stranger to federal lands. More than 48 percent of Wyoming is federal surface estate, including the first national park, the first national monument, and the first national forest. The Bureau of Land Management's footprint in Wyoming is substantial. The BLM manages approximately 18.4 million acres of public lands and 42.9 million acres of federal mineral estate. This equates to over 29 percent of Wyoming's surface land, covering an area larger than the state of West Virginia. It is important to note Wyoming's top three economic drivers, energy, tourism, and agriculture, have developed successful industries and contributed meaningfully to conservation across the state under the multiple-use principle of the federal law and BLM's existing rules.
In his prepared remarks, Gordon said Wyoming routinely ranks first in the nation for gas production from onshore federal minerals and second for oil production from onshore federal minerals. Approximately 65 percent of Wyoming's oil and 79 percent of gas production are from federal minerals.
In 2022, he said seven and a half million tourists visited the Equality State, spending $4.5 billion. Recreation, largely on public lands, contributed $1.5 billion to the state's economy. More than five percent of Wyoming's employment stems from the recreation industry.
For food production, in Fiscal Year 2021, the BLM authorized over 1.4 million Animal Unit Months or AUMs on public lands, more than any other state. Agriculture is the third largest sector of our economy, and grazing is done under tight regulation and with dedication to personal responsibility to ensure land stewardship while supporting a domestic food supply.
"This proposed rule was rushed forward without material input from Wyoming or other states," Gordon said. "It did not have the benefit of the views of impacted public land users. The proposed rule mischaracterizes conservation, seeks to preempt wildlife management from the States, and oversteps the Bureau's statutory authority. The best solution is to rescind the rule."
Gordon said he supports Representative Curtis's H.R. 3397, co-sponsored by Wyoming's Congresswoman Harriet Hageman, also noting that Wyoming Senator John Barrasso brought a companion bill in the U.S. Senate.
"Barring the rescission of the proposed rule, I call for the DOI and BLM to extend the comment period for a thorough review and for additional public meetings in Wyoming and other affected states–enough of management by windshield, model, or fantasy," he said. "If one wants true conservation, it must come from working with people on the ground."
Chairman Westerman said the BLM Director, Tracy Stone-Manning declined to testify before the committee. Nada Wolff Culver, Principal Deputy Director of the BLM testified that H.R. 3397 would unnecessarily interfere with the rulemaking process, and limit BLM's ability to manage for the challenges facing public lands today. The BLM strongly opposes this proposed legislation.
Eagle County Colorado Commissioner Kathy Chandler-Henry testified in opposition of HR 3397. She testified that the proposed Public Lands Rule helps with the balancing of demands on natural resources with protecting the mountain ecosystem by clarifying the ability of the BLM to consider conservation values when developing Resource Management Plans.
"It allows us, in concert with the BLM, to manage for resilient ecosystems, especially important in this time of threats to western water and increased wildfire dangers. And finally, the Public Lands Rule promotes the BLM's mission of multiple use and allows collaboration among users, including timber, grazing, extraction, mining, and recreation to mitigate and restore our treasured public lands."
Congresswoman Harriett Hageman criticized the BLM for failing to host any engagement meetings with stakeholders in Wyoming, only hosting information-only sessions in Denver, Reno, and Albuquerque. In response to her question to Gordon of whether the BLM is avoiding Wyoming he said "it is clear they're avoiding having real testimony on-the-ground with practitioners of conservation."
"They're looking for communities where they can find a favorable audience so they can move things forward," Gordon said.
Shortly after the hearing, the BLM announced a 15-day extension to the comment period.
Source: Western Ag Network