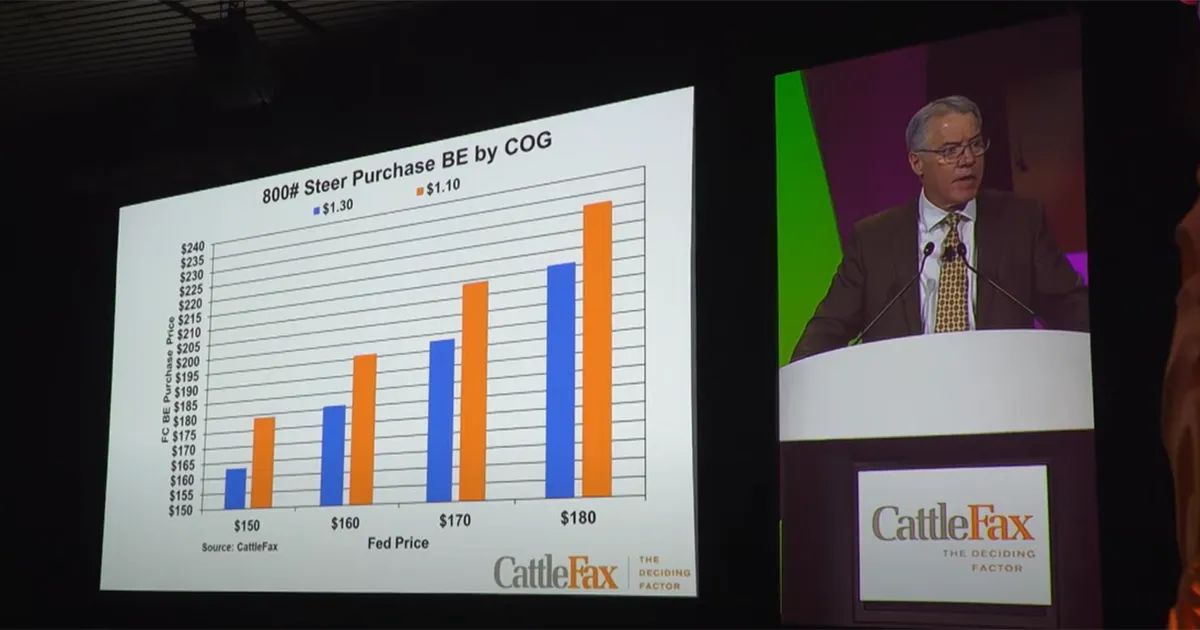 CattleFax Forecasts Producer Profitability in 2023
February 3, 2023
This week the popular CattleFax Outlook Seminar, held as part of the 2023 Cattle Industry Convention and NCBA Trade Show in New Orleans, shared expert market and weather analysis.
Prices and profitability will again favor cattle producers in 2023. The cattle industry is entering 2023 with the smallest cattle supply since 2015 as drought caused the industry to dig deeper into the supply of feeder cattle and calves. While the exact path to drought relief is unknown, improvements are also expected to translate to moderating feed costs, especially in the second half of 2023. Combined with increased cattle prices, cattle producers, especially the cow-calf operator, will continue to see an improvement in margins for the next several years, according to CattleFax.
Meteorologist Matt Makens said the latest forecast for La Niña has only a 14% probability of existence this spring and down further by the summer, which means a pattern change comes our way this year. A neutral phase will take control of the pattern as La Niña weakens and may last several months before giving El Niño a chance to grow this summer and into the fall.
Makens said putting this latest La Niña episode in the review mirror suggests improving drought conditions, more favorable growing seasons and healthier soils.
"I'm not trying to imply that doing away with La Niña fixes everything. An El Niño can cause drought across the northern states. There is no win-win for everyone in any weather pattern," Makens added. "But moisture conditions should improve for the West in the second half of this year."
Kevin Good, vice president of industry relations and analysis at CattleFax, reported that U.S. beef cow cattle inventories have already fallen 1.5 million head from cycle highs. The 2023 beef cow herd is expected to be down about another million head to nearly 29.2 million.
"Drought affected nearly half of the beef cow herd over the last year, exacerbating the liquidation in 2022. Drought improvement and higher cattle prices should drastically slow beef cow culling through 2023," Good said.
Feeder cattle and calf supplies outside of feedyards will be 400,000 to 450,000 head smaller than 2022 at 25.1 million. After being full for most of the past three years, cattle on feed inventories are expected to begin 2023 at 300,000 to 400,000 head below last year, at 14.3 million head, and remain smaller. Commercial fed slaughter in 2023 is forecast to decline by 750,000 to 800,000 to 25.6 million head.
"With drought forced placement and culling, beef production was record large in 2022 at 28.3 billion pounds. Expect production to drop over the next several years – declining 4% to 5% in 2023 to 27 billion pounds," Good said. "The decline in production in 2023 will lead to a 2.2-pound decline in net beef supply to 57 pounds per person."
Good forecast the average 2023 fed steer price at $158/cwt., up $13/cwt. from 2022, with a range of $150 to $172/cwt. throughout the year. All cattle classes are expected to trade higher, and prices are expected to continue to trend upward. The 800-lb. steer price is expected to average $195/cwt. with a range of $175 to $215/cwt., and the 550-lb. steer price is expected to average $225/cwt., with a range of $200 to $245/cwt. Finally, Good forecast utility cows at an average of $100/cwt. with a range of $75 to $115/cwt., and bred cows at an average of $2,100/cwt. with a range of $1,900 to $2,300 for load lots of quality, running-age cows.
When looking at domestic beef demand, the U.S. economy will be a driving factor going in 2023. CattleFax said inflation, rising interest rates and general economic uncertainty will continue to impact consumer purchasing decisions as many look to limit spending. Inflation reached a 40-year high in 2022, triggering the U.S. Federal Reserve to raise interest rates seven times last year with intentions for further rate increases until inflation falls. Through the Federal Reserve hopes to accomplish a "soft landing" and avoid recession, the U.S. economy is expected to slow in 2023 with most economists calling for a mild recession in the second half of the year.
Good noted that though beef demand has softened, it remains historically strong, and consumers have shown willingness to continue to buy beef in a new and higher range. He expects the 2023 USDA All-Fresh Retail Beef prices to average $7.35/pound, up 4 cents from 2022.
He also said wholesale demand will appear to be softer, as prices will not go up at the same rate of inflation despite tighter supplies. The cutout value should move higher to average $270/cwt. for 2023.
Global protein demand has continued to rise around the world and tighter global protein supplies should broadly support prices in 2023. After more than 20% of growth across the last two years, U.S. beef exports are expected to moderate, declining 3% in 2023 to 3.5 billion pounds. Japan and South Korea remain the top U.S. beef export destinations with stable exports in 2022. Meanwhile, Chinese demand has continued to grow with tonnage up 20% last year, likely with continued room to grow.
Mike Murphy, CattleFax vice president of research and risk management services, said National Dec. 1 on-farm hay stock were down 9% from a year-ago at 71.9 million tons with hay prices averaging $216/ton in 2022.
"Last year was the smallest U.S. hay production year since 1959," Murphy said. "Hay prices will likely continue to be high in the first part of 2023, but we expect weather patterns to improve pasture conditions as early as this spring which should help stabilize and soften hay prices throughout 2023."
CattleFax said corn stocks-to-use are just under 9% and will continue to support the market above $6/bu., and provide resistance near $7.50/bu. into the summer with a yearly average price of $6.50/bu. expected.
Blach concluded the session with an overall positive outlook, expecting improvements in the weather pattern and a tighter supply to distribute more money though all sectors of the cattle industry.
Source: National Cattlemen's Beef Association