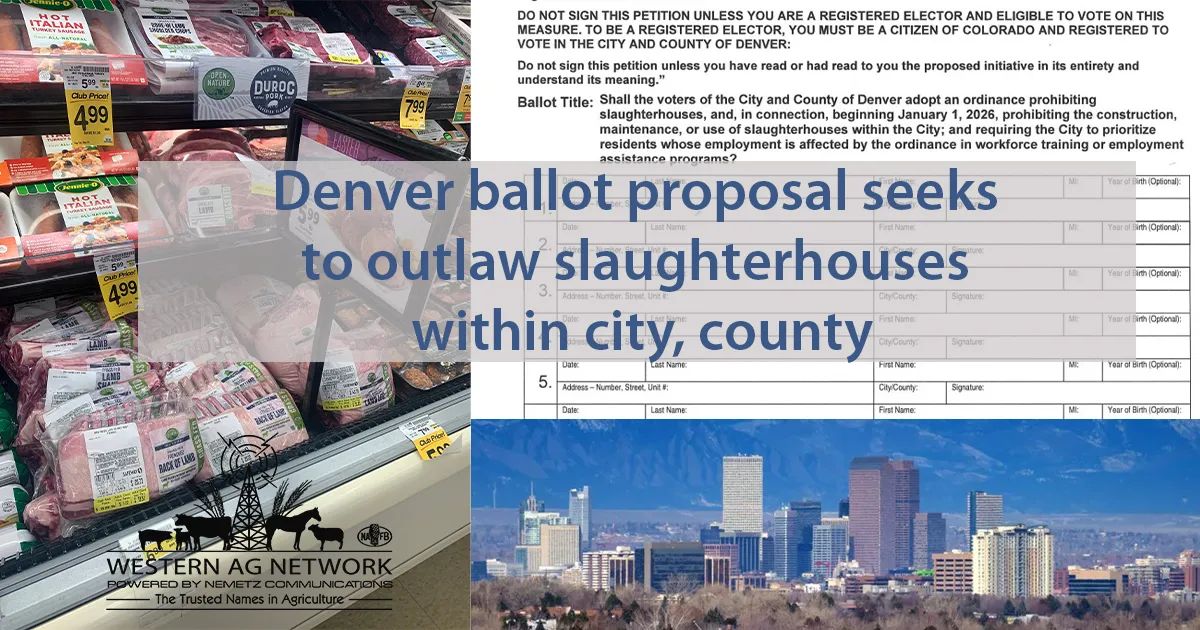 Ballot proposal seeks to outlaw slaughterhouses in city, county of Denver
June 9, 2023
Just two years after the livestock industry fought a ballot proposal titled Protect Animals from Unnecessary Suffering and Exploitation, or PAUSE, all the way to the state Supreme Court, another ballot proposal has petitioners attempting to outlaw slaughterhouses within the city and county of Denver.
On April 25, the Denver clerk and recorder received a certification of compliance from the city council's executive director and legislative counsel for a proposed initiative concerning a prohibition of slaughterhouses.
The clerk designated and fixed the following final title: "Shall the voters of the City and County of Denver adopt an ordinance prohibiting slaughterhouses, and, in connection, beginning January 1, 2026, prohibiting the construction, maintenance or use of slaughterhouses within the City; and requiring the City to prioritize residents whose employment is affected by the ordinance in workforce training or employment assistance programs?"
According to the sample petition filed by Catherin Klein, Ethan Kayser, Lily Lu-Lerner, Louis Brown and Hana Low, the legislative intent is to prohibit slaughterhouses within the city and county of Denver based on the petitioners' claims.
"Slaughterhouses are nuisances upon the neighborhoods in which they operate due to the foul odors which they produce, their unsightly industrial facades and the disagreeable nature of their operations; employment in slaughterhouses is associated with exceptionally high rates of workplace injury, including dismemberment and exposure to toxicity, as well as mental illness and addiction due to unique psychological harms experienced by slaughterhouse workers; emissions from industrial animal agriculture operations are a significant cause of climate change, with livestock contributing 14.5% of all greenhouse gas emissions, according to the UN Food and Agriculture Organization; actions are required at every level of government in order to address the climate crisis, and policies that promote the transition to a more sustainable, plant-based food system are recommended as a strategy to address climate change by the UN Environment Programme, a transition on which Denver can be a leader; and eliminating slaughterhouses in Denver will promote community awareness of animal welfare, bolster the City's stance against animal cruelty and, in turn, foster a more humane environment in Denver."
The proposed initiative would make it unlawful to construct, maintain or use, or cause or permit to be constructed, maintained or used, a slaughterhouse within the city and county of Denver. It would also prioritize any resident whose employment is affected in workforce training or employment assistance programs operated by the city, including those provisioned by the Climate Protection Fund.
The primary facility affected if the proposal were to pass is Superior Farms, the largest lamb processor in the state and the source of nearly all the lamb found in restaurants and grocery stores in Colorado.
The petition is notarized by Brent Johannes, who was listed as a petitioner on 2021's PAUSE proposal, which was struck down by the state Supreme Court. Petitioners have until Nov. 7 to collect about 26,000 valid signatures.
Source: Western Ag Network