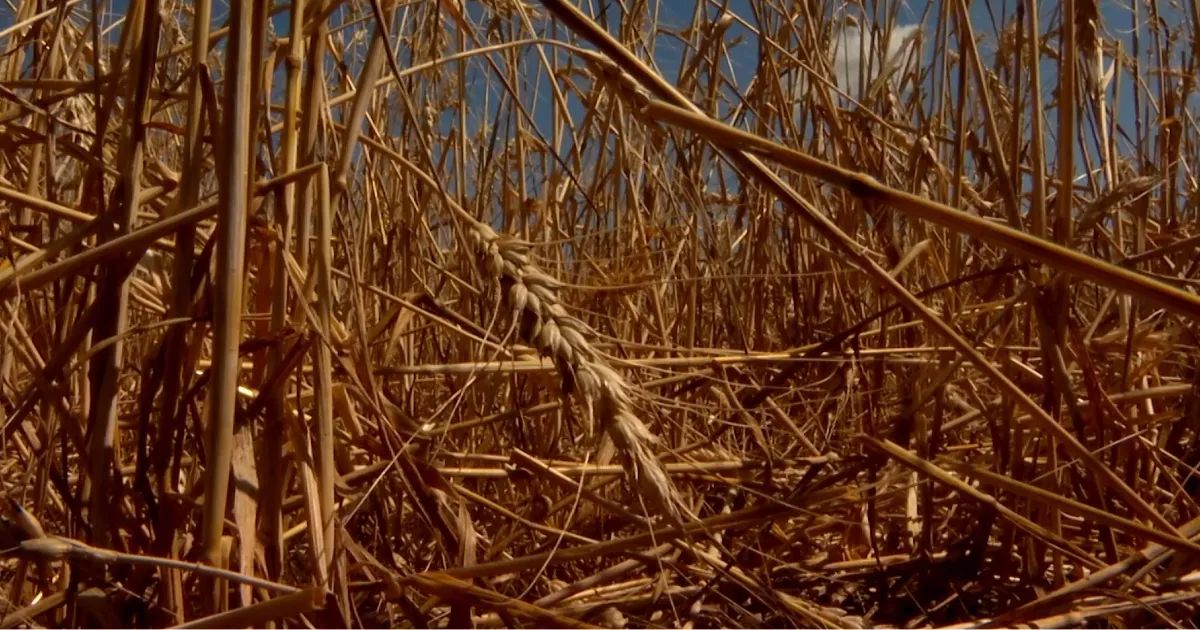 2022 Crop Disaster Relief: USDA Unveils $3 Billion Enrollment for ERP Applications
October 30, 2023
As most producers know by now, disaster aid payments are almost always at least a year after the actual disaster.
With that in mind, USDA on Friday detailed enrollment for more than $3 billion to both commodity and specialty crop producers who were affected by 2022 natural disasters under the Emergency Relief Program (ERP) 2022. At least 210,000 producers who received crop insurance indemnities are eligible for disaster payments.
2022 was a costly year for losses, though most were made up by crop insurance. The American Farm Bureau Federation last March cited total crop losses in 2022 at $21.5 billion, the majority of which were due to drought and wildfires.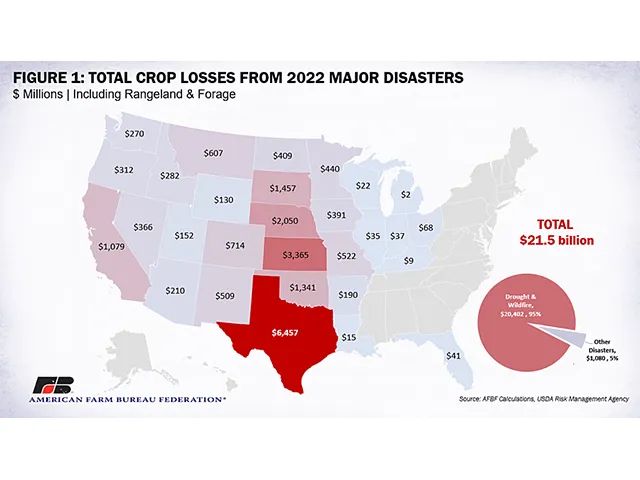 Farm Bureau and USDA's Risk Management Agency showed five states with at least $1 billion in losses. Texas and Kansas combined for $9.8 billion in crop losses. Crop insurance paid out a record $19.13 billion for losses in 2022, according to data collected by the Environmental Working Group last month.
Congress last December provided $3.7 billion in aid for producers tied to 2022 disasters.
This past week, the White House sent a package to Congress requesting $2.8 billion to help producers with 2023 disaster losses. We'll revisit that situation sometime down the line.
ERP 2022 QUALIFICATION
ERP 2022 will help with losses involving crops, trees, bushes and vines for natural disasters in 2022. Several natural disasters qualify, including "wildfires, hurricanes, floods, derechos, excessive heat, tornadoes, winter storms, freeze (including a polar vortex), smoke exposure, excessive moisture, qualifying drought and related conditions."
While the applications are open, it is unclear exactly when USDA would issue the actual payments.
TRACK 1, TRACK 2 OR BOTH?
The original ERP had "Phase 1 and Phase 2." ERP 2022 has Track 1 and Track 2, which fall under similar guidelines.
TRACK 1
Track 1 helps farmers who have data in the system from federal crop insurance or the Noninsured Crop Disaster Assistance Program (NAP).
Like before, the Farm Service Agency (FSA)will be sending out pre-filled ERP 2022 Track 1 applications to farmers with their data already on file due to indemnity losses in 2022. Also, producers don't have to wait for that application to arrive. Effective Oct. 31, producers can apply for ERP 2022 benefits even if they have not received that pre-filled application.
TRACK 2
This is a lot like the ERP Phase 2 that led to some grumbling by producers. Track 2 involves certifying a producer's revenue to help them with "an eligible decrease in revenue" tied to a disaster event in 2022.
The process helps farmers who have losses not covered by crop insurance or NAP, as well as losses too small to be covered by crop insurance -- shallow losses.
The process requires comparing lost revenue with benchmark revenue from previous years. While USDA notes farmers are not required to submit tax returns to FSA unless requested by the County Committee.
Still, FSA notes some documents might be useful for matching revenue. That includes 2022 tax returns on the IRS 1040 Form Schedule F or similar tax documents from 2018, 2019, 2022 and 2023.
Producers interested in signing up for ERP 2022 Track 2 should contact their local FSA office.
USDA noted producers may be eligible for payment under Track 1, Track 2 or both. To avoid doubling payments, the Track 2 calculation would factor in any payments from Track 1.
There also is a standard list of forms USDA expects producers to maintain on file. More information can be found at https://www.fsa.usda.gov/…
INSURING THE FUTURE
USDA noted any producers who receive ERP 2022 payments will be required to buy crop insurance or NAP cover -- where crop insurance is not available -- for the next two crop years. That coverage purchase must also be at least the 60% cover level or higher, or catastrophic coverage or higher for the NAP crops.
LOOKING BACK AT ERP PHASE 1 AND 2
Going back to 2020 and 2021 disasters, USDA has paid out $8.2 billion in disaster aid to 301,934 producers, according to the ERP dashboard.
ERP Phase 1 provided $7.45 billion in payments to 291,940 farmers. Corn, soybeans and wheat were the dominant crops, but specialty crop producers have received $1.14 billion of those funds.
ERP Phase 2 has paid out $751.4 million to 9,994 producers. About $445.9 million has gone for losses involving specialty and high-value crops. Another $401 million has gone for various other crops, such as producers who had shallow losses.
For more information about USDA's disaster aid and a link to the ERP 2022 tool, click here:
Source: DTN