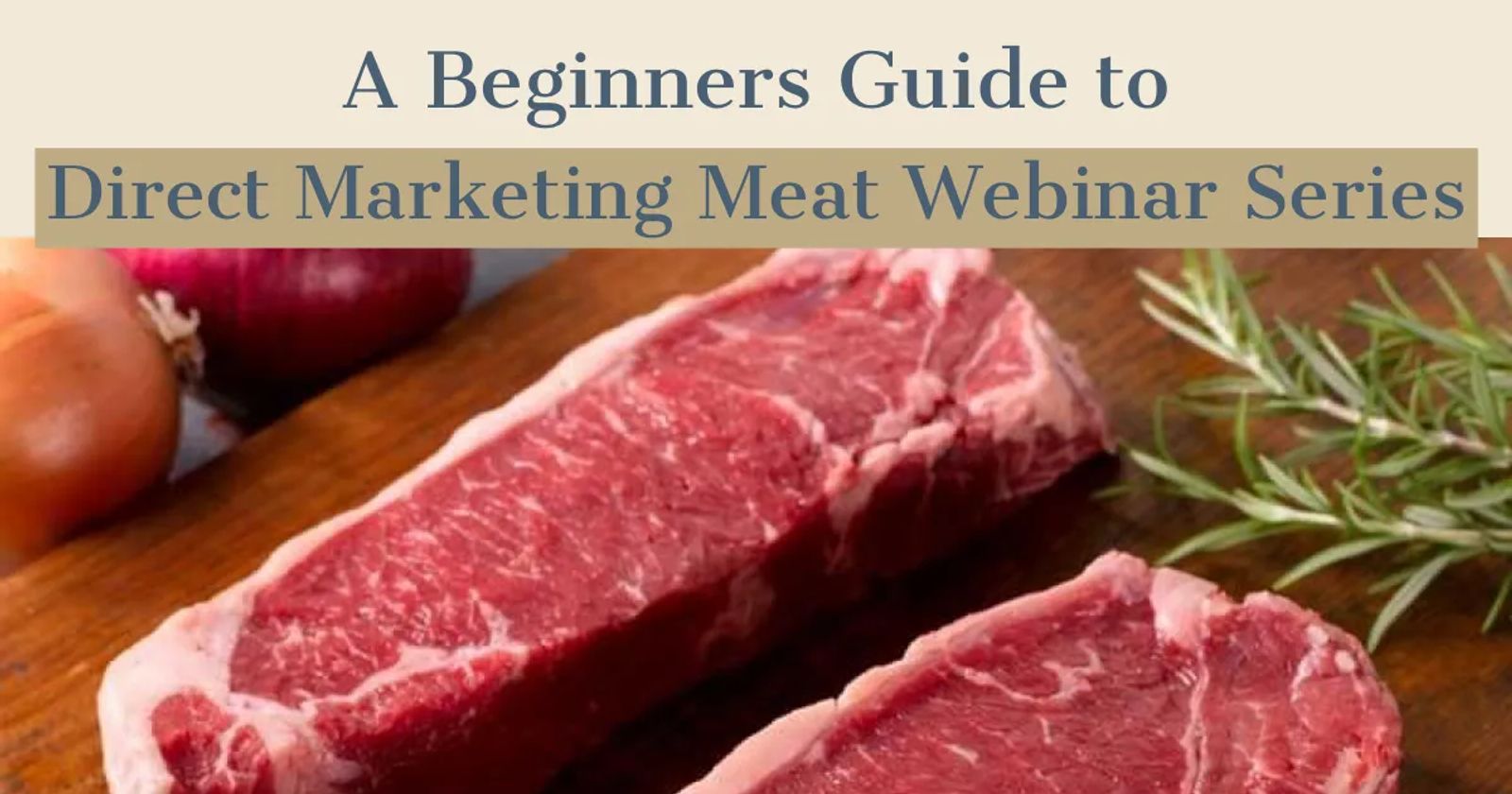 Direct Marketing Meat Webinar Series
August 10, 2020
Farmers and ranchers are becoming more interested in direct marketing meat to consumers at the local, state and national level.
Sarah Hollenbeck and her husband Hank ranch outside of Molt, MT. Raising both sheep and cattle, Sarah saw the opportunity to market meat directly to consumers around the Billings area by starting High Five Meats. Hollenbeck is taking her knowledge of direct marketing and sharing it with other farmers and ranchers.
Listen to Lane Nordlund's podcast with Sarah Hollenbeck on the webinar series.
"When I started High Five Meats in 2015 there was no guide or handbook," Sarah explained. "Through trial and error, I have learned what works, what doesn't work and how I got here. I am asked on a daily basis questions pertaining to direct marketing our ranch meat. While I love connecting one on one to people within the industry and sharing tips and tricks I've learned along the way I felt it was time to put my experience on a larger stage."
"The Beginners Guide to Direct Marketing Meat" webinar series will give participants the opportunity to learn about the do's and don'ts of direct marketing.
"This direct marketing webinar course will be unique to my experience and those I bring in for special guests along the way," said Hollenbeck. "From licensing, processing to marketing and more. This webinar is perfect for the rancher just starting out, or the rancher that has been on the fence for years but never taken the plunge."
Starting on Tuesday August 18th, 2020 and running the next four consecutive Tuesdays in-a-row, individuals can participate live or go back and watch the recorded presentations.
DATES AND TIME (MOUNTAIN STANDARD TIME):
Aug 18, 2020 07:00 PM
Aug 25, 2020 07:00 PM
Sep 1, 2020 07:00 PM
Sep 8, 2020 07:00 PM
Sep 15, 2020 07:00 PM
WHAT YOU WILL LEARN
Week 1- Starting out
Licensing and permits
Insurance
GUEST: Mt dept of livestock representative
GUEST: Tonya Martin, Farm Bureau insurance agent
Week 2 - Pricing
Finding your break even
Selling on the rail or in the meat
GUEST: Henry Hollenbeck, Hollenbeck Land & Livestock
Week 3 - Processing
Labeling
State inspection vs USDA vs Custom Exempt
Knowing your cut sheet
How much meat will you get
Scheduling your dates in advance
How it comes packaged
Picking up your meat from the processor
Storage
Bagged vs. boxed. Vs nothing
GUEST: Charlie Hollenbeck, Cowboy Meats
Week 4 - Marketing
Website
Emails
Who is your customer
Social media
Customer service
GUEST: ​Marni Gaskill, Horizon Marketing Agency
Week 5 - Shipping and Q&A
Shipping frozen product
Questions and Answers from submitted questions over the entire course
GUEST: Jon Wanderaas, Billings Seafood Guys
Lane Nordlund Western Ag Network/High Five Meats